Upgrading your home theater to one of the latest AVR systems is an exciting proposition- but which one is the best for you? If you are like many people, you probably want to know the differences between the Denon AVR-X2700H vs Yamaha RX-V6A receivers. Both units came out in 2020 and have numerous features to bring you the best in home theater entertainment.
After examining both units closely, you will be the most satisfied purchasing Denon over Yamaha. This review will explain why. (>>> Find on Amazon)
Denon AVR-X2700H vs Yamaha RX-V6A Side by Side
| | Denon AVR-X2700H | Yamaha RX-V6A |
| --- | --- | --- |
| | | |
| Video | 8K/60Hz, 4K/120Hz | 4K/120Hz |
| Amplifier | 7.2 Channel (95 Watt per 7) | 7.2 Channel (100W per channel) |
| Sound | 7.1, 5.1 or 2.1 Dolby Atmos | Dolby Atmos, Dolby Atmos with Height Virtualization |
| Wi-Fi | Yes | Yes |
| Bluetooth | Yes | Yes |
| Price | Find on Amazon | Find on Amazon |
Resolution
The first thing you probably want to know is how well these receivers work for providing 4K or even 8K video when your source is run through the AVR. This is the first place where the Denon AVR sets itself apart from Yamaha. Denon is ready-to-run 8K with direct passthrough- though only on one of the eight HDMI ports. If you are using a compatible TV, getting ultra high definition images and three-dimensional realism is simply a matter of connecting cables.
No such luck with Yamaha. Even though this is the current flagship model until the new units are released in 2021, the RX-V6A does not support 8k pass through. Numerous users also report significant issues using 4K pass through on this device, with many gamers in particular simply giving up and buying the Denon receiver. Yamaha has promised an update to provide 8K pass through, but no timeline has been released letting consumers know when they can expect the upgrade.
Frame rate
Denon beats Yamaha on frame rate also. When running the Denon receiver at 4K resolution, you'll get 120 Hz frame rates compared to the Yamaha that only provides 60 Hz at 4K resolution. Framerate may not be a big deal-breaker if you are using your receiver for playing music or watching movies, but gamers will notice a significant difference.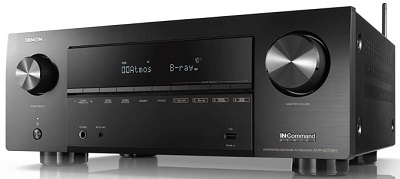 Denon AVR-X2700H
Pros
Easy setup and calibration
Works for 4K and 8K video and audio
Easy to set up multiple zones using HEOS
Incredible sound quality
Cons
Pricey unit in comparison with competitors
Lack of customer support is troubling
HDMI 2.1 Differences
Here is probably the biggest let down of the Yamaha receiver- but don't point the finger just at this unit. Many receivers in the last few years have had significant issues with HDMI 2.1, including Denon.
The difference is that Denon and Marantz- part of Sound United that includes several other major brands- provides a free adapter solution to buyers that allows for full 8K passthrough and bypasses the firmware problems that plagued these devices up until early 2021. No such solution exists for Yamaha- though one is promised. Execs recently announced a new line of receivers that are anticipated to include a solution but at a significant cost increase over this Yamaha receiver.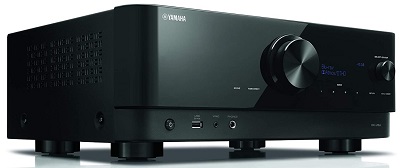 Yamaha RX-V6A
Pros
Inexpensive way to increase audio output at home
Attractive, modern design
Excellent customer response times
Cons
Lacks numerous features including 8K resolution, functional HDMI 2.1, and other features
Customer support can't provide solutions to serious problems at this time
Audio Capabilities
Of course, the most important thing about an AV receiver is the ability to play stunning, realistic audio whether it is your favorite song or your favorite movie. These units have many similarities on the surface, but Denon outpaces Yamaha in accurate sound reproduction, simplicity, and quality of sound.
Both receivers are designed as 7.2 channel systems. Denon advertises channel power at 95 watts to seven channels, while Yamaha provides 100 watts on seven channels. The difference here is negligible. Five watts of power as advertised isn't worth accepting the other lacking features of the Yamaha.
One of the most important aspects of audio playback capabilities is the ability to expand your system. Denon uses HEOS protocol for wireless and multi-zone listening while Yamaha incorporates MusicCast technology. Users find MusicCast to be clunky, buggy, and not impressive. HEOS, for all the significant issues the system had early on, is turning out to be one of the easiest systems for adding wireless speakers in other parts of your home.
Voice Assistant Technology
Both receivers are ready for Amazon Alexa, Siri using Apple AirPlay2, and Google Assistant. Denon includes compatibility with Josh A.I. to incorporate the receiver into your automated home, giving you more control over your receiver. Yamaha does not include this technology. To make it worse, numerous users report serious difficulty using Siri through the Yamaha receiver, many of whom simply abandon efforts and use the physical IR remote instead.
Setup and Calibration
Denon setup uses a built-in wizard and the award-winning MultiEQ system to perfectly calibrate your speakers for the room, enhancing every aspect of your listening experience. Yamaha uses YPAO R.S.C. with Multipoint calibration. This system functions fine, but many users report that it takes several attempts to get your speakers calibrated for the room.
Numerous users consider the app Yamaha uses to feel as though it was an afterthought. The app Denon uses has excellent reviews from users who have found it to do a superior job calibrating their speakers perfectly for the space. The Denon calibration system is simpler to use, works better, and causes less headache than the system Yamaha is using.
Overall Considerations
The Denon AVR-X2700H is a more expensive receiver than the Yamaha but is also widely available. Click here for our more in-depth Denon AVR-X2700H review. At the time of this writing, Yamaha does not have any units available and all major retailers are out of stock with no ship date information available. Used Yamaha receivers are available, but are selling for about the same cost as a brand-new Denon.
The biggest knock against Denon also affects other brands under the Sound Industries label- namely, a lack of customer service. This includes things like quickly answering questions about setup or detective products to providing access to service when something breaks. Yamaha has proven to be much better about responding to questions, but is also proving to be much slower than the competition at releasing solutions to flawed components that are in widespread use.
---
Denon AVR-X2700H vs Yamaha RX-V6A Conclusion
If you are planning on spending serious money to provide the latest and greatest audio and video features to your home entertainment system, it doesn't make sense to buy an inferior product in the hope that at some point in the future you'll get an update. Denon is ready out-of-the-box to blow your mind and ear drums, while Yamaha continues to leave buyers wishing they had picked something else.
The biggest difference between these two devices will be encountered by people who play video games on PS4 & PS5 systems and XBOX-series. Numerous users report a complete lack of ability to use the Yamaha receiver directly, instead having to find workarounds to get your games up and running. Audio quality and realism are reported to be significantly better on the Denon receiver, providing a better room-filling sound at lower volumes. (>>> Check the current price on Amazon)
The current lack of Yamaha units available for sale also is a sign of a problem. This receiver has been available for over a year and yet no current supplier has any stock, the manufacturer is out of stock, and there is no report of any more units going to be available any time soon. In fact, it is likely that Yamaha will replace the R-series of receivers in Spring 2021 when the Aventage-series is expected to launch.
REFERENCES AND FURTHER READING: