There is no doubt that an AV receiver upgrade can transform your music and movies. Today's top av receivers offer power, special features, and numerous ways to enjoy music and video content from different sources.
Comparing the Denon AVR-X2700 vs Yamaha RX V6A is a great way to find out if buying a higher-priced receiver is the correct choice. We are going to compare the two receiver models to show you what each offers.
Which One We Like
After spending hours with both products, we've come to really like the features and functions of the Yamaha RX V6A vs Denon AVR-X2700H. It offers most of the same features and functions as the AVR-X2700H at a better price point. (>>> Find on Amazon)
Denon AVR-X2700H vs Yamaha RX-V6A Side by Side:
Denon AVR-X2700H
Yamaha RX-V6A
Video
8K/60Hz, 4K/120Hz
4K/120Hz
Amplifier
7.2 Channel (95 Watt per 7)
7.2 Channel (100W per channel)
Sound
7.1, 5.1 or 2.1 Dolby Atmos
Dolby Atmos, Dolby Atmos with Height Virtualization
Wi-Fi
Yes
Yes
Bluetooth
Yes
Yes
Price

Find on Amazon





ProjectorScreen.com

Find on Amazon




Comparing Denon AVR-X2700H vs Yamaha RX V6A Audio Features
Channels and Response
Both AV receivers provide a 7.1 channel configuration and are easily adaptable to 5.1 and other more complex audio arrangements. Both provide a frequency response of 20 to 20 kHz which covers all of the frequencies the human ear can recognize.
Power
Power per channel is very similar with the Denon AVR-X2700H coming in with a rating of up to 95 watts per channel and the Yamaha RX V6A registering 100 watts. The minimum impedance is 4 ohms for all speaker sections with the Denon AVR-X2700H.
Impedance
Only the left/ right channels offer this low of impedance from the Yamaha RX V6A. Center and surround speakers are a minimum of 6 ohms, negating the small power advantage.
This difference can also affect the speakers you choose to use since you'll need to match the resistance required by the receivers.
Surround Sound Processing Features
There are only a few differences between the Yamaha RX V6A vs Denon AVR-X2700H when you want to get the most from surround sound options.
Dolby Options
Both the AVR-X2700H and the RX V6A provide compatibility with Dolby Digital, True HD, and Dolby Digital+, the latest and greatest version of the industry-standard surround sound processing technology.
Features that the Yamaha RX V6A Lacks
The Denon AVR-X2700H includes compatibility for EX processing. This processing format is very similar to standard Dolby Digital but adds a third surround speaker option. While it has some functionality, the lack of EX on the Yamaha RX V6A should not be a dissuading factor over the Denon AVR-X2700H.
Dolby Atmos and Dolby Atmos Height Visualization
Both the RX V6A and AVR-X2700H include the latest Dolby Atmos and Dolby Atmos Height Visualization technology and support DTS and DTS:X, but only the Denon AVR-X2700H includes Dolby DTS Virtual:X.
What Virtual:X Does
Virtual:X allows the receiver to convert a typical 2.1 channel output to simulate a surround sound effect. Again, this is not a feature that everyone needs and isn't a deal-breaker for the Yamaha RX V6A.
Wireless Speaker Capabilities
The difference of the Yamaha RX V6A vs Denon AVR-X2700H in the ability to play wireless speakers comes down to the brand you want to use. Denon uses HEOS wireless speaker technology, while Yamaha uses MusicCast.
Both systems are excellent and function identically on these two models.
How Wireless Works
The wireless speakers are connected through the wireless network using Wi-Fi and are keyed to one of the main area channels.
You'll be able to play a 5.1 channel surround sound system in the main area while simultaneously broadcasting a separate signal to the stereo wireless speakers.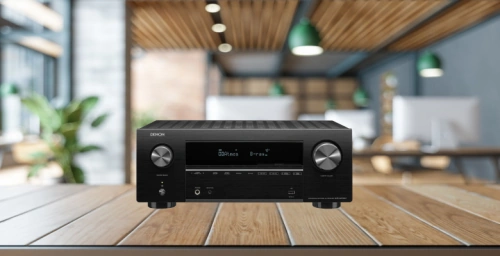 Denon AVR-X2700H
Pros
Laid-back sound quality that improves with better quality speakers
Excellent option for hardcore gamers that need fast refresh rates and low lag inputs
Ideally suited to pair with a turntable for the ultimate listening experience
Cons
Denon quality and customer service aren't what they used to be
Many units still on the market that lack certain features
Enhanced Sound Capabilities
Compressed Audio Restorer
Both the Yamaha RX V6A and the Denon AVR-X2700H use sophisticated digital signal processors that are capable of restoring low-resolution audio from compressed sources such as a USB drive.
Improving USB COntent
When you listen to some of your favorite music that you only hear on your stereo MP3 player regularly suddenly capturing all of the subtle edges and touches of the song, you'll feel like you're hearing it for the first time.
Front USB Input
Both the Yamaha and the Denon include front USB input ports. This lets you quickly connect directly from a USB flash drive or using the appropriate USB cable to connect to a smartphone or other source.
The front USB-A port is the only USB connection point available. There are no USB input or output ports on the back of either device.
Volume and Tone Settings
The Yamaha RX V6A has several features available that the Denon AVR-X2700H lacks, though both include some of the most important and relevant technology.
Electronic Audio Return Channel (eARC)
For example, both receivers offer an eARC output to connect with a compatible television. This eliminates the need to run multiple cables to the television to get audio through the receiver.
Additional Settings
The RX V6A also gives you direct settings for changing bass settings, adjusting the way the receiver processes dialogue on movies, and specific modes for playing high-fidelity music from stereo sources.
There are ways to accomplish similar functions on the Denon AVR-X2700H, but it does require a little more work. Yamaha made the ability to dial in certain volume and tone settings simple and efficient.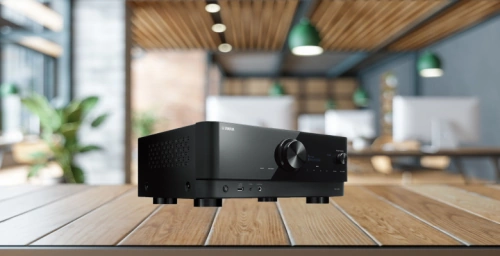 Yamaha RX-V6A
Pros
Fully modern-looking design and all the most important features you want
A punchy sound that enhances bass
Ready for the most modern movie resolutions and video game consoles
Cons
Does not include a proper manual, must download online
Tuning is not as simple as some options
Tuning Programs
Audyssey MultiEQ
The Denon AVR-X2700H uses the Audyssey Multi EQ system to give you the ability to make specific changes to the tones, sounds, and volumes of each speaker group along with time-phasing to ensure that no matter the shape of the entertainment space you are outfitting, you'll get an ideal sound stage.
YPAO
The Yamaha RX V6A uses the Yamaha Parametric room Acoustic Optimizer, shortened to YPAO. The tuning system uses advanced technology to adjust the parameters of your speakers to suit the room.
There are a number of tuning settings to adjust everything from speaker placement to the particular way that certain audio signals are played. Once YPAO is dialed in, it works very well, but many reviewers have said that the process can require a higher level of experience.
Video Features
The Yamaha RX V6A and the Denon AVR-X2700H offer tons of advanced options for enhancing movies and video games. Both offer high-performance video features that produce smooth, saturated, and detailed resolutions without stutter.
Connection options allow you to hook up a projector, a personal computer, or use the Chromecast built in features.
HDMI Input and Output Features
Yamaha RX V6A HDMI Input and Output
The Yamaha RX V6A has seven HDMI input ports but only one output. Three of the HDMI input ports support 8k video signal upscaling at 60 Hz and are switchable to 4k at 120 Hz. All of the HDMI ports support 4k at 60 Hz.
Denon AVR-X2700H HDMI Input and Output
In contrast to the RX V6A, The Denon AVR-X2700H offers only six HDMI inputs but provides two HDMI output ports. All of the HDMI ports support 4k at 60 Hz, but only one port, HDMI 7, has video signal upscaling to 8k at 60 Hz or 4k at 120 Hz. Both outputs support 8k at 60 Hz.
Video Upscaling
The Yamaha RX V6A and the Denon AVR-X2700H feature the ability to upscale HDMI input content. The upscaling input port allows standard definition and high definition content to be displayed in 4k or 8k ultra-high definition.
HDR Capabilities
The Yamaha RX V6A and Denon AVR-X2700H have similar HDR capabilities. They support HDR, HDR10, and HDR10+ open-source formats along with Dolby Vision and Hybrid-Log Gamma.
Denon's Dynamic HDR
These video features cover about 99-percent of the content you will watch, but Denon adds Dynamic HDR capabilities that convert static HDR into dynamic HDR to ensure that the color, depth, detail, contrast, and definition are ideal for each frame.
Gaming Options
Both the Denon AVR-X2700H and the Yamaha RX V6A offer enhanced gaming modes that provide variable refresh rate, auto low latency, and quick frame transport technologies.
Gaming Speeds
Each receiver can provide optimized content from the latest gaming consoles or personal computers to provide smooth, vibrant gaming that is completely without lag and stutter. With the available 4k, 120 Hz HDMI connection, your games will function flawlessly.
Networking and Voice Control
Both devices feature built-in Bluetooth and Wi-Fi along with a dedicated ethernet input so you can easily connect to a PC. Apps are available for both the Yamaha and the Denon.
TuneIn Radio
Denon uses a proprietary service for streaming more than 10,000 radio programs directly called TuneIn Radio. The AVR-X2700H is also designed to work with Spotify directly.
MusicCast
The Yamaha RX V6A has much more built-in access through its app, MusicCast Controller. You'll also have access to thousands of live broadcasts, plus direct compatibility with Pandora, Spotify, Napster, and at least a half-dozen other streaming services. Read our full review of the Yamaha RX-V6A.
Both Denon and Yamaha equip these products to work with Apple AirPlay2, giving iOS users an excellent and frustration-free way to wirelessly stream their favorite music.
Voice Control
The Denon receiver uses Amazon Alexa and Google Assistant connected through the HEOS app to control certain aspects of playback using voice commands. Once connected, you simply ask Siri or Assistant to change tracks, change the volume, or do dozens of other commands.
Both are capable of being incorporated into your other Amazon or Google devices to offer a seamless smart home system.
Denon AVR-X2700H vs Yamaha RX V6A Comparision
Both of these devices offer excellent high-resolution video features and have extensive audio options to enhance your favorite music and movies.
Special Features Set Them Apart
They also have special functions just for gamers and audiophiles. After looking both devices over extensively, we see more benefit in the Yamaha RX V6A for most buyers over the Denon AVR-X2700H. Click here for our more in-depth Denon AVR-X2700H review.
Audio Playback Abilities
In terms of audio playback ability and quality, there is no denying the unique, Denon sound. They both offer a full suit of DTS and Dolby features, including Dolby Height Actualization technology that artificially elevates your speakers sound to give you a three-dimensional listening space.
Sound Quality
But we've found that for most of today's movies and shows, and particularly the most modern video games out there, the punchier, more bass-forward and aggressive sound of the Yamaha suits listeners better.
Video Game Tech
When it comes to the video features, these two are nearly neck-and-neck in what they have to offer. The main difference is that Yamaha offers three 8k-ready ports against only one from Denon. Both offer 8k compatibility and an excellent option for high-speed 4k input that is ideal for gamers and live sports fans alike.
Lacking Features that Don't Matter
The Yamaha RX V6A lacks a few minor features that are included in the Denon AVR-X2700H, such as certain surround sound processing and a few minor video processing options, but makes up for it with advanced tuning options that let you get the most out of content.
Apperances
The appearance of both devices is similar and classic. They feature black housings and large displays with comfortable knobs and buttons. Both have a clean, minimalist, modern look that will fit in with your decor.
What We Like about Yamaha
We appreciate the additional input jacks on the front of the Yamaha RX V6A vs Denon AVR-X2700, which offers only a USB port. The additional front HDMI port is great for setting up a temporary gaming console or quickly adding a device tot he receiver without having to remove it or move the rack.
What We Like about Denon
The Audyssey MultiEQ QT tuning system is superior to the YPAO system Yamaha uses, but not by much. Both systems rely on your ability to understand and interpret what the system needs.
We've found that the Denon manual is more accessible than the Yamaha manual, helping to make setup easier.
Finally, customer service is important to us. Since Denon merged into Sound United, customer service has all but disappeared. In contrast, Yamaha has local support available and they are significantly more responsive to customer inquiries.
Conclusion
We think the Ymaha RX V6A is a better choice for most people over the Denon AVR-X2700H (>>> Check on Amazon). It offers compatibility with other devices, awesome sound quality, and the features you need the most. While it is a bit more tiresome to set up, the end result is going to give you years of audio and video performance.
Note on Older Models
In the recent past, most manufacturers have struggled with difficulty getting chips essential for certain technologies to function. At the time of this writing, those issues have largely dissipated, but you should be aware that there are models from 2019 and 2020 that will require additional parts and effort to take advantage of the advertised features of either of these products.
REFERENCES AND FURTHER READING: