When setting up your home theater system, you need a powerful receiver to experience video and audio, equaling the movie theater. The two receivers we're looking at today, the Denon AVR-S760H vs Sony STR-DH790, are great starter receivers for those on a lower budget (>>> Find on Amazon). However, which one comes out on top? This article will compare the two and give you a clear winner.
Denon AVR-S760H vs Sony STR-DH790 Side by Side:
Denon AVR-S760H
Sony STR-DH790
Video
8K/60Hz, 4K/120Hz
4K/60Hz
Amplifier
7.2 Channel (75W per channel)
7.2 Channel (145W per channel)
Sound
5.1.2 Dolby Atmos
DSD, Dolby Atmos, DTS: X, DTS-HD Master Audio
Wi-Fi
Yes
No
Bluetooth
Yes
Yes
Price

Find on Amazon

Find on Amazon





B&HPhotoVideo
Denon AVR-S760H Features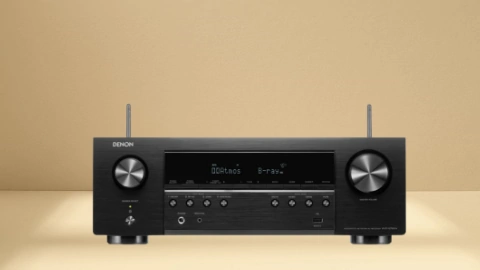 Denon's receiver is an 8K-ready, 7.2-channel receiver designed with home theaters in mind. It's focused on the 4K experience but can support 8K video and 3D audio such as Dolby Atmos Height Virtualization. DTS:X, and Virtual X.
It has three 8K HDMI inputs supporting 8K video at 60Hz or 4K at 120Hz. Watching movies or playing games on it supports technologies such as HDR10(+), 4:4:4: Pure Color Sub Sampling, HLG, and Dolby Vision. The colors pop out and have never seemed more lifelike.
It also comes with several features for gaming, including Variable Refresh Rate (VRR), Auto Low Latency Mode (ALLM,) and Quick Frame Transport (QFT.) All these features work together to bring you the most lag-free experience possible, whether you're playing casually or competitively.
This receiver also comes with several smart features. It supports Alexa and similar voice control agents so that you can change or adjust your music hands-free. It also supports Wi-Fi, Bluetooth, and Airplay to play music from your favorite devices. It also supports significant music streaming apps such as Spotify and Pandora.
Finally, it comes with an on-screen setup assistant to customize your experience according to your home's needs. With it, you can set everything up without needing a complex instruction manual. Check our full review of the Denon AVR-S760H.
Pros
Gaming mode for the most lag-free experience possible
Award-winning setup to customize your experience
Powerful 8K video and 7.2 channel audio
Cons
---
Sony STR-DH790 Features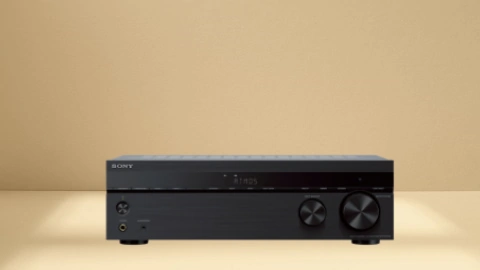 The STR-DH790 is a 4K HDR projector that supports HDR10, Dolby Vision, and Hybrid Log Gamma. With it, you can project 4K movies flawlessly with excellent contrast and crisp colors. In addition, it supports Dolby Atmos and DTS:X, meaning you can have powerful surround sound.
The STR-DH790 calibrates automatically to customize your audio experience according to your room. With every room having different needs, we see this as a plus. In addition, it has Bluetooth so that you can stream music from your devices, and it includes an FM antenna to play the radio with a clear signal.
Pros
Great 4K video and audio experience
Automatically calibrates
Includes Bluetooth and FM antenna
Cons
No 8k support
Lacks a gaming mode
Lacks Wi-Fi
>>> Sony STR-DH790 – an in-depth review
---
Comparison
Video
Both receivers give you a 4K experience with vibrant colors and clear contrasts. However, the Denon AVR-S760H has the Sony STR-DH790 beat in several categories. First, the AVR-S760H has 8K support. It can upscale video to 8K and does it quite well. With 8K being the future, this projector is an excellent investment. The STR-DH790 plays 4K content well, but 8K is where it struggles.
Plus, with its guided setup, you can customize your experience to be much better according to your room's needs. The Denon AVR-S760H is the clear winner.
Audio
Again, both have stellar audio. However, the Denon AVR-S760H supports more technologies, including Virtual X. This tech allows for immersive 3D audio, which can quickly put you into the movie or the game. While the Sony STR-DH790 has an excellent audio, you can hear the difference if you play them side-by-side.
Gaming
The Denon AVR-S760H has several mentioned technologies like VRR, QFT, and ALLM to reduce your lag as much as possible. While the Sony STR-DH790 is a satisfactory gaming experience for parties or on your own, the Denon AVR-S760H delivers truly lag-free gaming. Suppose you're playing competitively. Every millisecond matters. That's why we choose the Denon AVR-S760H in this category.
Other Features
The Denon AVR-S760H has several features that the Sony STR-DH790 lacks. For example, the STR-DH790 does not have Wi-Fi, making it a bit challenging to connect to apps. On the other hand, the AVR-S760H has several built-in apps to make the experience much more seamless, while the Sony STR-DH790 lacks in that department.
The most significant difference is the setup. Both are relatively easy to hook up and play, but the AVR-S760H's guided setup makes all the difference. As a result, it's much easier to have your preferred experience without worrying too much about trial and error.
Price
With the AVR-S760H offering much more, you may believe it's much more expensive. However, both are around the same price. Depending on when and where you shop, the AVR-S760H may cost a little more, but its price difference is usually negligible unless you are on a shoestring budget.
---
Denon AVR-S760H vs Sony STR-DH790: The Verdict
Both AV receivers work well, but there is only one clear winner when all is said and done. The Denon AVR-S760H blows the Sony STR-DH790 away in every regard (>>> Check on Amazon). We're almost bullying the STR-DH790, as it's a great receiver in a vacuum. However, considering that both are around the same price, there's no reason not to choose the Denon AVR-S760H over the Sony STR-DH79 unless you have brand loyalty.
While many of our comparisons come close, or both offer something unique, you need to get the AVR-S760H to experience 8K video, immersive audio, and various features that will make selecting and changing your favorite videos and music much more manageable. Not to mention the gaming. We hope this article was helpful. Good luck.