The Aventage series is Yamaha's top-rated line of A/V receivers, bringing studio-quality sound and materials together with convenience features like voice control and direct music streaming. Looking at the Yamaha Aventage RX-A2A vs RX-A4A, the latter is the superior performer overall, especially for those who want the ultimate immersive surround sound experience. Let's take a closer look at the main differences between these two models. (>>> Find on Bhpotovideo)
Yamaha Aventage RX-A2A vs RX-A4A Side by Side:
| | Yamaha Aventage RX-A2A | Yamaha Aventage RX-A4A |
| --- | --- | --- |
| | | |
| Video | 4K/60Hz | 4K/60Hz |
| Amplifier | 7.2 Channel (100W per channel) | 7.2 Channel (110W per channel) |
| Sound | 5.1 Dolby Atmos | 5.1.2 Dolby Atmos |
| Wi-Fi | Yes | Yes |
| Bluetooth | Yes | Yes |
| Price | B&HPhotoVideo | B&HPhotoVideo |
Sound Quality
The RX-A2A is a solid 7.2-channel receiver, utilizing Yamaha's Cinema DSP 3D technology to create a detailed sound field that makes you feel like you're in the middle of the action. It also supports object-based sound technologies like DTS:X and Dolby Atmos to ensure the accuracy of movie sounds, then tunes the sound to your space using its room acoustic optimizer.
The RX-A4A builds on this foundation. Its 3D Multipoint room optimization and AI:Surround technology further enhance the sonic detail and realism. It's also more powerful overall, maintaining its high sound quality and immersive sound even in larger spaces.
Better sound quality: Yamaha Aventage RX-A4A
HDMI Ports
While the RX-A2A and RX-A4A have the same number of HDMI inputs and outputs, they use different boards. All of the HDMI inputs are 40Gbps HDMI 2.1 inputs, capable of processing 4K/120Hz signals and equipped with lag reduction features like Auto Low Latency Mode (ALLM) and Variable Refresh Rate (VRR). These will be upgraded to add 8K/60Hz capability through a future firmware update. The HDMI inputs on the RX-A2A are capped at 24Gbps, and only 3 have 4K/120Hz pass-through.
Better HDMI ports: Yamaha Aventage RX-A4A
Value
Here's one area the Aventage RX-A2A comes out ahead. Its suggested retail price is just under $1,000, and since it's a bit older you're more likely to find it on sale. The newer and more powerful RX-A4A typically sells for around $1,500, which may put it out of the budget range for some buyers.
Better value: Yamaha Aventage RX-A2A
---
Yamaha Aventage RX-A2A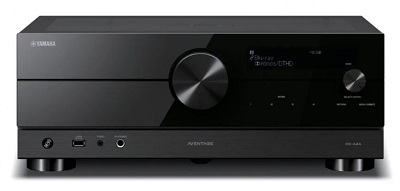 The Yamaha Aventage RX-A2A has the features users need in a modern home theater or multi-purpose entertainment space. All of its HDMI ports process 4K video signals at either 60Hz or 120Hz, and it supports visual technology like Dolby Vision, HLG; and BT.2020 color. It also has features to reduce added lag, like Auto Low Latency Mode and Quick Frame Transport, making it a viable choice for gaming.
The RX-A2A uses Yamaha's YPAO Reflected Sound Control technology, with a microphone that analyzes the acoustics of the room to correct for reflections and other audio issues. Together with the Dolby Atmos Height Virtualization and DTS:X support, this creates an immersive surround sound experience. Along with 7.2-channel wired speaker connections, it has 5.1-channel wireless surround sound and multi-room music capability through MusicCast, and can send the signal to wireless headphones through Bluetooth.
The Yamaha RX-A2A offers similar flexibility when it comes to receiving and controlling content. It supports direct music streaming through a plethora of popular services, or straight from other devices through AirPlay 2. You can also search for and control content using Alexa, Google Assistant, or Siri, or through the MusicCast app. Setting the system up is easy, too, thanks to the included AV setup guide.
Pros
Powerful sound optimized to your space
4K HDMI support (upgradable to 8K)
Enhanced anti-lag features for gamers
Dolby Atmos Height Virtualization for 3D sound
Supports voice control through Alexa, Siri, or Google
Robust direct streaming and wireless connectivity
Cons
Fewer EQ and sound optimization features
Firmware update required for many features
---
Yamaha Aventage RX-A4A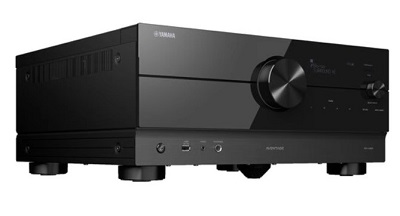 The Yamaha Aventage RX-A4A shares the RX-A2A's flexible connectivity and control. This includes support for Alexa, Siri, or Google voice control, as well as MusicCast for streaming and multi-room music control. It also has a 4K pass-through and lag reduction features on all its HDMI ports, with a similar guided setup app that takes the guess-work out of connecting devices and optimizing the settings.
You'll get intelligent sound optimization with the RX-A4A, as well. It uses Yamaha's proprietary Cinema DSP HD3 sound playback technology as well as the YPAO Room Acoustic Optimizer, with precision EQ and a low-frequency mode to ensure the sound is perfectly balanced for your space and content. Its 3D sound production is equally impressive, with Surround:AI that analyzes each scene for effective, realistic effects, whether you're using the MusicCast wireless surround sound, Auro-3D, or Dolby Atmos Height Virtualization.
Every detail of the Yamaha RX-A4A is designed to improve the performance. This includes details like the Anti-Resonance wedge in the center of the chassis that dampens vibrations for clearer, more accurate sound. That said, it is a hefty receiver, both in terms of weight and dimensions, and it carries a similarly hefty price tag, occupying the higher end of the price spectrum for a 7.2-channel receiver.
Pros
Exceptional sound quality for music or home theater
Room Acoustic Optimizer with Precision EQ
Multiple 3D surround sound formats
All HDMI inputs are gaming-read
MusicCast multi-room audio and wireless surround sound
Compatible with multiple voice control platforms
Cons
Larger and heavier than most receivers
Higher cost
---
The Verdict: Yamaha Aventage RX-A2A vs RX-A4A
The RX-A4A does have some features that are absent from the RX-A2A, with a more sophisticated EQ, more power per channel, and intelligent surround sound optimization, and is the better receiver in terms of overall performance (>>> Check on Bhpotovideo). On the other hand, the RX-A2A offers similar connectivity and capabilities at a lower price, making it the top choice for budget-conscious home theater enthusiasts who want quality equipment for the best value.