Building an excellent sounding home theater begins with making smart choices about the audio-video receiver you purchase. You don't have to spend a fortune to get a high-quality performance system, but you'll want to know the differences between some of the popular options on the market. Today, we challenge the Sony STR-DH590 vs Yamaha RX-V385 to see which of these affordable options makes the most sense. We found that the Sony STR-DH590 is going to be the best choice for most home audio enthusiasts (>>> Find on Amazon).
Sony STR-DH590 vs Yamaha RX-V385 Side by Side:
| | Sony STR-DH590 | Yamaha RX-V385 |
| --- | --- | --- |
| | | |
| Video | 4K/60Hz | 4K/60Hz |
| Amplifier | 5.2 Channel (145W per channel) | 5.1 Channel (100W per channel) |
| Sound | 5.1 Dolby Atmos | Dolby TrueHD, DTS HD Master Audio |
| Wi-Fi | Yes | No |
| Bluetooth | Yes | Yes |
| Price | Find on Amazon | Find on Amazon |
Sony offers an affordable unit that provides up to a 5.2 channel surround sound setup. One of the primary reasons we like the Sony is the ability to operate separate powered subwoofers. The Yamaha provides only a 5.1 channel system, meaning you have less flexibility when using a powered subwoofer.
Power Output
One of the key factors that buyers want to know is how powerful a system might be under ideal conditions. Sony offers up to 90 watts per channel of power against only 70 from Yamaha. That means you'll get a more full range of sounds and deeper bass with cleaner highs even at high volumes because the Sony won't have to work as hard as teh Yamaha to make the same amount of sound.
Audio Technology
Both of these receivers will offer you some of the best and latest technology to take advantage of high-quality sound files. That means you'll have DTS and Dolby DIgital Surround from both that let you tailor the sound to the dimensions of your space.
Sony uses a system called Digital Theater Auto Calibration (DTAC) that uses sophisticated algorithms to alter the timing and volume of each channel to give you crystal clear vocals and deep bass with the proper time-shift to allow for movement in space.
Yamaha uses a proprietary system to accomplish the same outcome. It's called Yamaha Parametric Room Acoustic Optimizer (YPAO) that uses an included microphone and sophisticated technology to digitally create an optimal sound stage.

Sony STR-DH590
Pros
Very affordable price for the amount of power and technology
Easy to set up and get working right out of the box
Cons
Some lack of fidelity in the upper-mid range that is noticeable when playing acoustic audio
Lack of digital height actualization limits the surround sound capabilities
Connectivity
A receiver needs to do more than just play music, it needs to play the music you want in the manner you want to play. That means wireless connections that are stable and secure. Both of these receivers offer similar Bluetooth and Wi-Fi connectability with excellent signal strength for uninterrupted wireless streaming.
HDMI Inputs and Outputs
You'll also want to be able to connect your favorite accessories like video game consoles and other devices. Both units offer the same four in, one out HDMI ports to connect to televisions, gaming consoles, and Blu-ray players. Each of the HDMI ports uses HDCP 2.2 to ensure playback of the latest files.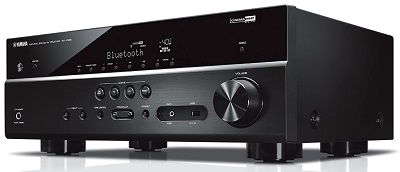 Yamaha RX-V385
Pros
Offers better fidelity over similar units from competitors
Excellent companion to a 4k television for buyers that watch lots of action movies
Cons
Single subwoofer output limits creative speaker placement
Lacks punchy power for deep tracks
Video Performance
One advantage of a proper AVR over a soundbar is the ability to improve your video playback. Both of these receivers handle 4k ultra high-definition playback through all of the HDMI inputs. That means you'll be able to connect to you 4k UHD-compatible television and play the most realistic video possible with enhanced color and dynamic range. Shadows will look cleaner and you'll have a nearly three-dimensional quality to compatible media when played on either of these two receivers.
ARC Connections
Both receivers offer Arc connections for connecting your compatible television or monitor. This connection provides the smoothest playback of video files and ensures you don't have stutter or lag. Arc technology also improves the time alignment of audio and video playback to keep everything looking natural.
What Sets These Two Apart
On paper, the Yamaha might offer somewhat better performance in terms of sound quality over the Sony. Yamaha uses three advanced digital-to-analog converters, while Sony is mum about the type of DAC they employ with this receiver.
On the bench, both of these receivers sound excellent and it is honestly difficult to tell the two apart. The Sony seems a little simpler to set up and get working, while the Yamaha offers somewhat better sound while gaming.
Watching videos with cinematic effects was excellent on both devices and doesn't appear to be much different from one to the other. Both offered stunning, clear video pass-through that resulted in a nearly identical image quality. In fact, the image quality looked better than several high-end devices we tested recently.
On the audio side of things, the additional power the Sony offers showed through. We found that the Sony could be played at a lower volume, thus using less power and driving the speakers less hard, and we could get basically the same results. Neither unit showed any lack in performance, but the addition of a second powered sub channel on the Sony let us maximize the bass movement which significantly enhanced some aspects of the experience. In particular, action movies and video games with lots of action sounded better with the dual sub setup.
Conclusion
These two AV-receivers are excellent low-cost options and are a great way to start a home theater system. We prefer the Sony simply because of the option to add an additional subwoofer (>>> Check on Bhphotovideo), but that might not be a big deal for some buyers who are primarily interested in video. For streaming audio, we couldn't find any significant difference between the two. Both sound excellent and are a fantastic upgrade over a soundbar that costs the same amount.
REFERENCES AND FURTHER READING: