It's always a good idea to compare AV receivers before bringing one home. It helps ensure you get the right component for your setup. Sometimes comparing two models isn't easy, especially when the specifications are similar.
The Onkyo TK NR595 vs the Denon AVR S750H is an example. The two receivers are almost equal in video and audio quality, but a closer look shows a few differences. The NR595 has a little more power. It also comes with 4K upscaling, a feature that missing on the Denon receiver (>>> Find on Amazon). The S750H is compatible with more streaming services and is a little easier to install and set up.
Still not sure which AV receiver is the best option? You can learn more about them in the following review.
Onkyo TX NR595 vs Denon AVR S750H Side by Side:
| | Onkyo TX NR595 | Denon AVR S750H |
| --- | --- | --- |
| | | |
| Video | 4K/60Hz | 4K/60Hz |
| Amplifier | 7.2 Channels (170W per channel) | 7.2 Channel (140W per channel) |
| Sound | 5.2.2 Dolby Atmos | 5.1.2 Dolby Atmos |
| Wi-Fi | Yes | Yes |
| Bluetooth | Yes | Yes |
| Price | Find on Amazon | Find on Amazon |
Audio Quality
When it comes to audio quality, the two AV receivers are almost evenly matched. With a 4 ohms impedance and 20-20,000 Hz frequency bandwidth, you get smooth and clear audio without pauses or interference. Dolby Atmos and Dolby Digital give you incredibly rich and clear sound that's further optimized with DTS:X technologies.
Dolby Height Virtualization support gives you a surround sound experience. You do get more power with the NR595. At 80W, it can make a difference over the 75W you get with the S750H in larger spaces.
Best Audio Quality: Onkyo TX NR595
Video Quality
Video quality is just as important as the audio, and neither receiver will disappoint. You get Dolby Vision support for exceptional image quality. Details are crisp in light and dark scenes. HDR technology optimizes colors for more dynamic images, along with HLG support.
Both models support 4K content via an HDMI passthrough, but the NR595 takes it a step further. The receiver also comes with 4K upscaling, so you are ready for almost any type of content.
Best Video Quality: Onkyo TX NR595
Connectivity
No one wants to spend time consistently connecting their devices to an AV receiver. Both of these models come with plenty of audio and video inputs. There's also a phono input, along with HDMI and ethernet ports. The receivers also boast a USB connection, with one small difference. Denon places their USB on the front, instead of the rear like the Onkyo receiver. It makes setup a little more convenient.
While the NR595 comes with an extra HDMI monitor output, the S750H offers more wireless connectivity. It supports more streaming services like Napster.
Best Connectivity: Denon AVR S750H
Ease of Use and Setup
The NR595 is compatible with Sonos Home Sound System. It's easy to integrate into your existing smart system. It's also a breeze to install if you don't have a smart home system. Just follow the included instructions. Denon's award-winning setup assistant comes with the S750H. It walks you through all of the installation and setup steps. Both receivers are compatible with an online remote. It's easy to download the app to your connected devices. They also come with a physical remote.
You do get a more compact receiver with the S750H. It can make it easier to fit with your existing components. If you don't feel like searching for the app or battery-powered remote, the S750H is also compatible with Amazon Alexa and Google Voice Assist
Easiest to Setup and Operate: Denon AVR S750H
---
Onkyo TX NR595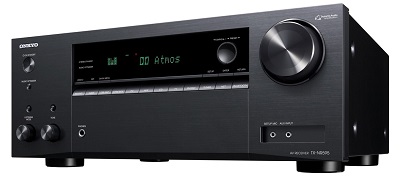 With either the Sonos app or their smart entertainment system, you can easily control the Onkyo TX NR595. Change the volume or inputs without having to search for the remote. Its built-in wireless connectivity allows you to stream audio from your favorite platforms, but the receiver does not support Napster.
Six HDMI inputs and two monitor outputs ensure you can connect your wired devices. It also comes with a rear USB port and phono input. With two speaker outputs, you can create dual zones. Play the same or different audio in each zone and easily switch back and forth.
Audio and video quality are evenly matched to ensure an immersive entertainment experience. A 4K passthrough and upscaling keep you ready to accept the latest content formats. Dolby Vision, Atmos, and Height Virtualization technologies produce dynamic audio and video.
Pros
Sonos compatible
4K upscaling technology and passthrough
80W of power per channel
Dolby Vision and Audio technologies
Dual speaker outputs for two zones
Cons
The AV receiver is only compatible with the Sonos or Onkyo apps for voice-control functionality
---
Denon AVR S750H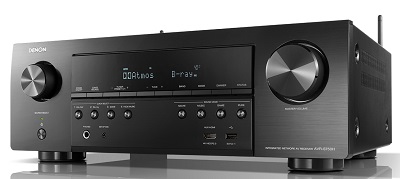 The Denon AVR S750H comes with everything you need to enjoy exceptional audio and video. It's also a breeze to use, and you'll love the flexible installation. You can leave the receiver at its original 7.2 channel configuration or a 5.1 with another zone. With a 5.2 channel setup, you get home theater-quality audio, while a 2.1 configuration fills a small room with sound.
A combination of Dolby and DTS technologies optimize audio for your surroundings. You get a surround sound experience without having to install additional speakers. 4K support, along with Dolby Vision and HDR produces images that match the cinematic-quality audio. eARC technology further enhances colors.
Built-in HEOS lets you stream your favorite music from any contented device in your home. It also comes with onboard Bluetooth and Wi-Fi. Use the included remote or convenient voice control. The receivers work with SIRI, Alexa, and Google Assistant.
Pros
Multiple setup configurations
Dolby and DTS:X support
Onboard setup assistant
Compatible with most streaming services
Immersive images and audio
Cons
Reception is limited to a few feet with the built-in Bluetooth feature
---
Conclusion
When it comes to the Onkyo TX NR595 vs the Denon AVR S750H, you aren't going to go wrong with either one. You get a little more power with the NR595, and it also has 4K upscaling (>>> Check on Amazon). While the S750H is lower in power, you get more streaming platforms. It's also a little easier to set up.
It comes down to what you need in an AV receiver, along with which features are important for you.