There are several reasons why AV receivers are a common component in home entertainment systems. You can connect external devices and enjoy exceptional audio and image quality. Switching between components is also a breeze with an AV receiver.
Even though you won't have a problem finding audio/video receivers for sale, not all are designed the same. Some only come with a few ports or channels, while others have a low input rate that will frustrate even casual gamers. >>> Check Price on Amazon
The Denon AVR-S960H seems to come with everything you want from an AV receiver. It boasts plenty of channels and ports, along with features that will make gamers happy. However, before you make a decision it's always a good idea to take a closer look at the component.
Denon AVR-S960H Main Specs:
| | Denon AVR-S960H |
| --- | --- |
| | |
| Video | 8K/60Hz, 4K/120Hz |
| Amplifier | 7.2 Channel (90W per channel) |
| Sound | 5.1.2 Dolby Atmos |
| Wi-Fi | Yes |
| Bluetooth | Yes |
| Price | Find on Amazon |
The AVR-S960H by Denon is a breeze to set-up and use, but you need more from an AV receiver. Here's what you need to know about the AVR-S960H receiver.
Channels
Channels are similar to speakers on an AV receiver, and you want the component to have more than two. The receiver should come with enough channels for all your speakers, and it's nice to have extra ones to use in the future. If you want surround sound, you'll need a receiver with five channels.
The AVR-S960H model boasts 7.2 channels, with 90-watts of power for each one. The list of the best current 7.2 receivers can be found here. Audio is crisp and clear at any volume level thanks to the internal driver that reduces impedance. The receiver is compatible with most speakers. To ensure a well-balanced sound, it also comes with an automatic Eco Mode.
Connectivity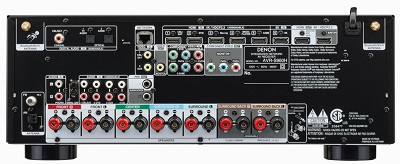 You won't have any problems connecting your wired and wireless devices. There are 8 HDMI in/outputs, along with ports for USB devices. Along with a phono input, you also have support for your wireless components. Whether you want to connect a 4K TV, gaming console, Bluetooth device, or a turntable, the receiver has a port.
The connectivity extends to Wi-Fi and Airplay 2 so you can listen to audio from the receiver in multiple rooms. It also comes with built-in HEOS technology. Play the same song throughout the house or a different one in another room.
Gaming Quality
Not everyone thinks about gamers when they're looking for an AV receiver. Most consumers focus on audio and image quality. However, the AVR-S960H model is designed to make even avid gamers happy with a low input lag and a quick refresh rate.
The receiver comes with VRR technology that provides an immersive gaming experience. The variable refresh rate, combined with the automatic low latency mode ensures images are smooth and clear frame-by frame. You won't notice any delays or blurry images during fast-paced action games. The receiver also supports a 4K/120Hz pass-through for an enjoyable gaming experience.
Consumer Impressions
Overall consumer impressions are positive when it comes to audio and image quality. They also appreciate how simple the receiver is to setup. There are plenty of ports for external components, and it also supports wireless connectivity. What does worry some consumers is how hot the unit runs after a few hours of use.
Pros
Easy setup
Plenty of in/outputs
Multiple channels
HDMI and 3D audio support
Low input lag
Cons
The receiver does run warmer than some other models and may require the addition of a cooling fan or pad to prevent overheating
It does not support IMAX content
Conclusion
The Denon AVR-S960H is a 7.2 channel receiver that can process audio from multiple sources, and produce stunning 1080p and 4K resolution images. Along with boasting plenty of ports to connect your devices, it also has a refresh rate and input lag gamers will appreciate. >>> Find out how much does it cost on Bhphotovideo
Even though you can't watch IMAX with the receiver, and it does tend to run hot, the AV receiver from Denon comes with everything you need to get the most out of your home entertainment system.