Yamaha produces some of the most user-friendly and out-of-the-box high-performance audio-video receivers on the market today. The products they make are backed by decades of experience and proven results in the industry. This Yamaha AVENTAGE RX-A4A review will examine the key features that make this an excellent option for developing a high-end home theater experience. (>>>Find on Amazon)
Yamaha AVENTAGE RX-A4A Review of Specifications:
| | Yamaha AVENTAGE RX-A4A |
| --- | --- |
| | |
| Video | 4K/60Hz |
| Amplifier | 7.2 Channel (110W per channel) |
| Sound | 5.1.2 Dolby Atmos |
| Wi-Fi | Yes |
| Bluetooth | Yes |
| Price | B&HPhotoVideo |
The Yamaha AVENTAGE RX-A4A is a 7.2 channel receiver with numerous smart features that can be the backbone of a complete home theater setup. It offers flexible options for adding top-quality speakers and can be the centerpiece that lets you expand with a projector, turntable, or gaming console to bring the best options to your home.
MusicCast Audio Features
MusicCast is a unique way to enable multi-room audio with independent playback, all from a dedicated app. Using compatible components, you'll be able to easily send music to your den, patio, or bedroom while enjoying television or movies in your primary theater space.
The MusicCast technology allows you to use wireless speakers to further enhance your audio environment while helping to declutter the tangle of wires that tend to happen when setting up complex AVR solutions.
Enhanced Audio Features
Yamaha uses special software to allow for full conversion of compressed audio so that you don't experience loss of frequencies when streaming music from a smartphone or when playing files from a compressed thumb drive.
This receiver also gives you enhanced features through Dolby Digital like Virtual Height Actualization that creates a room-filling surround sound experience even when you have your speakers mounted on the floor. In addition, you'll have access to DTS:X and Auro 3D technology that provides enhanced audio for a true three-dimensional sound stage.
Pros
One of the best sounding AVRs right out of the box
Outstanding tuning capabilities and easy setup process
Excellent for gaming and movies
Cons
No HD radio available
Clumsy, funky remote control
Advanced Wireless Connections
The RX-A4A includes Wi-Fi and Bluetooth connections to allow you to stream music files wirelessly, making it even easier to enjoy your favorite content without the hassle. Not only can you stream music wirelessly, but you can also connect the receiver to your favorite voice control system. Yamaha provides native support for Amazon Alexa, Apple AirPlay2 featuring Siri, and Google Assistant. That means you can integrate the receiver with oyur other smart home devices to create a fully connected environment.
Video Capabilities
One of the best things about this receiver is the advanced abilities to connect your compatible high definition television and add the most incredible and realistic sound quality to your favorite movies. You'll get the most immersive cinematic experience possible with surround sound and up to 4k/60 Hz video passthrough capabilities.
Future Video Upgrades
In the near future, Yamaha will be providing patches to enable future-ready support for the most advanced television and movie watching experience. Coming soon will be 4k/120 Hz and 8k/ 60 Hz formats that will provide the most detailed images with astounding contrast and clarity.
Future of Gaming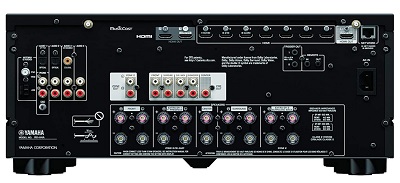 The Yamaha RX-A4A is already one of the best AVR setups around for gaming using the native 4k/60 Hz pass through and in the near future, this receiver will gain the ability to use several specific programing processes to enhance your gaming experience. These technologies include ALLM, VRR, QMS, and QFT.
Tuning and Setup
Getting an advanced AVR to sound perfect is often one of the more demanding tasks associated with setup. Yamaha includes the YPAO tuning system with this receiver that effortlessly adjusts the signal strength and timing to perfectly fill the space of your room with sound, making it much easier to quickly get the ideal quality you want.
Additionally, an app allows for easy setup and installation by walking users through the process of connecting speakers, setting up connections to televisions, and other aspects of the process to make it as easy as possible to get the results you want right out of the box.
Conclusion
This is an excellent option to begin building a truly impressive home theater system. It includes many of the most useful features and will be ready for the future with updates. The few minor things some users have noted, like the clumsy remote and USB playback that is limited to 500 songs may not be deal breakers for many people. Overall, this is an excellent option from Yamaha for the average home theater enthusiast.(>>> Check on Bhphotovideo)
REFERENCES: