The Pioneer VSX-523 is a popular option for cheap audio-video receivers on the used market with prices often coming in at less than $100. The model has been out of production for some time now and was replaced by the VSX-534 in 2019, but there are still quite a few available in used condition even though it was introduced almost 10 years ago.
This Pioneer VSX-523 review will let you know if it is worth it for you to take a chance on a used receiver rather than spend the money to buy new one. (>>>Find on Amazon)
Pioneer VSX-523 Review of Specifications:
| | Pioneer VSX-523 |
| --- | --- |
| | |
| Video | 4K/60Hz |
| Amplifier | 5.1 Channel (140W per channel) |
| Sound | Dolby TrueHD Dolby Pro Logic IIz/Dolby digital plus |
| Wi-Fi | Yes |
| Bluetooth | Yes |
| Price | Find on Amazon |
This older design uses a 5.1 channel configuration that offers 80 watts per channel. The newer model, the VSX-534 adds an extra subwoofer channel, but does not change the power output available. You'll find four HDMI inputs that all support up to 4k UHD resolution and 3D imaging.
Video Pass-Through
Today, almost every receiver out there is capable of 4k UHD resolution, but that wasn't the case when this receiver was built in 2013. If you are looking for convenience, you'll find it here. All HDMI ports are capable, something that isn't often seen even in modern designs. The receiver features some of the best technology that still is relevant today including Dolby Digital HD Master.
One significant downside to this receiver is the outdated HDCP protocols. Almost all modern media sources that play through HDMI will not be compatible with this receiver, however an aftermarket HDMI splitter may resolve most issues allowing you to use a Fire Stick, plug in a modern video game console, or connect to Netflix for streaming. Without additional components, this is just a brick.
Pros
One of the cheapest options you'll find on the used market for a receiver from a name-brand
Reasonably decent sound quality
Can pass through 4k resolution with additional components and cables
Cons
Lacks most of the basic technologies that are essential today like Bluetooth, Wi-Fi, and processing technologies for enhanced surround sound features
Obsolete and very difficult to service or repair
Numerous used products are sold in working condition, but are not
Audio Performance
Given that this was an entry-level AV-receiver almost 10 years ago, performance is surprisingly good. Of course, you won't find Bluetooth or Wi-Fi, so you won't be able to wirelessly stream content, but overall, the sound quality remains decent even all these years later.
Since wireless streaming isn't available on this device, your best bet is to use thumb drives. The receiver has a USB port on the front panel specifically for playing audio and video from a thumb drive. The advantage to this is that you are able to store uncompressed files on the thumb drive and get better audio quality than when streaming on a newer design like the VSX-534.
When this receiver was introduced, iPod devices were all the rage. This receiver will connect and work with the original iPod and iPod mini effortlessly, but will not work with newer iPod devices.
Tuning Capabilities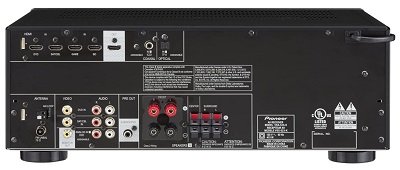 Pioneer includes the exclusive Multi-Channel Acoustic Calibration system (MCACC) tuning program that allows you to easily adjust the sound of your speakers for the dimensions of your room. The older design of this technology uses a microphone and is relatively easy to use, but not as accurate or as feature-packed as versions of the same software in use on modern Pioneer products.
Conclusion
The VSX-523 makes an excellent choice for a super-budget audio theater set-up, perhaps for a spare bedroom or as a stand-alone device for watching television or listening to the radio. The lack of many modern features limits the usefulness of this product against similar modern designs that aren't significantly more expensive in new condition. The lack of factory support and the outdated protocols mean that you'll need to find lots of unique solutions to do things like play video games, play music from a record player or computer, or play files that are in compressed formats.
Given the choice between picking one of these older receivers up for a bargain and spending a little more on a modern design, most people will benefit from skipping on the used product. At this stage, it is just too far obsolete to be practical for the types of media in common use today. (>>> Check on Amazon)