If you don't need broad channel support for multiple surround sound speakers, a 2-channel receiver can be an excellent way to get high audio quality at an affordable price. Choosing the right receiver usually comes down to how you'll use it. That's the case comparing the Denon DRA-800H vs. Marantz NR1200.
Is the Marantz NR1200 or Denon DRA-800H the Better Stereo Receiver?
Overall, the Denon DRA-800H is the better choice for music, with a discrete stereo network receiver amplifier that plays hi-fi, high-resolution audio tracks from all content sources. Along with this, its powerful 100-watt output ensures plenty of power to get the best sound quality out of your speakers, no matter what brand or type of equipment you use.
The Marantz NR1200, on the other hand, is an ideal 2.1-channel receiver for home theaters (>>> Check on Amazon). It still delivers a high sound quality, with high-fidelity, high-resolution audio. Along with this, it's easy to connect into a variety of home entertainment setups, with ARC support on its 5 HDMI inputs and HDMI output as well as wireless connectivity for streaming content or integrating it into smart home entertainment systems.
Curious to learn more? Let's check out the main differences so you can pick the right receiver for your home.
Denon DRA-800H vs Marantz NR1200 Side by Side:
Denon DRA-800H
Marantz NR1200
Video
4K/60Hz
4K/60Hz
Amplifier
2.1 Channel (100W per channel)
2.1 Channel (75W per channel)
Sound
No Dolby Atmos
2.1 Dolby Atmos
Wi-Fi
Yes
Yes
Bluetooth
Yes
Yes
Price

Find on Amazon





Find on Amazon





B&HPhotoVideo
Installation Ease
It's not hard to set up the Denon DRA-800H. Both the front and rear panels are well-labeled and intuitive, with a wide and easy-to-read digital display and front-facing sound and device ports. Experienced A/V users will be up and running in minutes, and even beginners can quickly connect speakers and content sources.
There are two features that give the Marantz NR1200 a slightly easier set-up. It's not as tall, for one thing, which makes it easier to physically fit in with your other equipment. It also has a step-by-step setup wizard that guides you through the installation process, a very handy option, especially if this is your first stereo receiver.
Easier installation: Marantz NR1200
Navigation and Control
The Denon DRA-800H stereo network receiver gives users multiple control options. Along with the intuitive front panel mentioned above, it includes a remote control with all of the input selection, playback control, and settings adjustment options you'll need to optimize the sound quality of your system. You can also connect it to a smart home system for hands-free voice control.
While the Denon DRA-800H is overall easy to use, the Marantz NR1200 has a few additional features that give it the edge. Like the Denon, it comes with a remote control and supports major voice control services. Additionally, it can be controlled with many Smart TV remotes, or through the Marantz AVR Remote app on either iOS or Android devices. Its Smart Select buttons are another helpful navigation feature, leting you save custom settings for specific input sources to quickly optimize the sound quality and speakers.
Easier navigation: Marantz NR1200
Home Theater Performance
As we mentioned in the intro, neither of these receivers has surround sound channel support, but that's not a deal-breaker for many  home theater users. The Denon DRA-800H has relatively robust video signal support, including a 60Hz 4K pass-through and eARC support on its HDMI inputs.
Where the Marantz NR1200 takes a slight lead here is its responsiveness. There's less delay when you're navigating streaming menus, and 3D content plays smoothly in multiple formats. It also supports technology like Dolby Vision to deliver video quality that matches its audio output.
Better home theater receiver: Marantz NR1200
Music and Sound Quality
The hi-fi construction and tuning performed by Marantz' audio engineers give their receivers a consistently high sound quality, and the NR1200 is no exception. Discrete power amplifiers provide 75 watts of power per channel, with a well-balanced sound across the frequency range. Support for services like HEOS and AirPlay 2 let it control your whole home's audio. It also supports just about every content source, from record players to streaming platforms and internet radio.
Here, it's the Denon DRA-800H that takes the slight edge. It matches the tuning, construction, and amplifier quality of the Marantz NR1200 but is more powerful, with 100 watts driving each channel. This both gives it a higher maximum output and limits distortion at lower volume levels. You'll especially notice the improved audio in the low frequency range, with powerful bass that doesn't overwhelm the mid-range frequencies.
Better receiver for music: Denon DRA-800H
Smart Features
Users of common voice control systems like Alexa, Siri, and Google Assistant will be equally satisfied with either receiver. Both are also compatible with HEOS multi-room music and popular music streaming services like Amazon Music, Pandora, and Spotify.
The Denon DRA-800H expands this support to include Josh.ai and other home automation systems, making it a more versatile receiver from a smart home integration perspective. While the NR1200 offers some network control, the Denon's more robust support makes it the smarter receiver.
Better smart features: Denon DRA-800H
Gaming Performance
This is one category where the Marantz NR1200 is the clear winner. Its Auto Low Latency Mode (ALLM) detects when you're using a gaming system and automatically switches to low-latency settings. The high frame refresh rate on all its HDMI inputs ensures smooth on-screen action, minimizing frame tears and other issues. Together, these features make it a great receiver for gamers. While the Denon DRA-800H has a similar refresh rate, it lacks the anti-lag technology that would make it a true gaming receiver.
Better receiver for gaming: Marantz NR1200
---
Denon DRA-800H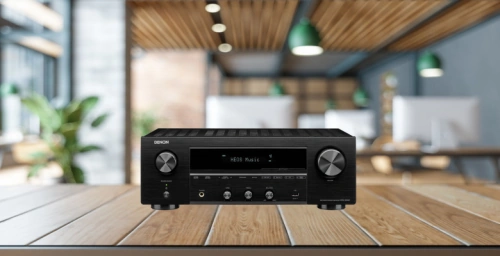 The Denon DRA-800H is the ideal stereo network receiver for listening rooms and music lovers. Both channels are driven by discrete high-current amplifiers with 100 watts of power, providing powerful audio with no loss or distortion even at higher decibel levels.
The quality of the sound from the Denon DRA-800H receiver is equally impressive as its output. It's constructed and tuned at the factory by Denon's expert sound engineers, with a symmetrical layout and dedicated circuitry that prevents detail loss and maintains the integrity of the sound signal during amplification.
The DRA-800H brings this same fidelity to all audio formats and is compatible with a wide range of speaker brands and styles. Since it has built-in wireless connectivity and HEOS multi-room music support, you'll get the same high-quality audio across your entire home.
Another great thing about the Denon DRA-800H is that it's easy to use with almost any kind of set-up. For home theaters, it supports 4K resolutions and technology like HDR10 and HLG, with eARC support on all its HDMI inputs. Smart home owners will appreciate the compatibility with multiple voice control systems, including home automation systems like Josh.ai. Add in the wireless streaming support and intuitive front panel and you have a versatile receiver almost anyone can use.
Pros
Balanced high-fidelity sound
Excellent sonic detail and output
Full 4K resolution for video signals
Built-in streaming and multi-room music
Compatible with multiple voice control systems
Front-facing headphone and USB inputs
Cons
No lag reduction for gaming
---
Marantz NR1200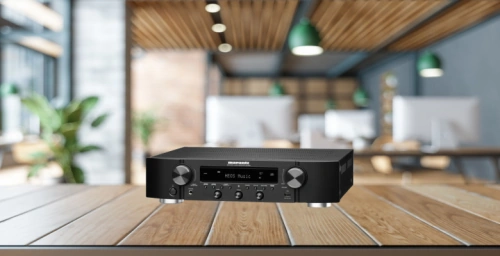 The slim profile of the Marantz NR1200 is the first thing you'll notice, especially if you have limited space to work with on your entertainment center. Along with being easy to fit into your space, this impressive stereo receiver is very simple to set up. It's tuned at the factory, for one thing, so you won't need to adjust the sound before you use it. The guided step-by-step on-screen setup assistant makes it easy to get started even if you're a complete novice.
The NR1200 is an especially great option for home theaters. For movies and TV, it supports 4K resolutions and 3D content, with technology like HDR10 and pure color sampling to maintain the image integrity.
You can also use this receiver for gaming without any extra lag thanks to its auto low latency mode (ALLM). Its only major lack from a home theater perspective is that it doesn't have the channel breadth for true surround sound set-ups.
For multi-room music and streaming, the Marantz NR1200 works with HEOS and AirPlay2, so you can play music from services like Spotify and Pandora in any room. It also works with voice commands through the top 3 platforms, so it's easy to integrate into smart home theaters.
Pros
Guided set-up assistant
Tuned at the factor for high-quality sound
Slim profile fits in more entertainment centers
Low latency ideal for gamers
Excellent 4K picture quality
Compatible with all major voice control platforms
Cons
---
Customer Impressions
Each receiver gets consistently positive reviews across platforms. They score well across performance categories like sound quality, connectivity, and reliability, as well as their overall value for consumers.
One place reviews of the Marantz NR1200 receiver are weak is in the company's tech support. It can be difficult to connect with customer service representatives by phone when you have an issue. On the plus side, most users can set up and use this receiver without any need for tech support.
The Denon DRA-800H receiver gets consistent 5-star reviews for its sound quality and features, as well as its intuitive set-up process. Some Alexa users do report issues connecting the receiver and using voice commands, something to keep in mind if you use an Alexa-based smart home system.
Which Receiver Is a Better Value?
The Denon DRA-800H and Marantz NR1200 sell at a similar price point. However, the Denon costs a bit less from most retailers. Since their performance is similar, this makes the DRA-800H the better receiver for budget-conscious buyers.
The Bottom Line
To be honest, most users will be equally impressed by the Denon DRA-800H or Marantz NR1200, and either one can work in a range of spaces, including listening rooms and home theaters. The difference comes down to the details. For more powerful audio and broader smart home integration, go with the Denon DRA-800H (>>> Find on Bhphotovideo). If your main concerns are an easy setup and a low lag for gaming, the Marantz NR1200 is your winner.