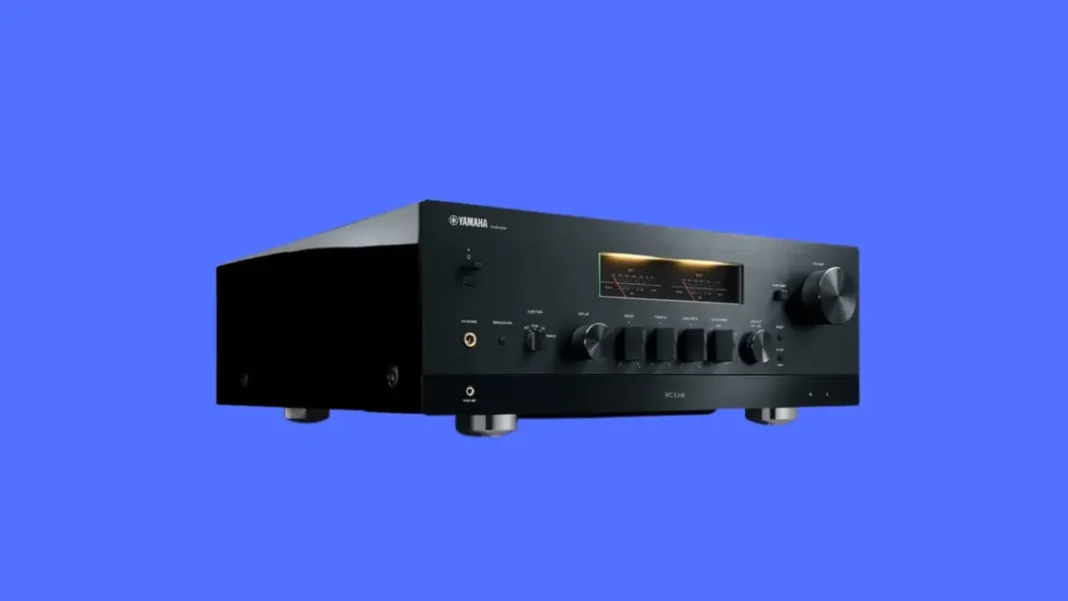 Having recently spent a considerable amount of time with the Yamaha R-N2000A, a next-generation network Hi-Fi receiver, as part of our Yamaha R-N2000A review. I am delighted to share my experiences and thoughts on this piece of gear. The R-N2000A isn't just another addition to Yamaha's lineup—it is a testament to the brand's dedication to innovative technology and sonic precision. Check the Latest Price on Amazon Now!
Yamaha R-N2000A Review of Specs:
Yamaha R-N2000A
Maximum Power
190 W + 190 W (4 ohms, 1kHz, 0.7% THD, for Europe)

120 W + 120 W (8 ohms, 1 kHz, 10% THD)
Rated Output Power:
[20 Hz-20 kHz 0.07 % THD] 90 W+90 W (8 ohms) 145 W + 145 W (4 ohms)
High Dynamic Power/Channel (8/6/4/2 ohms)
100 / 130 / 185 / 215 W
Signal-to-Noise Ratio (CD)
110 dB (Pure Direct ON)
Frequency Response
5 Hz-100 kHz +0/-3 dB, 20-20 kH +0,-0.3 dB (Pure Direct ON)
Audio Formats:
MP3, WMA, MPEG-4 AAC, WAV, FLAC, AIFF, DSD
Network Connectivity
Wi-Fi, Ethernet, Bluetooth, AirPlay
Dimensions:
17-1/8" x 6-1/8" x 18-5/8"
Weight:
48.7 lbs
Price

Find on Amazon





B&HPhotoVideo
Design and Build Quality
Out of the box, the R-N2000A impresses with a weighty, robust build that inspires confidence. It is housed in an aesthetically pleasing, elegant black chassis with a distinctive pair of gorgeous level meters at the front. These meters not only give you a sense of the music's dynamics and pulse but also evoke a nostalgic Hi-Fi era look. The overall design and construction, including the original speaker terminals cut from pure brass for secure connection, reflect a clear emphasis on mechanical grounding and symmetrical construction.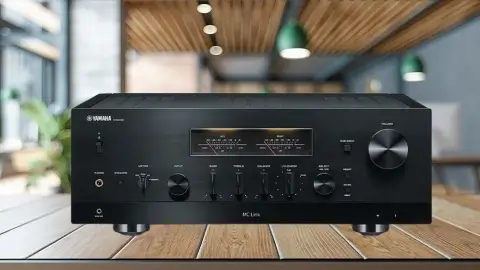 Pros
Exceptional sound quality with high-resolution audio support.
Comprehensive connectivity options including Wi-Fi and Bluetooth.
Yamaha's advanced YPAO automatic calibration technology.
Aesthetically pleasing design with vintage-inspired level meters.
Energy efficient with minimal standby power consumption.
Cons
Hefty weight might make positioning challenging.
High-end pricing may not suit all budgets.
Sound Quality
Once connected, it quickly becomes clear that the R-N2000A is not just about looks. The receiver's sonic abilities are nothing short of stunning. Offering a frequency response of 5 Hz-100 kHz, it faithfully reproduces every note from deep, rumbling bass to crisp, soaring highs. The rated output power stands at a sturdy 90 W+90 W (8 ohms) and a whopping 145 W + 145 W (4 ohms). This ensures a powerful performance that is incredibly transparent and free of distortion, even at high volumes.
Toroidal Transformer
One of the significant contributors to the R-N2000A's outstanding sonic performance is the Toroidal power transformer. This component, usually found in flagship Hi-Fi components, brings a spacious, realistic sound that truly sets this receiver apart from its competitors. It effortlessly handles complex arrangements and layered recordings, providing extraordinary channel separation.
Floating and Balanced Power Amp
Further enhancing the sound quality is the floating and balanced power amp. By isolating the amp circuitry and power supply from the ground, it eliminates minute voltage fluctuations and external ground noise, resulting in a cleaner, purer sound.
High-Performance DAC
The R-N2000A features the ESS SABRE ES9026PRO Ultra DAC for the ultimate high-performance conversion. This, in combination with a high-performance USB DAC function that supports DSD 11.2 MHz native playback and 384 kHz playback, ensures a detailed, balanced, and vibrant sound reproduction across all frequencies.
Network and Connectivity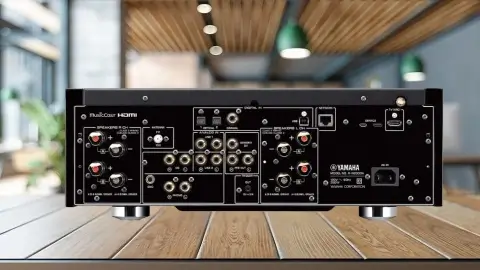 With a range of connectivity options that include Wi-Fi, Bluetooth, AirPlay, and Ethernet, the R-N2000A offers the flexibility to play your favorite music from virtually any source. It supports multiple high-resolution audio formats like MP3, WMA, MPEG-4 AAC, WAV, FLAC, AIFF, and DSD. Whether you are streaming music from a service or playing it from your personal collection, the R-N2000A will handle it with ease.
Yamaha Parametric Room Acoustic Optimizer
One of the standout features of the R-N2000A is the Yamaha Parametric Room Acoustic Optimizer (YPAO). This automatic calibration technology performs high-precision equalization with accuracy of up to 192 kHz / 64-bit audio resolution, optimizing the sound in your room based on wall materials and speaker placement.
HDMI ARC Compatibility

The R-N2000A isn't just for music. Thanks to its compatibility with HDMI ARC, it can be connected to your TV with a single cable, allowing you to enjoy TV audio content with excellent sound quality.
Standby Power Consumption
Despite its robust performance, the R-N2000A impresses with a minimal standby power consumption of 0.1 W. With network standby on and Wi-Fi connection, this bumps up to a still modest 1.8 W. This demonstrates Yamaha's commitment to environmental sustainability without compromising performance.
User Experience and Feedback
To give a comprehensive review, I have also considered other users' experiences. The user reviews I've examined are consistently positive. Many users note the amplifier's significant improvement over previous models, particularly in terms of sound quality.
One user, who had owned the R-N2000A for three weeks, remarked how it breathed new life into his speaker setup, making him fall in love with his system all over again. He found the Yamaha MusicCast platform intuitive and user-friendly, which contributed to his overall positive experience.
Another user was amazed at the receiver's ability to discern individual instruments, thanks to its clarity and power. He shared that the R-N2000A surpasses the performance of the R-N803 model, which he already held in high regard.
Yet another user lauded the R-N2000A's build quality and the vast improvement in sound compared to the Yamaha RN-602. He found the connectivity options on the R-N2000A to be more than satisfactory.
Conclusion
Yamaha's R-N2000A is not just a network receiver—it's a gateway to the ultimate music listening experience. Its high-resolution audio support, floating and balanced power amp, and the Yamaha Parametric Room Acoustic Optimizer (YPAO) make it a significant upgrade over its predecessors. In my personal experience, it is one of the most impressive receivers I've had the pleasure of using. Its combination of exceptional sound quality, comprehensive connectivity options, and thoughtful design make it a standout choice for any Hi-Fi audio enthusiast.
The R-N2000A proves that Yamaha understands the blend of nostalgia and modernity that music lovers crave. Its level meters offer a vintage touch while its superior technology ensures a listening experience that's thoroughly modern. Find it on BHPhoto.com
With the R-N2000A, Yamaha delivers a high-end network receiver that lives up to, and even surpasses, the expectations set by its predecessors. Whether you're a long-time Yamaha fan or you're considering stepping up your audio game, the R-N2000A is a worthy addition to any Hi-Fi setup. It offers a well-rounded combination of superb audio quality, comprehensive features, and timeless design, providing an unparalleled audio experience that will undoubtedly stand the test of time.
Related articles: