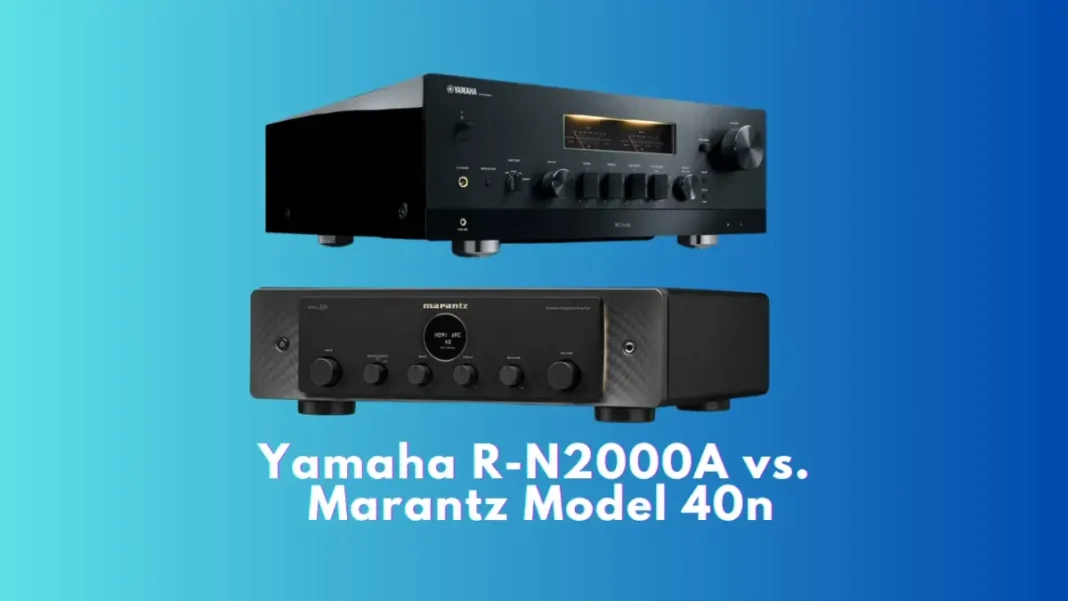 When it comes to high-quality audio equipment, Yamaha and Marantz are two of the most renowned brands in the industry. Throughout our hands-on exploration of the Yamaha R-N2000A vs Marantz 40n, we've experienced the power and performance of these devices first-hand, gaining a wealth of insights about their capabilities and functionality. Though both units showcased impressive features that cater to different aspects of our audiophile tendencies, our extensive examination led us to favor the Yamaha R-N2000A as the superior pick.
This comparison is intended to take you deep into our experience with these two exceptional models, shedding light on their features, performance, and overall value, ultimately elucidating why we've crowned the Yamaha R-N2000A as our top choice. Check the Latest Price on Amazon Now! Whether you're a seasoned audiophile or a casual listener, we hope this comparison assists you in making the best decision for your specific audio needs and preferences.
Yamaha R-N2000A vs. Marantz MODEL 40n Comparison:
Rated Output Power:
[20 Hz-20 kHz 0.07 % THD] 90 W+90 W (8 ohms) 145 W + 145 W (4 ohms)
70W + 70W (8ohm)
100W + 100W (4ohm)
Frequency Response
5 Hz-100 kHz +0/-3 dB, 20-20 kH +0,-0.3 dB (Pure Direct ON)
5Hz - 50kHz
Dimensions:
17-1/8" x 6-1/8" x 18-5/8"
17.4" x 5.1" x 17"
Price

Find on Amazon





B&HPhotoVideo




B&HPhotoVideo
Yamaha R-N2000A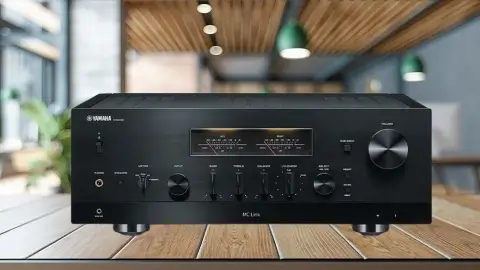 The Yamaha R-N2000A is an impressive piece of audio equipment that effortlessly blends the traditional Hi-Fi experience with modern streaming capabilities. It delivers excellent sound quality across a broad range of music sources and formats, ensuring a delightful listening experience. Its high output power and extensive connectivity options make it a versatile choice for anyone who values musical quality and flexibility. Additionally, the use of technologies like ToP-ART, a floating and balanced power amp, and Yamaha's proprietary YPAO™ room acoustic adjustment feature elevates the audio performance to a whole new level. Despite its heavy weight, users have praised its robustness and premium feel. However, its ease of use and compatibility with the Yamaha MusicCast platform make it a friendly device even for those not too tech-savvy.
Pros
Excellent sound quality across various music sources.
High output power for dynamic performance.
Extensive connectivity options including HDMI ARC.
Features like YPAO™ for ideal room acoustics.
Compatible with Yamaha MusicCast platform.
Cons
Quite heavy, making portability a challenge.
External aesthetics might not appeal to everyone.
---
Marantz MODEL 40n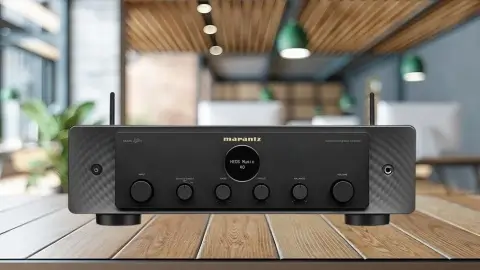 The Marantz 40n emerges as a solid contender in the arena of network receivers, exuding warmth and richness in its sound output. It shines particularly well with high-resolution audio sources, offering a powerful listening experience that often exceeds expectations. Its unique features, such as the Marantz Musical Phono EQ and HDAM-SA3 circuitry, ensure a top-notch audio performance that stays true to Marantz's reputation. The incorporation of an HDMI ARC also adds to its versatility, allowing users to improve their TV audio through the stereo system. However, some users have noted that its built-in phono EQ and the HEOS app could use some improvements. All in all, the Marantz 40n is a great choice for those who appreciate a blend of classic and modern music listening experiences, especially for vinyl enthusiasts.
Pros
Rich, powerful sound with high-resolution sources.
Unique features like Marantz Musical Phono EQ.
HDMI ARC for improved TV audio.
Subwoofer output for deep bass.
Compatibility with Alexa, Google, and Siri.
Cons
Built-in phono EQ could use improvement.
HEOS app suffers from occasional bugs.
---
Yamaha R-N2000A vs Marantz 40n: Features Comparison
Build and Design
The Yamaha R-N2000A weighs in at a hefty 48.7 pounds, testifying to its robust construction. It follows a design principle known as ToP-ART (Total Purity Audio Reproduction Technology), which ensures that the left and right channels are perfectly symmetrical, minimizing discrepancies and maximizing channel separation. This results in more precise sound reproduction.
The front of the R-N2000A is graced with vintage-style level meters that glow a soft blue, providing a delightful throwback to the Hi-Fi era. Additionally, the speaker terminals are cut from pure brass, ensuring a secure connection and excellent signal transmission.
In contrast, the Marantz 40n follows a more minimalist approach, offering a clean, sleek look. It uses a double shielded toroidal power transformer for its circuitry, ensuring reduced noise and a smooth sound experience. Although we didn't get a weight specification for this model, we found it to be lighter and more compact compared to the Yamaha R-N2000A.
Sound Quality
In our testing, the Yamaha R-N2000A delivered an impressively dynamic sound. It offers a high power output of 190 W + 190 W at 4 ohms, enough to handle a wide variety of speakers and room sizes. The frequency response ranges from 5 Hz to 100 kHz, ensuring a broad soundstage and detailed reproduction of high-resolution music sources.
The R-N2000A also comes with Yamaha's YPAO technology, an automatic calibration system that tailors the sound to the room's specific acoustics. We found this to be particularly effective when testing in different environments, with noticeable differences in sound quality.
On the other hand, the Marantz 40n has a slightly lower power output, at 100W + 100W at 4 ohms. However, the Marantz 40n utilizes its HDAM-SA3 circuitry to deliver a warm, rich sound that Marantz amplifiers are renowned for. Its frequency response extends from 5Hz to 50kHz, slightly narrower compared to the Yamaha, but still quite impressive.
One standout feature of the Marantz 40n is its dedicated phono EQ. We tested it with a turntable and found that it delivered a smooth and detailed vinyl playback, making it an ideal choice for vinyl enthusiasts.
Connectivity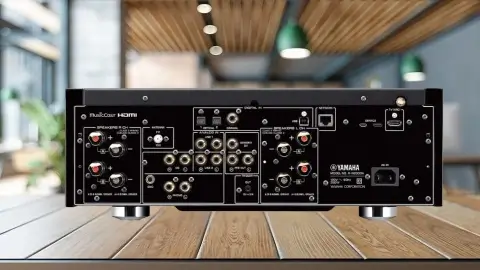 The Yamaha R-N2000A shines when it comes to connectivity options. It features both digital and analog inputs, including optical, coaxial, phono, and line inputs. It also includes USB and Ethernet ports. With built-in Wi-Fi, Bluetooth, and AirPlay, it provides a variety of wireless streaming options. The Yamaha MusicCast system allows you to stream from numerous services, and it also supports high-resolution audio formats like DSD, WAV, FLAC, and more.
The Marantz 40n also provides an array of connectivity options, although not as extensive as the Yamaha R-N2000A. It includes both digital and analog inputs, such as optical, coaxial, and phono, and even features an HDMI input that supports ARC (Audio Return Channel), a feature not often seen in stereo amplifiers.
Wireless streaming options are also available through the HEOS App, which supports multiple music streaming services. Although it does not support high-resolution audio formats to the extent of the Yamaha, it still caters to the standard music formats.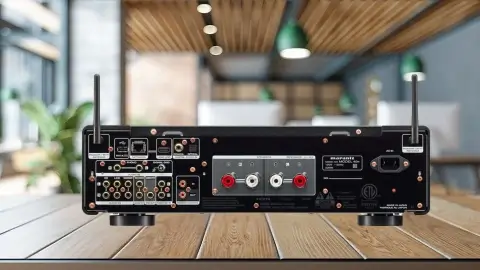 User Experience
As per the customer reviews we compiled, users seem to be impressed by the Yamaha R-N2000A's sound quality and connectivity options. The positive reviews commended the amplifier's ability to dramatically improve their listening experience, even making them fall in love with their existing speaker setups all over again.
The Yamaha MusicCast platform is also appreciated, thanks to its intuitive nature and the ability to stream music effortlessly. Despite its weight, users appreciate the solid feel of the device, which adds to its premium appeal.
The Marantz 40n also garnered positive feedback from its users. The sound quality, particularly when playing high-resolution audio, was praised. Its power was also appreciated, often exceeding users' expectations for a Class A amplifier.
However, there were a few concerns raised about the built-in phono EQ, with some users feeling that it did not quite deliver the performance they expected. It also appears that there are some reported issues with the HEOS app, which Marantz could improve.
Final Thoughts
Both the Yamaha R-N2000A and Marantz 40n stand as paragons of their craft, bringing forth impressive performance and an exquisite auditory experience. If your priorities center around versatility in handling various music sources and formats, alongside an array of connectivity options, then the Yamaha R-N2000A, our top pick, might just be your ideal match. Its unique ability to customize the sound to your room's specific acoustics with the YPAO technology is a notable feature, particularly for discerning audiophiles seeking an optimal and personalized listening environment.
The Marantz 40n, however, shouldn't be overlooked, especially for enthusiasts who yearn for a warm, rich sound and vinyl aficionados. It boasts a built-in phono EQ and the exclusive HDAM-SA3 circuitry, ensuring a top-notch sound experience, particularly when streaming high-resolution audio.
Our time with the Yamaha R-N2000A vs Marantz 40n has shown us the distinct strengths and unique selling propositions of both devices. While we found the Yamaha R-N2000A to be our preferred choice for its exceptional adaptability and sound customization features, the final decision should hinge on which device best harmonizes with your personal audio preferences and setup. Whichever you choose, rest assured that both are exceptional devices committed to delivering a high-quality, immersive audio experience. Check the Latest Price on BHPhotoVideo!