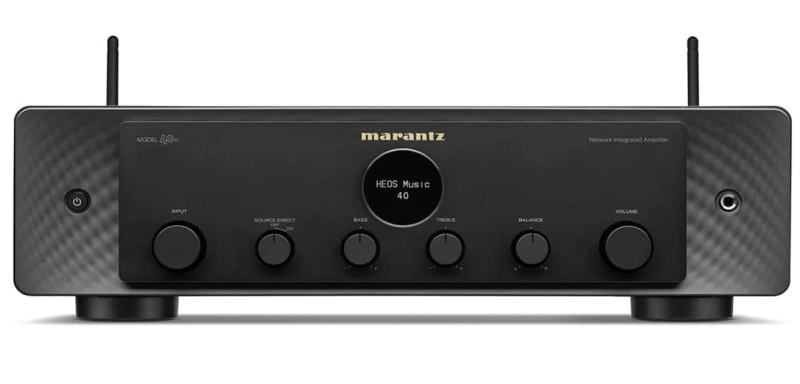 Marantz is one of the most popular brands in the home-theater market because they have a history of producing high-quality devices that are acoustically superior. This Marantz Model 40N review examines the specifications and technology that make this premium power amplifier a great option for your home theater experience and one of the best things you can add to a custom gaming room (>>>Find on Amazon).
Marantz MODEL 40N Review of Specifications:
| | Marantz MODEL 40N |
| --- | --- |
| | |
| Amplifier | 2.1 Channel (70W per channel) |
| Frequency Response | 5 Hz to 50 kHz |
| Wi-Fi | Yes |
| Bluetooth | Yes |
| Price | B&HPhotoVideo |
The Marantz Model 40N is a 2.1 channel amplifier that offers 70 watts per channel. You can set this amplifier up independently to power a pair of speakers and a power subwoofer. It's one of our favorite components to use for building a custom gaming audio system because it provides a solid amount of power with smooth and warm full-range audio.
The Model 40N also works fantastically well as part of your surround sound system. It is ideally used to power your front left and right speakers and has an available port for connecting your audio-video receiver.
Connections Available
One of the things that makes this such an excellent addition is the ability to connect numerous devices and make connections the way you want whether it is through a turntable or streaming wirelessly from your smartphone.
The Model 40N offers a pair of binding posts for making speaker connections along with a signal port for the optional subwoofer. There are a variety of RCA inputs so that you can hook up a cd or dvd player. There are outputs for the speakers as well. The 40N also provides coaxial and optical inputs for high-quality audio input.
The Marantz Model 40N can connect directly to your home network to provide the best way to play high-fidelity music and full-range audio. The Model 40N connects through Wi-Fi to provide you with the ability to wirelessly stream music from smartphones and other devices using apps like Pandora. The Digital-to-Analog converter will handle files up to 24 bit. You'll also find that connecting the Model 40N to other devices within your home network is easy using voice commands with Google Assistant and Apple Siri.
Pros
Realistic and authentic sound stage with a variety of technologies that enhance the overall experience
Easy to set up and tune for ideal listening quality
Cons
HEOS app is not as excellent as it could be
Wireless Options
In addition to the ability to stream music wirelessly, the Model 40N is also connected with HEOS to provide wireless speaker streaming either in the main listening space or separately. Using the HEOS app, you can play the same content in the main room, or different content with ease.
Built-in Technology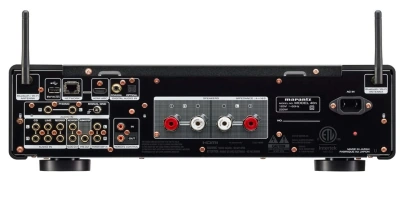 The Marantz Model 40N uses a toroidal power transformer that is shielded from the other circuits. This configuration allows the 40N to generate smooth, realistic sound while maximizing the way the device uses power. Whether you are playing loud, bass-heavy music or trying to get more accurate vocals from your television audio, the Model 40N is the perfect amplifier package.
New Hyper Dynamic Amplifier Module (HDAM) technology enhances the sound stage to help create full and dynamic sound that also captures motion in space the way you would experience music in a live environment. You'll hear the depth and balance of audio that you expect with clarity. Check the comparison vs. Yamaha R-N2000A.
Conclusion
There are a few things that make the Marantz Model 40N stand out for us. One is the ease of use. Once it is set up, the amplifier is simple to use and produces an authentic and amazing sound. We like that it offers a broad range of ways to listen to your music your way. It offers Apple AirPlay 2 tech for iOS users and Google Assistant for Android users.
It blends right in with a good surround system and gives you additional power and control over your front speakers while offering subwoofer control also. We particularly like this amplifier for gaming where the deep and realistic audio makes games more engrossing.
The Marantz Model 40N is a great way to provide amplified sound to enhance your television experience, but it is particularly focused on functioning as your primary audio source. It combines excellent power with quality components and advanced technology that enables it to produce room filling sound from any speaker setup (>>> Check on Bhphotovideo).