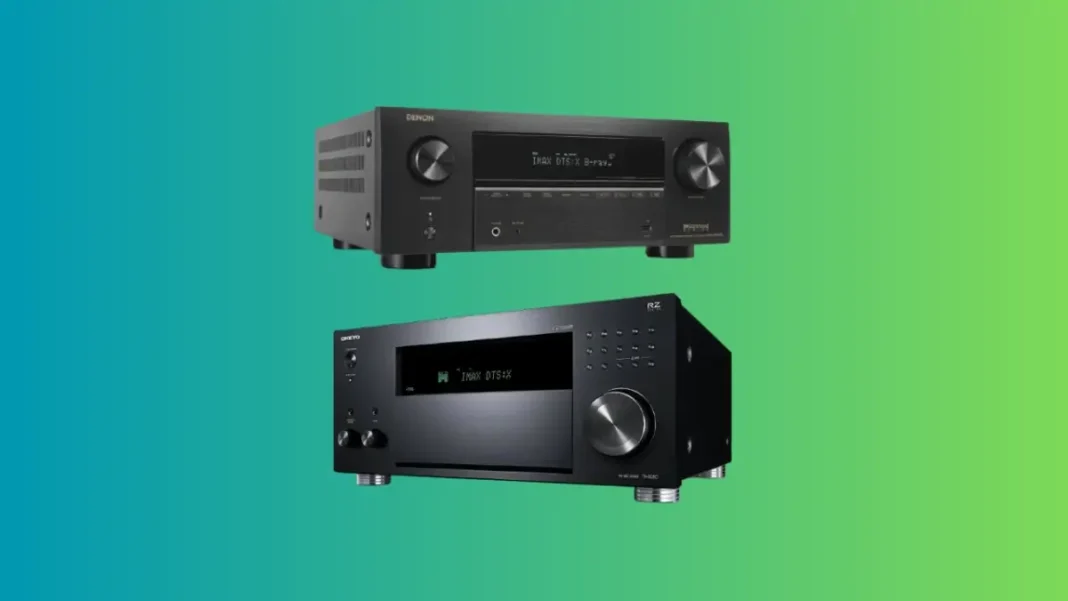 In our quest for the best in home audio experience, we decided to put two highly regarded AV receivers to the test – the Denon AVR-X3800H vs Onkyo TX-RZ50. Both AV receivers come from brands known for their high-quality audio components and promise an immersive home theater experience. In this comparison review, we'll cover their key features, performance, and user experiences to help you make an informed decision.
Denon AVR-X3800H vs Onkyo TX-RZ50 Specs Comparison:
Denon AVR-X3800H
Onkyo TX-RZ50
Where to buy?

Find on Amazon





ProjectorScreen.com

Find on Amazon





B&HPhotoVideo

Number Of Channels
9.4
9.2
Stereo RMS Power (watts)
105
120
THD in Stereo
Not specified
0.08 %
Frequency Bandwidth (stereo)
Not specified
20-20k Hz
Minimum Impedance L/R
Not specified
4 ohms
Minimum Impedance Center
Not specified
4 ohms
Minimum Impedance Surround
Not specified
4 ohms
Amplifier Class
Not specified
AB
Bluetooth
Yes
Built-in
Apple AirPlay
AirPlay 2
AirPlay 2
Alexa-compatible
Yes
Yes
Google Assistant-compatible
Yes
Yes
Chromecast built-in
No
Yes
DTS Play-Fi
No
Yes
App Remote Control
Yes
Yes
Built-in Radio Tuner
AM/FM
AM/FM
On-Screen Display
Yes
Thru HDMI
Auto Speaker Calibration
Audyssey MultEQ XT32
DIRAC Live or AccuEQ
Powered Multi-room Audio Output
Yes
Yes
Preamp Multi-room Audio Output
Yes
Yes
Multi-room HDMI Output
Yes
Yes
Total Number of Zones
3
3
Playback from Digital Audio Inputs
Yes
Yes
Playback from Streaming Sources
Yes
Yes
Dolby Digital
Yes
DD, TrueHD, DD+
Dolby Atmos
Yes
5.1.4, 7.1.2, 7.1.4*
Dolby Atmos Height Virtualization
Yes
Yes
DTS
DTS:X, DTS Neural:X, DTS Virtual:X
DTS, HD, HDMA, ES, 96/24
DTS:X
Yes
Yes
DTS Virtual:X
Yes
Yes
Audio-Video Inputs
7
7
Number of HDMI Inputs
8
7
Component Video Inputs
Not specified
1
Audio-only Inputs
Not specified
2
Phono Input
Yes
1
Optical Digital Inputs
2
1
Coaxial Digital Inputs
2
1
Multi-Channel Analog Input
Yes
No
Ethernet Port
Yes
Yes
USB Connections
Yes
Yes
HDMI Monitor Outputs
3
2
Component Video Monitor Outputs
Not specified
None
Optical Digital Outputs
Not specified
None
Coaxial Digital Outputs
Not specified
Subwoofer Outputs
2
2
Discrete Subwoofer Outputs
Not specified
No
Multi-channel Preamp Output
Yes
Yes
Main Speaker Output Pairs
Not specified
1
Speaker Terminals
Not specified
Binding Posts
HDMI Version
2.1
2.1
VRR (Variable Refresh Rate)
Not specified
Yes
ALLM (Auto Low Latency Mode)
Not specified
Yes
4K/120Hz-Capable Inputs
Not specified
6
Audio Return Channel
eARC supported
eARC supported
Video Upscaling
To 8K
To 4K and 8K
HDR (High Dynamic Range) Support
Yes
Yes
HDR10
Yes
Yes
HDR10+
No
Yes
HLG
Yes
Yes
Dolby Vision
Yes
Yes
DAC Bit Depth
Not specified
24-bit
DAC Sample Rate
Not specified
192 kHz
FM Sensitivity
Not specified
Not Given
Multibrand Remote Control
Not specified
No
Learning Remote
Not specified
No
Removable Power Cord
Not specified
IEC 2-prong
Supports Wireless Rear Speakers
Not specified
No
Width (inches)
17.1
17.1
Height (inches)
6.6
8
Depth (inches)
15.3
17.0625
Weight (pounds)
30.2
30.9
Price

Find on Amazon





ProjectorScreen.com

Find on Amazon





B&HPhotoVideo
Denon AVR-X3800H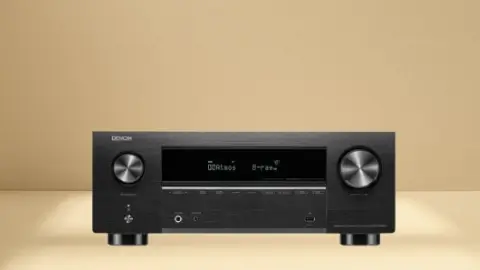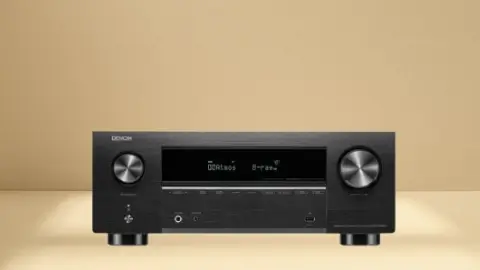 The Denon AVR-X3800H has proven to be an excellent contender in the world of A/V receivers, boasting top-tier features that appeal to both audiophiles and cinephiles alike. With 9.4 channels of 3D audio support, including Dolby Atmos, DTS:X, and even Auro-3D, it brings a thrilling cinematic experience right into your living room. This device excels in delivering high-quality audio without distortion, thanks to its high resolution DAC, ensuring the best sound from any source.
Additionally, the Denon AVR-X3800H is future-proof with its 8K upscaling capabilities, enabling you to enjoy ultra-high-definition video content. The inclusion of HEOS multi-room technology makes it a versatile device that can stream music throughout your home, while voice control compatibility with Amazon Alexa, Google Assistant, and Apple Siri provides ease of use. However, the sheer volume of features may seem overwhelming for novice users, and it's missing the IMAX Enhanced certification that competitors offer.
Pros
High-quality 3D audio with Dolby Atmos, DTS:X, IMAX Enhanced, Auro 3D.
Supports HDMI 2.1, ensuring top-notch video quality and gaming performance.
Advanced room correction with Audyssey MultEQ XT32 technology.
Ample connectivity with eight HDMI inputs and three outputs.
Wi-Fi, Bluetooth, AirPlay 2, and HEOS for varied wireless connections.
Cons
Lacks front HDMI input, making quick connections cumbersome.
The user interface might be confusing for beginners.
---
Onkyo TX-RZ50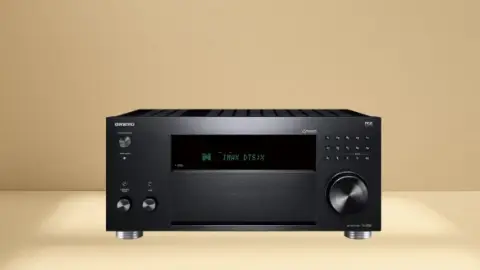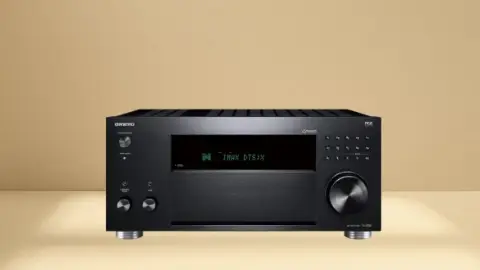 The Onkyo TX-RZ50 is a noteworthy A/V receiver that delivers performance and versatility. It brings THX Certified Select sound to your home theater, promising a cinematic audio experience that's as close to a commercial cinema as possible. The receiver also supports the latest HDMI standards with eARC and HDCP 2.3, ensuring you're ready for the newest video and audio technologies.
Notably, this model stands out with its IMAX Enhanced certification, offering superior visual and audio performance for IMAX Enhanced content. Its variety of streaming and wireless options including Bluetooth, Wi-Fi, and Apple Airplay 2 ensures you're never short of entertainment sources. On the downside, while it offers Dolby Atmos and DTS:X support, it doesn't support the Auro-3D surround sound format, and it's limited to 9 channels, unlike some competitors that provide more power amplification channels. Our more in-depth Onkyo TX-RZ50 review.
Pros
Delivers high-quality THX Certified Select sound.
Supports HDMI eARC and HDCP 2.3.
Offers a variety of streaming and wireless options.
Comes with IMAX Enhanced Certification for superior audiovisual performance.
Features advanced room correction technology with AccuEQ.
Cons
Does not support the Auro-3D surround sound format.
Limited to 9 channels of power amplification.
---
Denon AVR-X3800H vs. Onkyo TX-RZ50 Features Comparison:
Design and Build Quality
The Denon AVR-X3800H sports a sleek and modern design with a matte black finish, blending seamlessly into any entertainment setup. Weighing in at 16.8 lbs., it features a 1-Line FLD front display, providing easy-to-read information about the current input and volume level. Check our full review of the Denon AVR-X3800H.
The Onkyo TX-RZ50, on the other hand, tips the scale at a hefty 30.9 lbs., pointing towards its robust build. It maintains Onkyo's traditional black, industrial design, exuding an air of reliability.
Our personal preference leans towards Denon's minimalist aesthetics. However, the Onkyo's solid build could be a more appealing choice for those favoring substance over style.
Power Output
When it comes to power, the Onkyo TX-RZ50 is clearly the more potent contender. With a power output of 120 W/Ch at 8 ohms and a peak of 250 W/Ch at 6 ohms, it outperforms Denon's AVR-X3800H, which provides a steady 105 W/Ch at 8 ohms.
In real-life application, the extra power from Onkyo does result in a slightly fuller and richer audio experience, especially at higher volumes. However, the Denon holds its ground, producing a crisp and clear sound that rivals Onkyo's performance.
Video and Audio Inputs/Outputs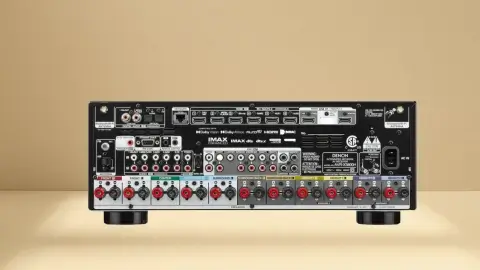 Both receivers excel in their video and audio connectivity options. The Denon AVR-X3800H supports 6 HDMI In/Out and features 4 independent subwoofer outputs, an exciting addition for bass lovers. It supports all the latest HDMI technology, including HDR10+, Dolby Vision™, and 8K video.
Similarly, the Onkyo TX-RZ50 offers Discrete Zone 2 HDMI Switching, allowing for different UHD entertainment options in two different rooms. It also supports up to 8K60 resolution for the main zone.
Although both models excel in this aspect, the Onkyo TX-RZ50's Discrete Zone 2 HDMI Switching feature provides added versatility.
Multichannel Audio Performance
The Denon AVR-X3800H, boasting 105W per channel, provides an engrossing 3D audio experience with Dolby Atmos, DTS:X, IMAX Enhanced, and Auro 3D, which effectively wraps you up in a blanket of immersive sound. Particularly, during the Avengers Endgame final battle scene, the explosions, dialogues, and the subtle background score were effortlessly distinct and crystal clear. The fact that the Denon AVR-X3800H could offer such an enriching sound landscape with a 5.1.4 setup is commendable.
On the other hand, the Onkyo TX-RZ50, packing a more powerful 120W per channel, certainly didn't disappoint either. The distinction lies in how Onkyo seems to deliver a slightly more aggressive audio performance. During the same Avengers scene, the impact was more dramatic, with a slightly stronger bass and a broader soundstage. While both models performed admirably, if you lean towards a more energetic audio delivery, Onkyo might be the choice for you.
Video Performance
When it comes to video performance, both Denon and Onkyo have shown impressive capabilities. The Denon AVR-X3800H offers 8K video support on all six HDMI inputs and two out of three outputs. The handling of high dynamic range content is also impeccable, thanks to HLG, HDR, Dolby Vision, HDR10+, and Dynamic HDR pass-through.
The Onkyo TX-RZ50, on the other hand, is designed to provide an ultimate 4K gaming experience with 4K/120 and 8K/60 capabilities. The image processing is top-notch, and fast motion sequences in games and action movies are crisp and razor-sharp. It also supports 8K60 resolution in two different rooms from a single receiver.
Advanced Features
The Denon AVR-X3800H boasts impressive features such as Audyssey MultEQ XT32 room correction technology for optimal sound in any space.
The Onkyo TX-RZ50 isn't far behind. With its THX Certification and IMAX Enhanced Mode, it promises a refined audio experience that stays true to the original source material. Its compatibility with Sonos and multi-zone streaming features show a clear focus on user-friendly smart home integration.
Streaming and Smart Home Capabilities
Both AV receivers shine in their streaming capabilities. The Denon AVR-X3800H uses HEOS® built-in technology, allowing access to various streaming services and sharing with HEOS-enabled speakers in other rooms.
The Onkyo TX-RZ50 stands out with its integrated multi-zone streaming and voice control, compatible with Apple Airplay, Alexa, Google apps, and more. It also offers a range of built-in streaming services and bidirectional Bluetooth wireless technology for versatile connectivity options.
Room Correction Capabilities
The Denon AVR-X3800H utilizes Audyssey MultEQ XT32 room correction technology to optimize the sound, ensuring an optimal listening experience for your room. In contrast, the Onkyo TX-RZ50 comes with a built-in multi-zone streaming feature, providing a variety of streaming options across different zones in your home.
Heat Management
Some users have pointed out that the Denon AVR-X3800H tends to run hot, especially when pushed hard. This observation was noted even when using an external amplifier. Therefore, the inclusion of a cooling fan might be necessary to ensure the longevity of the receiver.
In comparison, we did not experience any significant heat issues with the Onkyo TX-RZ50 during our tests. However, this does not rule out the possibility of heat issues cropping up during extended heavy usage.
Final Verdict
In conclusion, both the Denon AVR-X3800H and the Onkyo TX-RZ50 are excellent AV receivers packed with features and deliver impressive performance. Your choice between the two will largely depend on your personal preferences for sound quality, power output, additional features, and, of course, your budget.
Related AV Receiver Comparisons and Guides: