Suppose you've been looking at receivers and wanted to know if you should buy the Onkyo TX-RZ50 vs Denon AVR-X3700H, you've come to the right place (>>> Find on Amazon). These receivers are top-of-the-line, but only one can come out on top. Let's compare them and see the best one for the needs that you have.
Onkyo TX-RZ50 vs Denon AVR-X3700H Side by Side:
Onkyo TX-RZ50
Denon AVR-X3700H
Video
8K/60Hz, 4K/120Hz
8K/60Hz, 4K/120Hz
Amplifier
9.2 Channel (120W per channel)
9.2 Channel (105W per channel)
Sound
Dolby Atmos and DTS:X
5.1.4 or 7.1.2 Dolby Atmos
Wi-Fi
Yes
Yes
Bluetooth
Yes
Yes
Price

Find on Amazon





B&HPhotoVideo

Find on Amazon
Comparison
At first glance, both of these receivers seem similar. However, several differences can make you want to pick one or the other. So let's look at them.
Stereo Amplifies Power
Both receivers support powerful speakers, but the AVR-X3700H is slightly less powerful. It has 105 watts, while the TX-RZ50 has 120. While this may not be much of a difference to some, others may hear the sounds pop out of the TX-RZ50 a little more.
Built-In Apps
Both receivers have built-in applications to make streaming video and audio much more convenient. But in the case of the TX-RZ50, there are a few extras. It has Chromecast, while the AVR-X3700H does not. It also has DTS Play-Fi, which lets you stream lossless music over Wi-Fi, while the AVR-X3700H lacks this.
Zones
If you're trying to send audio over multiple rooms, then the TX-RZ50 is also superior. It lets you have up to three rooms, while the AVR-X3700H only has two. So again, this can be a deciding factor if you're trying to have a party.
Inputs & Outputs
The TX-RZ50 is better with some inputs compared to the X3700H. For example, it has two component video inputs and two optical digital outputs, while its competitor only has one. It also has an additional coaxial digital input.
When it comes to outputs, the TX-RZ50 also is superior. It has 3 HDMI monitor outputs instead of 2 and a 480i component video monitor output. It also has discrete subwoofer outputs.
Regarding 4K/120Hz capable inputs, the X3700H exceeds, having six instead of only one.
Price
Both are mid-range AV receivers and as expected, the TX-RZ50 is a bit more expensive due to it having more features.  While pricing can depend on where you buy it, that's generally the case. Ultimately, it is up to the consumer to decide if the extra price is worth it or if they're better off saving money by sacrificing fewer features.
Weight and Dimensions
The Onkyo TX-RZ50 is much heavier, weighing in at 37.46 lbs. Meanwhile, the Denon AVR-X3700H weighs 27.6 lbs. So for those with difficulty lifting heavier objects, be mindful of that when purchasing the Onkyo TX-RZ50.
Onkyo's receiver has dimensions of 17.13 x 7.93 x 15.67 inches, while Denon's is 17.1 x 14.9 x 6.6 inches. There is not too much of a difference, but it's something to keep in mind when setting up the receiver in a cramped room.
Onkyo TX-RZ50 Overview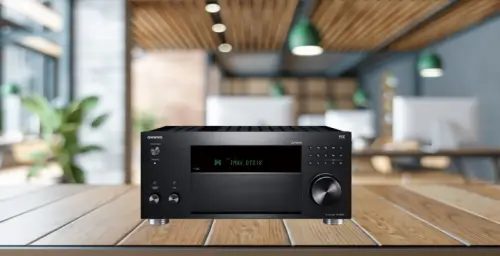 Pros
Stellar 8k upscaling
Amazing sound with easy calibration
Lagless gaming
Several smart apps make your experience much more manageable
Cons
No physical manual
Lacks an analog output
This AV receiver is designed for those who want the complete home theater experience. With 11.2 channel processing and up to 8K/60Hz video output, you can watch movies in crystal-clear quality. In addition, its sound technology uses DIRAC Live Room Correction, making it simple for you to calibrate and listen to the audio as intended.
It also has HDMI 2.1 support. This feature means that you can game without any lag in Ultra HD. With this receiver, you don't need to choose between performance and graphics. You can have both, with a choice between 8K/60Hz or 4K/120Hz.
This receiver also makes it simple to stream content across multiple rooms, with several smart apps you can use to control what you stream and where. One example is the Onkyo Music Control App, which lets you control your music through connected apps.
Another example is its easy connectivity to smart home systems like Alexa and Apple Airplay, helping you control your music through the power of your voice. With several built-in apps, streaming has never been easier. It also includes Wi-Fi and Bluetooth connectivity for more ways to enjoy your content.
Full review: Onkyo TX-RZ50
Denon AVR-X3700H Overview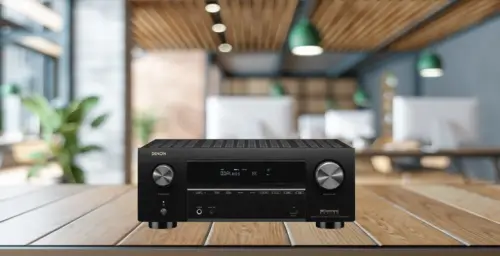 Pros
Flawless 8K picture
VRR, QFT, and ALLM make gaming easy
Quick Media Switching easy to use
Cons
The design is a bit blocky
This home theater receiver uses DTS Virtual:X and Dolby Atmos Height Virtualization to give you the cleanest picture possible. Like the previous receiver, it supports video at either 8K/60Hz or 4K/120Hz. For gamers, it advertises itself with Variable Refresh Rate, Quick Frame Transport, and Auto Low Latency Mode for the best in lag-free gaming.
The 9.2 channel receiver also comes with several features for convenience. Quick Media Switching makes it simple to change media without delay. Its 10 HDMI ports make projecting in multiple rooms easy. It also includes Digital Input, Phono Input, and Network Support. With its Wi-Fi and Bluetooth support, streaming video and audio content is simple. It also includes Amazon Alexa compatibility.
>>> Click here for our more in-depth Denon AVR-X3700H review
Onkyo TX-RZ50 vs Denon

AVR-

X3700H: Bottom Line
Both of these receivers work well and support high-quality video and audio. We didn't notice a tangible difference in that regard. However, the TX-RZ50 does have several features. It supports more powerful speakers, can broadcast audio in more rooms and has more built-in apps for a more customizable experience.
This is not to knock down the Denon AVR-X3700H. It is still a powerful receiver; some may choose it because they want to save a few hundred and are not interested in the extra features. However, if we must choose one, we'd go with the TX-RZ50 (>>> Check on Bhphotovideo).
Related AV Receiver Reviews & Comparisons: