If you're searching for a top-quality AV receiver, we recommend looking into the Pioneer VSX-LX305. This AV receiver is for those on a higher budget. With such a hefty price tag depending on where you buy it, it begs the question: is this receiver worth the money? Our Pioneer VSX-LX305 review will cover the features, pros, and cons of the receiver and if this receiver is worth the price tag (>>> Check on Amazon).
Pioneer VSX-LX305 Review of Specifications:
Pioneer VSX-LX305
Video
8K/60Hz, 4K/120Hz
Amplifier
9.2 channel (100W per channel)
Sound
Dolby Atmos®, Dolby Surround Upmixer supports DTS Formats
Wi-Fi
Yes
Bluetooth
Yes
Price

Find on Amazon





B&HPhotoVideo
Picture Quality
This projector boasts several features that movie lovers will enjoy. One example is its IMAX Enhanced feature, which brings the crystal-clear pictures and immersive sound of an IMAX theater to your home. In addition, its HDMI 2.1 with 8K means that you can stream breathtaking movies at 40 GBPS, with its quality uncompressed.
It's difficult for a home theater to fully match the power of being in a movie theater, but this one comes as close as possible. When we tried this, we were instantly transferred into the movie's world. Even mediocre movies will become an immersive experience with this receiver. And it's not just movies, either, but you can use it for playing other media too.
Its 4K gaming is something to behold as well. Not only do you control the character, but you feel like you're in their world. The VSX-LX305 uses several technologies to immerse yourself in gaming and let you play competitively.
Through Auto Low Latency Mode (ALLM,) it automatically configures the lowest latency setting. Its Variable Refresh Rate (VRR) lets TVs adjust to the best possible frame rate. Finally, its Quick Frame Transport (QFT) moves frames at a higher rate for less latency.
Pros
IMAX-quality video and audio at a fair price
Robust bandwidth up to 40 GBPS so you can stream the highest quality music and video
Gaming on it is fun and lag-free
Easy to set up
Cons
The app can be a little buggy
Sound Quality
While the image is necessary, the sound is critical as well. This receiver has DIRAC digital room correction technology that helps you to calibrate your sound with your phone. This technology also helps your speakers give crisper, more immersive sound. Even low-quality sounds have their potential unlocked with this receiver. In addition, it comes with several popular streaming apps built-in, meaning you can listen to your favorite tunes with no questions asked.
Connectivity & Set Up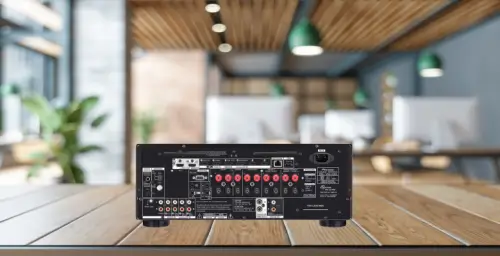 This AV receiver makes it simple for newcomers. Its digital display is easy to read, with its intuitive front panel. It also includes several USB and mic ports on the front for extra convenience. Also, it has a detailed system setup menu with web setup features. Regardless of your experience, this receiver is simple to set up.
There are some drawbacks, however. This receiver does not include a manual, making it an extra hassle, and its app can sometimes be clunky. We supposed they would instead save the paper and make you look online, but having a physical manual is always convenient.
Pioneer VSX-LX305 Review: The Bottom Line
This is a potent AV receiver if you want something in the middle range. With its 8K capabilities, IMAX Enhanced mode, intuitive setup, and various streaming apps, you can turn your home theater into a true powerhouse.
With that said, there is no definitive AV receiver. There may be one that meets your needs better or offers more for less. Check out our other reviews as we look at other AV receivers, projectors, and home theater equipment. We hope to see you there (>>> Find the current price on Bhphotovideo).