Home theater systems of all shapes and sizes can benefit from the Marantz Cinema 70s Receiver. Its connectivity and upgradability allow users to adjust and upgrade the software as needed, ensuring a continuously smooth and cutting-edge home theater experience with regard to audio and visual outputs. Marantz' signature sleek look combined with innovative and dynamic technology make this receiver a great option for anyone searching for a new home theater solution. To learn more about the Cinema 70s and its offerings and specifications, continue reading this product review (>>> Check on Amazon).
Marantz CINEMA 70s Review of Specifications:
Marantz CINEMA 70s
Video
8K/60Hz, 4K/120Hz
Amplifier
7.2 channel (50W per channel)
Sound
Dolby Atmos, DTS:X & Auro 3D
Wi-Fi
Yes
Bluetooth
Yes
Price

Find on Amazon





B&HPhotoVideo
Sound Quality
Equipped with 3D surround sound, the Marantz Cinema 70s can enhance users' viewing experience through use of Dolby Atmos, DTS:X or Auro 3D. With Dolby Height Virtualization and DTS Virtual:X, the product can emulate overhead surround sound in a 7.1, 5.1, or 2.1 setup without the use of height speakers.
The Cinema 70s leverages HDAM discrete circuitry and current feedback amplification which provides impeccably clear and rich audio. The Cinema 70s is also uniquely designed to seamlessly connect with UHD/HD TVs, subwoofers, turntables or Blu-Ray players to enhance the sound quality in various areas outside of the home theater system itself. This versatility is the central component of the Cinema 70s' attractiveness in the market.
Pros
HDAM circuitry and feedback amplification for rich and balanced audio tones
Multi-room surround sound streaming capabilities
Smart home/device compatible for hands-free convenience
Sleek design for overall control and functionality
Overall ease of use and expandability
Cons
Front display slightly small, may be difficult to read from a distance
Slightly more expensive for 50 watts per channel
Smart Features
The Marantz Cinema 70s receiver is fully compatible with Amazon's Alexa, Apple's Siri, Google Assistant and other smart-home automated assistants. This allows for convenient hands-free control over the operations of the Cinema 70s, making it an ideal product for those who may be busy cooking or performing housework while also wanting music or other content playing in a home theater set up. With Bluetooth connectivity, users can also enjoy the beautifully warm Marantz audio through the wireless headphones of their choice.
Connectivity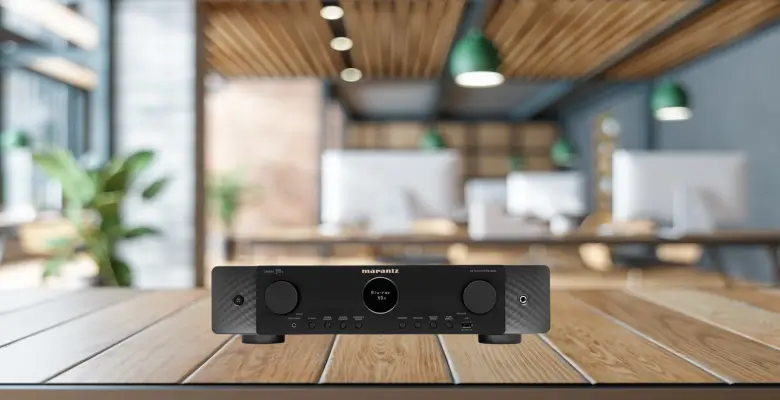 The signature versatility of the Cinema 70s is also evidenced in its connectivity in home theater setups and beyond. Users can enjoy their movies, content or video games in 8k quality using connectable features such as Dolby Vision, HDR10+, Dynamic HDR, HLG, HDR10, 3D, and others.
The six HDMI outputs along with digital, analog and phono inputs enable connection with a wide range of external components to enhance the functionality overall. The Cinema 70s is additionally positioned to work alongside QFT, QMS, VRR & ALLM for high-speed gaming.
Another added feature to the product is the ability to stream throughout multiple rooms, creating a musical ambiance throughout the entirety of a home through built-in HEOS, Wi-Fi, Bluetooth, or AirPlay 2 using your favorite music streaming platforms.
Marantz Cinema 70s Overall
Users enjoy the Marantz Cinema 70s as their preferred home theater AVR for a variety of reasons, but it all comes down to the versatility and convenience that is offered by the product's capabilities (>>> Find the current price on Bhphotovideo).
Through extensive connectivity such as HEOS, Bluetooth and its ability to pair seamlessly to a variety of external components, the Cinema 70s' functionality can be elevated easily to provide high-quality sound, visuals, and lag-free gaming for all users. Further, its polished design and Dolby/HDAM sound systems add to this staple product's allure within home theater systems.
Comparisons