Marantz has been in the home theater business for over 70 years, and their Cinema series of receivers are designed to deliver top-notch performance while blending in with your home décor. The Marantz Cinema 70s and NR1711 are two of the more recent offerings, both of which pack plenty of features into a sleek package that is easy to use. Want more details on which one is the better choice for you? Read on to see the complete comparison!
Marantz Cinema 70s vs NR1711 Side by Side:
Installation Ease
Both receivers offer an easy-to-use guided setup. All the inputs on the rear panel of both receivers are clearly labeled, and there is more than enough room to make your connections. Setup is straightforward for both receivers as they include a well-written guide that can help even the most beginner user quickly set up the receivers. The NR1711 and Cinema 70s both include a remote that lets us promptly configure the receiver's settings after making the initial connections.
Easier Installation: Marantz Cinema 70s & Marantz NR1711
Sound Quality
When it comes to sound quality, both the Marantz Cinema 70s and NR1711 deliver exceptional performance. The Cinema 70s boasts 7.2 channels of amplification, with 50 watts delivered per channel. It also supports Dolby Atmos and DTS:X Immersive audio formats and other audio processing technologies like Audyssey MultEQ XT room calibration and Dynamic Volume.
The NR1711 is a 7.2-channel receiver with 90 watts of power delivered per channel. Like the Cinema 70s, the NR1711 supports Dolby Atmos, DTS :X, and Audyssey MultEQ room calibration. However, some additional unique features, such as Dolby Atmos Height Virtualization, can simulate height channels without needing physical speakers.
While both receivers deliver excellent sound quality, the Cinema 70s is better for those who want a more immersive sound experience. The extra amplification channels and the higher wattage make a noticeable difference in overall sound quality.
Better Sound Quality: Marantz Cinema 70s
Video Quality
The Marantz Cinema 70s and NR1711 support 8K video resolution, HDR10, and Dolby Vision. While both the Cinema 70s and NR1711 feature six HDMI ports, five HDMI ports on the Cinema 70s only feature HDMI 2.0b support, while all six HDMI connections on the Cinema 70s feature HDMI 2.1 support. This means we could only plug in one 4K at 120 Hz device, such as the PlayStation 5, into the NR1711, while we could run multiple 4K 120 Hz devices through the Cinema 70s.
Better Video Quality: Marantz Cinema 70s
Wireless Capability
Both receivers feature a wide range of wireless connectivity options and come out of the box with integrated Wi-Fi and Bluetooth. Additionally, both support voice assistants such as Siri and Alexa, making it even easier to control the receivers. The Cinema 70s and NR1711 feature HEOS compatibility, allowing us to create a multi-room speaker set-up and control it from anywhere in the house via the HEOS smartphone app.
Better Wireless Capability: Marantz Cinema 70s & Marantz NR1711
---
Marantz Cinema 70s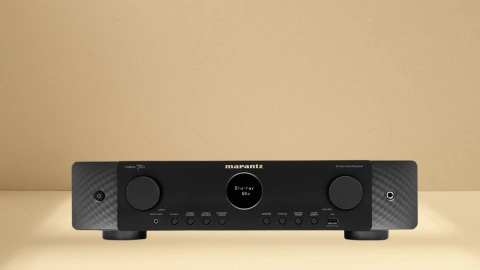 Pros
Powerful sound optimized to your room's exact layout
Speaker calibration through Audyssey MultEQ XT
Supports three 8K HDMI inputs
Multi-room streaming capability
Easy to set up with multiple control options
Compatible with major voice control applications
Cons
No composite input or component inputs/output
The Marantz Cinema 70s is a versatile and powerful receiver, not just for a home theater space but to control your entire home's entertainment. With 7.2 channels and support for Audyssey MultiEQ, the Cinema 70s can be tuned to work with your specific room dimensions and layout. Thanks to built-in HEOS compatibility, the Cinema 70s can connect to any HEOS-compatible speakers throughout your home. You can wirelessly stream music to any of them and control it all within the HEOS app. Additionally, there is an array of wireless and wired connections for the Cinema 70s, including built-in Wi-Fi and Bluetooth and an array of HDMI inputs.
We enjoyed watching movies with the Cinema 70s as the receiver provides six HDMI inputs with 4K HDR10+ support and 7.2-channel surround sound with Dolby Atmos and DTS: X. We were able to easily create a three-dimensional sound setup without the need for any overhead speakers. In addition, the Audyssey MultiEQ made creating a three-dimensional sound experience even more effortless by analyzing our room's acoustics to reduce reflections and other issues while optimizing the speaker output.
Gaming was great with the Cinema 70s. The receiver has several gaming-centric features, such as advanced variable refresh rate support (FreeSync and G-SYNC), a 120 Hz refresh rate at 4K resolution, and built-in input lag reduction features. This provided us with a smooth experience for competitive FPS games, made open-world action games look great, and provided a stutter-free experience all around.
While the Cinema 70s provides many features, we found the setup straightforward and manageable. There is an on-screen guided setup, and the HEOS app will provide additional tips if you need extra help. In addition, the Cinema 70s features voice assistant integration so that we could control the unit with Siri, Alexa, and Google Assistant.
---
Marantz NR1711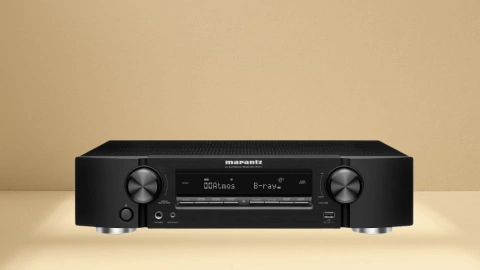 Pros
More composite video inputs/output (3/1) than the Cinema 70s
Sleek and compact design
Dynamic transient delivery can create a movie theater sound experience
Multi-room streaming setup
More accessible price point than the Cinema 70s
Cons
Only one 8K HDMI port
Only one 2.1 HDMI input
Lower power that struggles beyond 50W per channel
The Marantz NR1711 packs many features into a compact receiver at a great price. It offers a variety of wired and wireless input options, including an array of HDMI ports and built-in Wi-Fi and Bluetooth.
Connecting your speakers and other devices, such as TVs, to the NR1711 is seamless, thanks to the HEOS smartphone app and the step-by-step onscreen setup assistant. More than enough HDMI ports are available; there's even support for 8K video at 60 Hz. We had enough ports and connectivity options to create a multi-room surround setup with NR1711. We also connected more devices to the NR1711 than we could to the Cinema 70s, thanks to the additional component input/outputs, which we noted were missing from the Cinema 70s.
Like the Cinema 70s, the gaming and cinematic experiences were beautiful and liquid smooth with the NR1711. Fast-paced games and movies appeared smooth at a 4K resolution thanks to the 120 Hz refresh rate and inclusion of variable refresh rate technology. While the NR1711 provides both 4K and 8K signal pass-throughs, only one HDMI port supports 8K resolution video, compared to the three in the Cinema 70s. As we mentioned earlier, there is only one HDMI 2.1 port on the NR1711, so if you wanted to connect a PlayStation 5 and Xbox Series X, you would have to prioritize one to run at 4K at 60 Hz instead of 120. Check our more in-depth review of the Marantz NR1711.
The setup on the NR1711 was straightforward and easy to follow, as was creating a multi-room layout with HEOS-compatible speakers. We could quickly and easily configure the speakers through the HEOS smartphone app and control the receiver with voice assistants, just like we could in the Cinema 70s.
---
 The Verdict: Marantz Cinema 70s vs NR1711
The Marantz Cinema 70s and the Marantz NR1711 are impressive receivers that come in sleek and stylish forms, and we enjoyed them thoroughly. Either receiver will function great as the heart of your home entertainment system. With the Cinema 70s, you'll get a more future-proofed receiver with three 8K ready HDMI inputs (>>> Check on Amazon). The NR1711, on the other hand, contains more features that will delight any cinephile or next-gen gamer. We hope this comparison has helped you decide which one is the better buy for your home!