Known for its iconic sound that takes audio to a new level, Denon is a leader in home audio products. While they manufacture a wide range of components, it's their AV receivers that have our attention. We want to know if Denon's AV receivers live up to their impressive reputation. We are comparing the Denon AVR-X3800H vs the AVR-X4700H in this review.
Both these models come equipped with an 8K readiness, 3D audio production, and the convenience of HEOS multi-room streaming support. However, as we delve deeper into our comparison, we will uncover differences that, in our opinion, position the AVR-X4700H as the more attractive option for enhancing your home entertainment system. Let's unpack the findings from our comprehensive tests and explore why the AVR-X4700H may well be your ideal choice. Shop Now and Save Big on Amazon!
Denon AVR-X3800H vs AVR-X4700H Specs Comparison:
Denon AVR-X3800H
Denon AVR-X4700H
Amplifier:
9.4 channel (105W per channel)
9.2 Channel (125W per channel)
Connectivity (Inputs/Outputs):
6 x HDMI inputs, 3 x outputs, 5 x Analog In, Phono In, 2 x Optical, 2 x Coaxial, Subwoofer Out, 11 x Speaker Terminals, 1 x USB Type-A

8 x HDMI inputs, 3 x outputs, 5 x Analog In, Phono In, 2 x Optical, 2 x Coaxial, Subwoofer Out, 11 x Speaker Terminals, 1 x USB Type-A

Audio Formats:
2.8 MHz DSD, 5.6 MHz DSD, AAC, ALAC, DSD, FLAC, MP3, WAV, WMA

2.8 MHz DSD, 5.6 MHz DSD, AAC, ALAC, DSD, FLAC, MP3, WAV, WMA

Video Support:
HDR, HDR10+, Dolby Vision, Dynamic HDR
HDR10, HDR10+, Dolby Vision, Hybrid Log Gamma
Upscaling
4K/120Hz, 8K/60Hz pass-through
4K/120Hz, 8K/60Hz pass-through and BT.2020 pass-through
Dimensions:
17.1W x 14.9D x 6.6"H
17.1 x 14.9 x 6.6
Weight:
27.6 lbs
30.2 lbs
Price

Find on Amazon





ProjectorScreen.com

Find on Amazon





ProjectorScreen.com
Performance comparison: Denon AVR-X3800H vs AVR-X4700H
Audio Quality
Our tests show these receivers are almost evenly matched in audio quality. You get 3D sound thanks to the combination of Dolby Atmos and Dolby Atmos Height Virtualization technologies. Audio is immersive from every corner of the room without adding ceiling speakers. To ensure a consistently crisp and clear sound experience, the receivers also come with DTS:X, DTS Virtual:X, and IMAX Enhanced support. Auro 3D technology further enhances audio quality.
While audio quality is exceptional with either Denon model, the X4700H produces a more powerful sound. It boasts 125W of power per each of the nine channels, compared to the 105W you get with the X3800H. Depending on the room size, a 20W difference may not affect your buying decision. However, we prefer the more powerful sound you get with the X4700H.
Best Audio Quality: Denon X4700H
Video Quality
With 8K content beginning to become more common, you want your AV receiver to support the latest formats. Both receivers are 8K ready. Simply use the 8K/60Hz pass-through.
The 4K pass-through supports HDR10+, HLG, HDR, and Dolby Vision. A dynamic HDR pass-through ensures you always get crisp images with clear details regardless of the scene's lighting.
The X4700H takes image quality a little further. It also has a BT.2020 pass-through. You get bright, accurate colors across the spectrum.
Get the Best Deal on Amazon Today!
Best Video Quality: Denon X4700H
Gaming Quality
We admit to being a little disappointed with both receivers. Avid and competitive gamers will probably find latency and refresh rates too slow. The refresh rate is around 60Hz using the 8K pass-through. Switch over to the 4K pass-through and the refresh rate jumps to 120Hz.
The 4K pass-through does have a Variable Refresh Rate. You can also use the Auto Low Latency Mode. To prevent frames from loading slowly, the receivers have Quick Frame Transport technology.
It's enough to keep casual gamers happy, especially considering the exceptional audio and image quality. You may even feel like you are a part of the game.
Best Gaming Quality: A Tie
Connectivity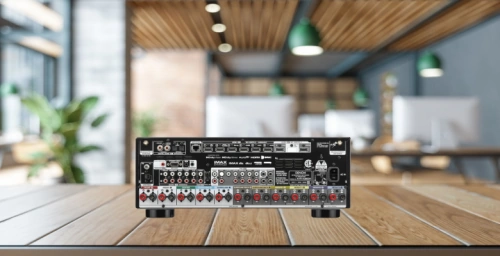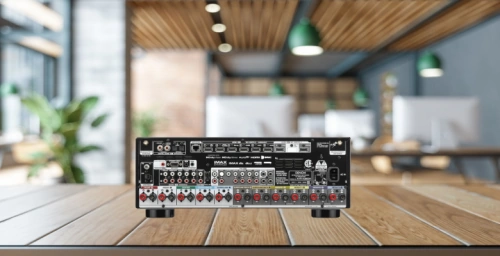 Connectivity is almost as crucial as audio and video quality. A receiver is worthless when you can't connect your devices. The receivers boast robust connection panels, but you get a few more ports with the X4700H. It has 11 HDMI ports, compared to 9 with the X3800H. Sometimes two extra ports make a difference in your setup.
Both models can connect to a turntable and external subwoofers or speakers. You also have wireless and Bluetooth support.

Best in Connectivity: Denon X4700H
Ease of Installation and Setup
The X3800H is around three pounds lighter at 27.6 lbs. It is also about an inch slimmer. The receiver measures 16 x 18 x 10 inches, while the X4700H comes in at 17.1 x 14.9 x 6.6 inches. The slight difference in weight and size isn't going to affect placement. Both receivers fit easily on a shelf with your other entertainment components.
You get Denon's award-winning onboard setup assistant. It's something we like about both receivers. The assistant walks you through the setup steps, from connecting your smart TV to multi-room streaming. Even calibrating the audio is a breeze. The receivers take care of everything. Audyssey MultEQ automatically calibrates your connected speakers and fine-tunes the receivers.
Easiest to Install and Setup: A Tie
---
Denon AVR-X3800H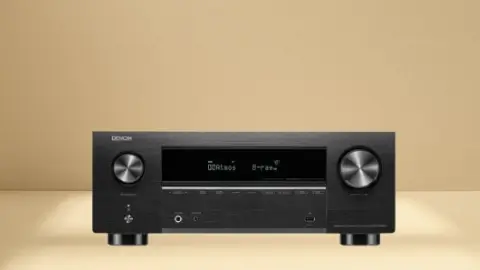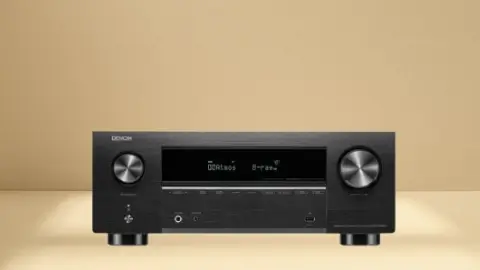 The X3800H is a 9.4-channel AV receiver with 105W of power per channel. A suite of audio-enhancing technologies optimizes audio, giving you a 3D sound experience. Music and dialogue are crisp and clear, and sound effects are realistic.
It is just as impressive with video quality. Colors are vivid and realistic, while details are crisp and clear. A variable refresh rate keeps games, live sports, and action scenes playing smoothly without any delay.
We love the receiver's ability to stream music using built-in Wi-Fi or HEOS. You can also connect a Bluetooth device for additional streaming options. Being able to eliminate some connected components is always a plus. We like having fewer cords cluttering up our entertainment space.
The Pros and Cons of the Denon AVR-X3800H
Pros
Flexible installation with 9.4 channels
8K support
Realistic 3D sound
Easy to setup
Variable refresh rate
Cons
The receiver may not be powerful enough for some larger, expansive homes.
---
Denon AVR-X4700H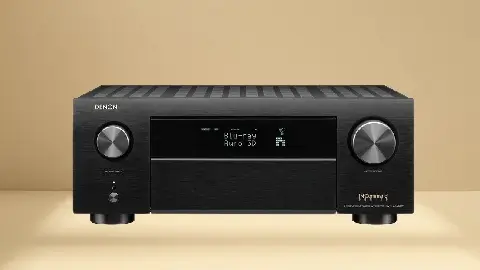 With 9.2 channels, you get a flexible setup ideal for larger spaces or multi-room streaming. Onboard HEOS, Wi-Fi, and Bluetooth allow you to wirelessly stream audio.
The X4700H comes with the latest video-enhancing technology that includes HDR10+ and dynamic HDR. You get vivid colors with plenty of clarity and contrast. To prevent annoying video delays, the receiver uses Quick Media Switching technology.
Casual gamers can sit back and enjoy a variable refresh rate, quick frame transport, and auto-low latency mode. Game images are in 4K definition for incredible image sharpness and detail. The 120Hz refresh rate is a little slow for some games, but it's not a deal breaker.
The Pros and Cons of the Denon AVR-X4700H
Pros
125W of power per each channel
Onboard setup assistant
Wi-Fi, Airplay, and Bluetooth support
Robust connection panel
Flexible installation
Cons
Unfortunately, the 4K/120Hz pass-through does not support all types of media.
---
Conclusion
After testing each Denon receiver, the X4700H comes out ahead in terms of audio and video quality. It also offers a little more in the way of connectivity. It doesn't mean you should pass over the X3800H. It is slightly more affordable and has exceptional audio and video properties. Don't Miss Out! See Current Price on ProjectorScreen.com
We hope our comparison test makes it easier for you to select the best AV receiver for your home.
Related Comparisons: