Denon has an impressive line of audio and video receivers. Known for producing amazing sound and images, it's hard to choose between the various models.
Comparing the Denon AVR-X4500H vs the Denon AVR-X6500H is an example. You get the same video technology with both AV receivers. Connectivity and audio are also similar, but you get more channels and power with the X6500H (>>> Find on Amazon). It's also a little larger than the x4500H, meaning you need to think about space.
If you still aren't sure which Denon AV receiver is right for you, it helps to look closer at what each model has to offer.
Denon AVR-X4500H vs Denon AVR-X6500H Side by Side:
| | Denon AVR-X4500H | Denon AVR-X6500H |
| --- | --- | --- |
| | | |
| Video | 4K/60Hz | 4K/120Hz |
| Amplifier | 9.2 Channel (125W per channel) | 11.2 Channel (200W per channel) |
| Sound | 5.2.4 or 7.2.2 Dolby Atmos | 5.2.4 or 7.2.4 Dolby Atmos |
| Wi-Fi | Yes | Yes |
| Bluetooth | Yes | Yes |
| Price | Find on Amazon | Find on Amazon |
Audio Quality
You will have a 3D audio experience with the Denon receivers. The combination of Dolby Atmos, DTS:X, and Auro-3D ensures music and dialogue are crystal clear. Sound effects will make you feel like you are sitting in the theater.
Audyssey MultEQ XT32 takes care of calibration. It eliminates sudden sound spikes and muffled audio. You hear exceptional audio no matter where you are sitting in the room.
Where the X6500H comes out ahead is with power. It doesn't affect audio quality, but you get a more robust sound.
Best Audio Quality: Denon AVR-X6500H
Video Quality
IMAX Enhanced doesn't only optimize audio quality, it also improves image clarity. Both Denon models come with the technology, along with additional features that improve the picture you see on the screen.
HDR10 and HLG support produce bright, accurate colors and detailed images. Color subsampling further enhances colors. You can get a cinematic experience at home.
Best Image Quality: Denon AVR-X4500H & Denon AVR-X6500H
Flexible Set-Up
How flexible your speaker setup is depends on the number of channels. You get a flexible setup with nine channels using the X4500H, but the X6500H gives you two more. With 11 channels and the connectivity for three zones, you can listen to music and stream content simultaneously.
HEOS support makes it even easier to enjoy multi-room streaming.
Most Flexible Set Up: Denon AVR-X6500H
---
Denon AVR-X4500H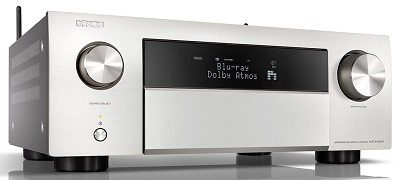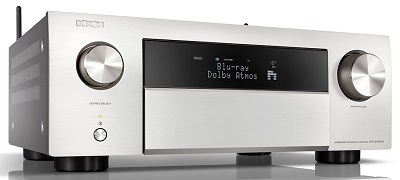 The X4500H is an older model in Denon's line of AV receivers, but don't let that turn you away. It's a relatively compact receiver, compared to some other Denon models. It's easier to fit into existing setups or on cramped shelves.
With 9.2 channels and HEOS multi-room support, you can stream movies and music to different rooms. You get 125W of power per channel, so you can fill the room with impressive audio. Dolby sound takes care of audio clarity, along with DTS:X.
Connecting external devices isn't a problem with the X4500H. It comes with eight HDMI inputs and three HDMI outputs. You even get HDCP 2.2 support. It allows you to enjoy copy-right protected-content.
Amazon Music HD lets you stream CD-quality music. You also bet Airplay 2 connectivity, along with built-in Wi-Fi and Bluetooth. Finding content or music to stream is never a problem.
Even controlling the receiver is a breeze. It comes with support for Amazon Alexa voice control.
Pros
4K support
Voice control
Easy setup
IMAX Enhanced
Dolby Atmos
Cons
Voice-control functionality does not work with mirror casting
---
Denon AVR-X6500H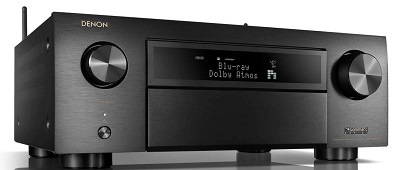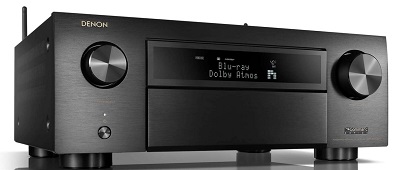 The X6500H is a little larger than some previous Denon models. It's not an overly large AV receiver, but it is a little wider. You may need to rethink its placement when you get it home. A wider size is necessary to store the additional internal components.
It's an 11.2 channel receiver, giving you a flexible installation. You also get 140W of power per channel, so you don't have to worry about filling a mid-size room with sound.
Audio quality is crisp and clear. Dolby Atmos, DTS:X, and IMAX Enhanced ensure you get exceptional audio without having to worry about calibration. Everything from dialogue to sound effects is at the ideal volume.
Connectivity is never a problem. You have multiple HDMI inputs, along with ports for external speakers and record players. Built-in Wi-Fi and Bluetooth make it easy to stream music and content. The AV receiver is compatible with most streaming services, including Pandora and Spotify. It also comes with onboard HEOS and Amazon Alexa.
Video is as important as audio with an AV receiver, and the X6500H delivers. IMAX video produces realistic images. HDRO10 and HLG technology ensure colors are bright and true-to-life. You get detailed images that match what you see in the cinema.
Pros
Robust audio
4K support
Onboard setup assistant
Multi-zone support
IMAX Enhanced images
Cons
The USB port is not compatible will all devices
---
Conclusion
As you are comparing the Denon AVR-X4500H vs the Denon AVR-X6500H, it's easy to see which is the more robust model. The X6500H comes with 11.2 channels, compared to 9.2 with the X4500H. You also get more power per channel.
The additional channels and power make the X6500H the best choice when it comes to audio (>>> Check on Amazon). It also gives you a more flexible setup. You have more options when you're configuring your speaker set up.
Don't discount the X4500H. It matches the X6500H in image clarity, ease of setup, and connectivity. It's also a little smaller in size, making it easier to install in tight spaces.
It comes down to how many channels you need and how much space you have to devote to an AV receiver.