The Marantz SR8012 was a flagship receiver from Marantz until the introduction of the SR8015 in 2020. The SR8012 was the first 11.2 channel receiver from Marantz and had numerous features to make it easy to use and accurate. This Marantz SR8012 review will cover the key features and details of this high-end receiver (>>>Find on Amazon).
Marantz SR8012 Review of Specifications:
| | Marantz SR8012 |
| --- | --- |
| | |
| Video | 4K/60Hz |
| Amplifier | 11.2 Channel (205W per channel) |
| Sound | 11.2 or 9.1.2 Dolby Atmos |
| Wi-Fi | Yes |
| Bluetooth | Yes |
| Price | Find on Amazon |
This is a power packed AV receiver from one of the industry's super stars, so you should expect to find the best technology that was available while it was built. It features 11 powered channels that are rated at an impressive 205 watts. Each channel has a dedicated built-in amplifier to provide more than just loud volume -this receiver does a remarkable job recreating accurate sounds at any volume. You'll hear the nuances of a string quartet or the hum of a reverberating amplifier even when you've got the volume cranked.
Audio Features
Marantz uses an oversized toroidal transformer that is centrally positioned in the chassis to power the individual amplifier circuits. This gives the SR8012 tremendous amounts of available power without causing distortion on delicate components. Numerous components throughout the build are intended to provide the highest quality audio signals possible. Even the chassis is copper clad to ensure accurate sound.
Dolby Atmos, DTS:X, and Aura 3D see to it that you'll get the most from your music. Audio processors in the unit digitally enhance the audio signal to provide a digital surround sound experience even when you are running a more basic setup. The numerous formats ensure smooth and dynamic sound that comes at you from every angle.
A 192k hZ/ 32-bit digital-to-analog converter ensures the most realistic and accurate sound reproduction possible. This high-end D/A converter will open up new worlds to music you've heard a thousand times by providing data that is often lost when using low-resolution processors.
Pros
Excellent quality and features
Attractive design that looks great with modern stereo equipment
Powerful enough to not require an amplifier
Cons
Discontinued product that is no longer supported by the factory
Nearing obsolete technology due to new influx of 8k receivers
Very difficult to find and harder to service
Video Features
Integrating the SR8012 into your home theater is easy and convenient. The receiver provides 4k/ 60 hZ pass through on all eight of the HDMI ports. You'll be able to connect your DVD player and your 4k-compatible TV with ease and enjoy the most realistic video experience possible outside of upgrading to the newest technology.
Video is enhanced through IMAX formatting to give you incredible detail and smooth transitions from scene to scene. Automatic upscaling even converts standard definition to high definition to give you a new way to see your favorite movies and television shows. The SR8012 includes pure color sub-sampling, HDR10, and Dolby Vision to get the absolute best possible video quality.
Connectivity Options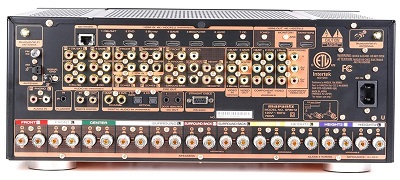 The SR8012 has seven HDMI ports on the back to connect anything from televisions to turn-tables. Each HDMI port is 4k compatible to provide the easiest and most straight-forward installation.
The SR8012 has the older Bluetooth 2.0 interface and has built-in WiFi to enable streaming of music and video files from compatible devices. You can connect with your favorite AI Assistant program to further integrate the SR012 into your home theater experience.
This receiver also supports HEOS speakers so that you can create a multi-room wireless experience while still powering your primary theater area. The level of flexibility in connections gives this receiver the ability to be the cornerstone of an immersive home theater environment.
Tuning Features
The SR8012 includes the award-winning Audyssey MultiEQ XT32 system. This system lets you fine tune almost every aspect of the receiver's output to custom-tailor your sound environment. Using the tuning program, you'll be able to tune sound adjustments and perfect digital surround sound effects based on the unique characteristics of your room.
Audyssey tuning works through an Apple app, so you'll need an iPad or iPhone to use the tuning features. The app itself is easy to use with the included microphone that lets you adjust the dynamic reality of each speaker to provide a lifelike sound stage in any space.
Conclusion
The Marantz SR8012 was a fantastic receiver back in 2017 when it came out. Though the differences in features to newer units seem small, there are several improvements that have been made to receivers on the market today that make this receiver seem a little dated. Newer devices, including the SR8015 from Marantz are now 8k compatible and feature newer formats of Bluetooth to enable aptX conversion for high-fidelity audio from low-fi sources (>>> Check on Amazon).
REFERENCES AND FURTHER READING: