The Marantz name has become synonymous with high-quality audio equipment over their 60+ years in the industry. Their flagship AV8805 receiver lived up to this reputation when it was released in May of 2021, though it lacked some features today's high-end home theater owners look for. They've filled in these gaps with the upgraded AV8805A, an 8K-equipped surround pre-amplifier engineered with advanced enthusiasts in mind.
If you're comparing the Marantz AV8805A vs AV8805 from a performance standpoint, the former is the clear winner, building off the features of its predecessor (>>> Find on Amazon). This isn't to say the AV8805 is a bad receiver by any means, however, and it can still be the right choice for some users. Let's take a closer look at the key differences between these models.
Marantz AV8805A vs AV8805 Side by Side:
3D Sound
The Marantz AV8805 has 3D surround sound capabilities. Its Auro-3D sound processing is designed for setups using dedicated overhead channels, giving your space realistic all-encompassing sound that makes you feel like you're in the middle of the action. However, you will need to physically set up overhead speakers to create this effect.
With the AV8805A, Marantz has added support for Dolby Atmos Height Virtualization and DTS Virtual:X. This lets it provide that same immersive audio experience without the need for dedicated height channels.
Better 3D sound: Marantz AV8805A
Ultra HD Performance
All of the HDMI inputs on the Marantz AV8805 support 4K ultra HD content. It also has a 4K upscaling function that lets 1080p or standard definition content play at a sharper 4K resolution.
While most current content and displays top out at 4K, an increasing number are available in 8K, and the Marantz AV8805A is ready for this evolution. It doesn't just play 8K content through all HDMI ports but can upgrade lower-resolution content to this new standard, ensuring you'll get the best possible image quality for years to come.
Better ultra HD performance: Marantz AV8805A
Gaming Performance
Every piece of equipment you add to your home entertainment setup can also add lag to the signal, and that's bad news for gamers. The Marantz AV8805A avoids this through Variable Refresh Rate (VRR) and Auto Low Latency Mode (ALLM) technology, limiting the delay between your input and what you see on the screen. Gamers will also appreciate the 120Hz 4K pass-through, keeping content on the screen smooth and seamless.
Better for gaming: Marantz AV8805A
Value
The technology upgrades of the Marantz AV8805A are impressive, but they're also reflected in its price tag. Its MSRP is about $1,000 higher than the AV8805, and while it's worth the extra cost for those who want the best performance, this could price it out of some buyers' budgets. This makes the older AV8805 a great choice for those who want exceptional audio performance and 4K capability at a more affordable price.
Better value: Marantz AV8805
---
Marantz AV8805A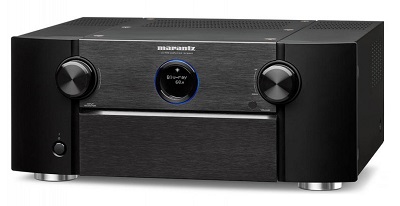 The Marantz AV8805A checks all the boxes for home theater owners. On the visual side, its HDMI 2.1 inputs have a 120Hz 4K pass-through, with the option of upscaling content to 4K or 8K Ultra HD. This is backed by support for Dolby Vision, HDR10+, and HLG formats, ensuring the accuracy of all your video content. For gamers, the addition of VRR and ALLM eliminates extra lag so you can just focus on your game.
The upgrades on the sound side of the equation are equally impressive. It has broad support for multiple 3D sound formats, including Dolby Atmos Height Virtualization and DTS:X. This allows users to create a three-dimensional soundscape without the need for dedicated height channels. Along with this, it has the extensive tuning and masterful engineering you'd expect from a Marantz receiver, with a rigid chassis to avoid vibration and copper plating that improves the signal-to-noise performance.
Smart home capability is increasingly important for modern home theater users, and the Marantz AV8805A delivers here, too. It supports voice control through Google Assistant or Amazon Alexa and can be controlled on your phone through the HEOS app or Marantz remote app. It also supports Josh.ai for more involved smart home entertainment setups, with multi-room music and direct music streaming capability rounding out its modern hands-free features.
Pros
Optimal sound quality with Hyper Dynamic Amplifier Module
Audyssey MultEQ automatic room calibration
8K upscaling with support for HLG and HDR10+
Immersive 3D sound through Dolby, DTS:X, or IMAX
Built in Google Assistant voice control and Josh.ai support
Easy control through Marantz remote app
Quick Start Guide for easy, fast setup
Cons
---
Marantz AV8805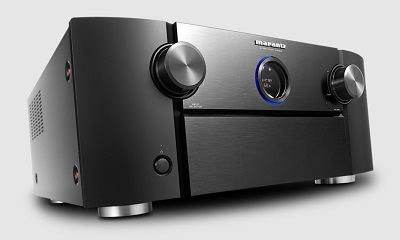 The Marantz AV8805 is a powerful home theater receiver, with the versatility to excel in a variety of setups and uses. Its sound quality is exceptional, whether you're listening to music or watching your favorite movie. The detailed and realistic sound produced by its 13.2-channel pre-amplifier does justice to audio signals across the frequency range, with support for audio technology like IMAX Enhanced and Marantz's Auro-3D for fully immersive three-dimensional soundscapes.
The 8 HDMI inputs of the AV8805 all support 4K content, with a 60Hz pass-through and support for BT.2020, HLG, and HDR. Along with robust wired inputs, its wireless connectivity supports direct streaming of music through the most popular services, with technology like HEOS multi-room music and AirPlay2 to expand your wire-free options. Users can also control the receiver wirelessly through the Marantz remote app, a helpful feature since the front display is relatively small and limited in its options.
Some advanced home theater receivers can be complicated to install and adjust, but the Marantz AV8805 makes it easy. It comes with a Quick Start Guide to help you through the process of connecting speakers and devices. Optimizing the sound is just as easy thanks to the Audyssey MultEQ calibration system, which uses the built-in microphone to analyze the space and adjust the settings automatically, so you don't need to be an A/V expert to get audiophile-level sound. Click here for our more in-depth Marantz AV8805 review.
Pros
Immersive surround sound performance
Supports IMAX Enhanced and Auro-3D
Detailed sound with dedicated pre-amplifiers
Direct music streaming through Pandora, Spotify, and more
Multi-room music through HEOS
Broad wired and wireless connectivity
Cons
Less 3D sound support
No 8K upscaling
---
The Verdict: Marantz AV8805A vs AV8805
The Marantz AV8805A is a direct upgrade of the AV8805, making it the obvious better choice for those who want the ultimate audio and visual performance in their home theater (>>> Check on Bhpotovideo). That said, if you don't need 8K upscaling and don't mind using overhead speakers to achieve a 3D soundscape, the Marantz AV8805 brings a similarly exceptional audio quality at a lower price. Consider your budget and entertainment needs, and that will guide you to the best receiver for your home.