When you think of audio equipment, the name Yamaha often comes to mind. The company is well-known for its top-rated stereos, speakers, and AV receivers that include the RX-A1050. It's an impressive receiver capable of producing high-resolution audio and visuals. It comes with plenty of features that optimize sound quality, along with wireless connectivity. You can also set up different zones.
If you are thinking about adding the receiver to your sound system or using it as a building block, keep reading this Yamaha RX-1050 review to learn more. (>>>Find on Amazon)
Yamaha RX-A1050 Review of Specifications:
| | Yamaha RX-A1050 |
| --- | --- |
| | |
| Video | 4K/60Hz |
| Amplifier | 7.2 Channel (110W per channel) |
| Sound | 5.1.2 Dolby Atmos |
| Wi-Fi | Yes |
| Bluetooth | Yes |
| Price | Find on Amazon |
Audio Quality
The RX-A1050 is compatible with most high-resolution audio formats using the front-panel located USB port or a wireless device. Dolby HD and DTS-HD Master Audio ensure you hear immersive audio, whether you are listening to music or watching a movie.
Dolby Atmos and DTS:X technologies take care of any objects that might block sound waves. You get multidimensional audio without having to add ceiling or upwards firing speakers. YPAO technology automatically calibrates your speakers to match the room's dimensions, giving you cinematic sound. The symmetrical amp layout reduces noise interference by keeping the right and left channels separated.
Image Quality
An AV receiver is useless if it can't produce images to match the audio, and the RX-A1050 delivers. It comes with 4K ultra HD support, using the passthrough and video upscaling technology. The refresh rate is a little slow at 60 frames per second, but you will still enjoy smooth action with movies and live shows. Only gamers will really notice the slower refresh rate on some of their graphic-intense games.
HDR support optimizes image quality. You get vibrant, accurate colors and dynamic images. Darker scenes have crisp details, along with brighter ones.
Pros
Aventage networked build
Built-in Wi-Fi and Bluetooth
Voice control compatible with Alexa
110 watts of power
2 channel receiver with multizone functionality
Cons
You may have to purchase additional components to use MusicCast or voice control
Connectivity
Along with plenty of ports for your devices, the RX-A1050 also comes with onboard Wi-Fi and Bluetooth. Airplay and Spotify Connect are also built-in, so you can start streaming your playlists without having to download the app. The receiver supports most streaming and radio platforms. Listen to Pandora, Rhapsody, vTuner, SiriusXM, and more.
The 7.2 channel receiver also comes with the MusicCast app. (Click here for our top 7.2 AV Receiver picks) It's a breeze to set up, and the app is free to install. You can set up two zones and listen to the same audio throughout the house or play something different. You will need MusicCast compatible speakers to use the app.
Ease of Installation and Use
Installing the receiver is a breeze. It takes care of calibrations and automatically enhances audio, so you won't spend hours trying to get the sound right. With eight HDMI outputs and two going in, you can connect everything from a smart TV to gaming consoles and disc players.
It is a heft receiver, weighing around 33lbs, so watch out for its weight. Measuring a little over 17 inches in height, width, and length, you shouldn't have any problems fitting the receiver on a shelf.
With the purchase of an Amazon Alexa device, you can control the receiver with your voice. It also comes with a handy, easy-to-use remote.
Consumer Impressions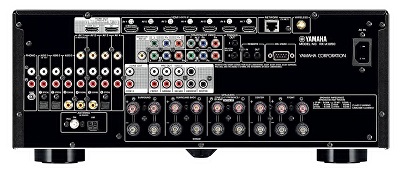 Consumers are finding a lot to like about the RX-A1050. They have few complaints about audio quality and appreciate the automatic sound enhancing technology. Some consumers wish the multiroom technology was not reliant on MusicCast speakers, but it is usually not a deciding factor for most of them. They do like how simple the receiver is to install and operate.
Conclusion
You get impressive audio with the Yamaha RX-A1050, thanks to the built-in technology. It also delivers 4K content. The receiver does come at a price that reflects its features, but it's also a good investment for anyone starting to build an entertainment system. (>>> Check on Amazon)