You expect a lot out of your AV receiver. It's the heart of your home theater system. Multi-rooming streaming, exceptional audio quality, and voice control functions are only a few features you expect on an AV receiver.
The Cinema 50 and 60 from Marantz boast these and other features, but which model is the right choice for your system? You get more channels with the Cinema 60 receiver, along with better audio processing capabilities. However, it's hard to beat the Cinema 50 receiver when it comes to connectivity (>>> Find on Amazon). It has a robust rear panel that can handle almost all of your external devices.
To see which AV receiver is the best option for your home entertainment system, here's a closer look at the Marantz Cinema 50 vs 60.
Marantz Cinema 50 vs 60 Side by Side:
Marantz Cinema 50
Marantz Cinema 60
Video
8K/60Hz, 4K/120Hz
8K/60Hz, 4K/120Hz
Amplifier
9.4 channel (110W per channel)
7.2 Channel (100W per channel)
Sound
7.1, 5.1, or 2.1 Dolby Atmos
7.1, 5.1, or 2.1 Dolby Atmos
Wi-Fi
Yes
Yes
Bluetooth
Yes
Yes
Price

Find on Amazon





B&HPhotoVideo

Find on Amazon





B&HPhotoVideo
Audio Quality
You get a surround sound experience with both Marantz receivers. Along with DTS support, you also get Dolby height virtualization and surround sound technology. You get audio that fills every corner of a room without dead zones.
Upmixing technology support is the same with both receivers, but the Cinema 50 takes it a little further. The receiver supports Auro 3D and more file formats than the Cinema 60, including 2.8 MHz DSD, 5.6 MHz DSD, and DSD. You also get IMAX-enhanced technology with the Cinema 50, it can make a difference in audio quality.
Best Audio Quality: Marantz Cinema 50
Video Quality
The two Marantz receivers are tied when it comes to video quality. Upscaling technology takes 1080p content up to 8K UHD. With either receiver, you are ready for the future. While 8K content isn't widely available, it is gaining traction. When 8K becomes the new standard, your receiver is ready.
HDR10+ support is standard with the receivers, along with Dolby Vision. You get immersive onscreen images with bright, accurate colors.
Best in Video Quality: A Tie
Connectivity
An AV receiver is useless without connectivity for more than a couple of speakers. It's not an issue with either model, but the Cinema 50 has a more robust rear connection panel. The front panel is the same for both receivers.
You get four RCA subwoofer outputs with the Cinema 50, compared to the Cinema 60. You also get an output for a stereo RCA Zone 2 pre-out. While 7 speaker connections are often more than enough in case you need more the Cinema 50 comes with an impressive 11.
Wireless connectivity is crucial, especially when you want to fill multiple rooms with sound. The receivers support HEOS and AirPlay 2. You can also connect to Spotify, and the receivers are ready for Roon.
Best in Connectivity: Marantz Cinema 50
---
Marantz Cinema 50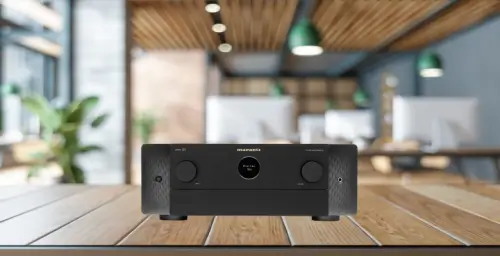 The Marantz Cinema 50 is a 9.4-channel AV receiver with 110 watts of power per channel. Add in DTS Neural: X and Dolby surround technology, and you get powerful audio, whether it's music or speech. 3D height technology only improves the sound experience.
Movies and other visual content match audio quality. You can use either 8K or 4K passthroughs. The receiver is ready for the future of image resolution. To ensure a crisp, bright picture with accurate colors, the receiver comes with Dolby Vision. HDR10, HLG, dynamic HDR, and 3D supports produce exceptional image quality, whether you are watching movies or gaming. QFT, QMS, VRR & ALLM technologies keep your games playing smoothly throughout all of the action.
Setting up the receiver is a breeze, even for multiple rooms. The HD user interface simplifies menu navigation so you can select and tune your audio and video sources. It also comes with Audyssey MultEQ XT32. It automatically adjusts the audio in multiple rooms.
Pros
9.4 channels
Easy setup
Sleek design
8K ready
HEOS multi-room support
Cons
The audio lacks some dynamics listeners are looking for in an AV receiver
Full review: Marantz Cinema 50
---
Marantz Cinema 60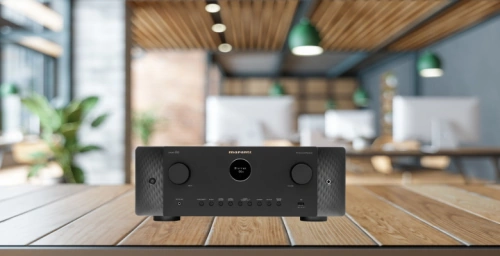 The Marantz Cinema 60 is a little more affordable than the Cinema 50. It's a 7.2-channel receiver with 100 watts of power per channel. You can rock out to your favorite tunes or enjoy a movie with cinematic sound. Dolby surround and DTS Neural: X technologies ensure you hear audio the way it's meant to be enjoyed.
Going with a 7.1, 5.1, or 2.1 setup gives you the illusion of overhead sound without the need for additional ceiling speakers. Plenty of HDMI ports, and the receiver comes with 6 coming in and two going out, making it easier to connect all of your devices. A USB port and phono input are also included on the front and rear control panels.
The Cinema 60 receiver isn't complicated to set up. It's also easy to control the various rooms and components with voice-control access. The user interface is easy to navigate, and Audyssey MultEQ XT32 automatically corrects the acoustics. You only hear great audio in every room.
Pros
7.2 channels
8K compatible
Dolby sound support
HEOS support
Voice-control compatibility
Cons
The eARC setting is not compatible with all TV models
More detailed Marantz Cinema 60 review
---
Conclusion
The Marantz Cinema 50 and 60 come with many of the same features, especially when it comes to audio and video support. The Cinema 60 is a little more affordable, but the Cinema 50 receiver comes with more connectivity, supports more audio files, and produces a slightly better sound (>>> Check on Bhphotovideo).
When it comes to choosing an AV receiver for your setup, consider what you need. It makes it easier to choose between the two models.