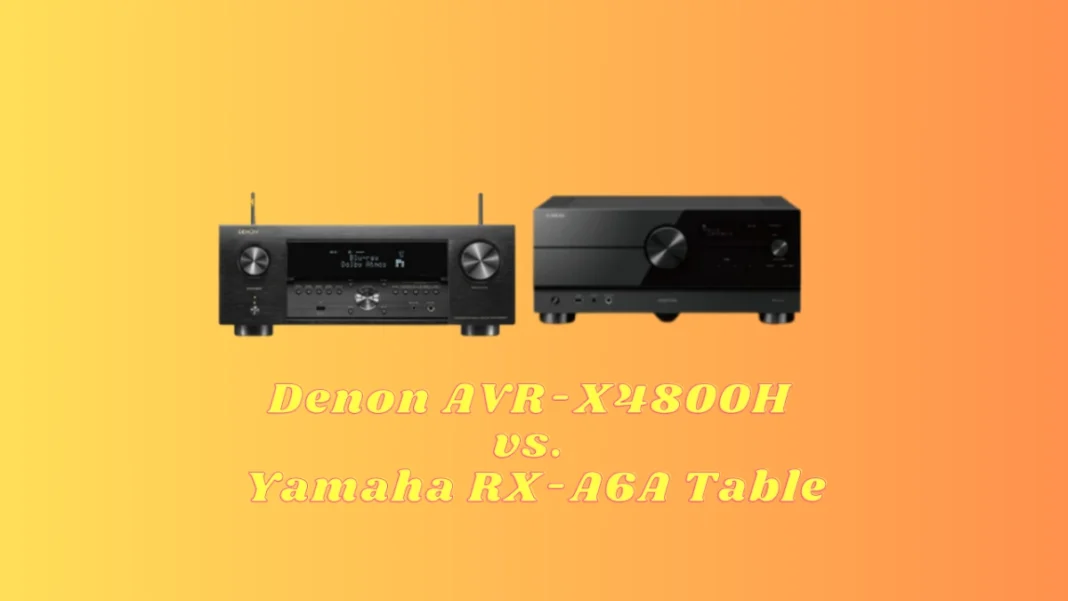 In the realm of high-end home theater receivers, the Denon AVR-X4800H vs. Yamaha RX-A6A debate often surfaces as a pivotal discussion among enthusiasts. Both models, Denon's AVR-X4800H and Yamaha's RX-A6A Aventage, are renowned for their impeccable sound quality and feature-packed offerings. Choosing between them, however, can be a challenging endeavor. Drawing from our hands-on experience with these two audio giants, this in-depth comparison aims to illuminate their strengths, weaknesses, and the distinct characteristics that set each one apart.
Through our extensive testing and analysis, we have found the Denon AVR-X4800H to be the slightly better pick. Whether you're a home theater enthusiast, a cinephile, or someone who simply craves the best in audio quality, this guide is tailored to help you navigate the intricacies of these two exceptional AV receivers. Dive with us into the sonic realm of Denon and Yamaha.
In This Comparison:
Denon AVR-X4800H VS. YAMAHA RX-A6A AVENTAGE Specs:
Denon AVR-X4800H
Yamaha AVENTAGE RX-A6A
Number of Channels
9
9
Stereo RMS Power
125 watts
150 watts
Amplifier Class
AB
AB
Bluetooth
Built-in
Built-in
Apple AirPlay
AirPlay 2
AirPlay 2
Alexa and Google Assistant Compatibility
Yes
Yes
Dolby Atmos and DTS
Yes
Yes
Number of HDMI Inputs
7
7
HDMI Version
2.1
2.1
HDR Support
HDR10, HDR10+, HLG, Dolby Vision
HDR10, HDR10+, HLG, Dolby Vision
Size
17-1/8" x 7-3/4" x 15-7/16"
17-1/8" x 6-3/4" x 17-1/4"
Weight
29.5 pounds
41.2 pounds
Price

Find on Amazon





B&HPhotoVideo





ProjectorScreen.com

Find on Amazon





B&HPhotoVideo
Overviews:
Denon AVR-X4800H 9.4-Ch Receiver
The Denon AVR-X4800H stands as a testament to Denon's commitment to delivering top-tier audio performance. With its sleek design, intuitive setup process, and a myriad of connectivity options, this receiver brings out the best in both audio and video content. Its standout feature, however, is the impeccable soundstage it creates, allowing for immersive listening experiences. While it might come at a premium price point, those who prioritize pristine audio quality and a seamless user interface will find the investment worthwhile.
Pros
Exceptional soundstage for immersive audio experiences.
Intuitive and user-friendly setup process.
Versatile connectivity with seven HDMI inputs.
Premium build ensures longevity and durability.
Adaptive speaker calibration for optimized sound.
Cons
Slightly higher price point than competitors.
Some may find interface too detailed.
---
YAMAHA RX-A6A AVENTAGE 9.2-Channel AV Receiver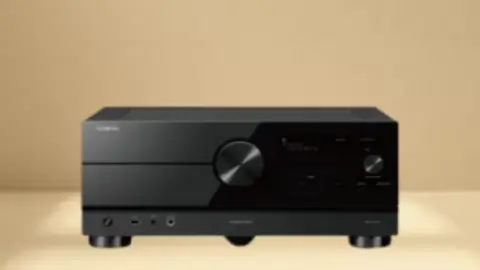 Yamaha's RX-A6A is a formidable contender in the high-end receiver market. Boasting a robust build and Yamaha's signature sound tuning, it promises and delivers crisp, dynamic audio playback. The RX-A6A is particularly adept at teasing out the finer details in music tracks, making it a favorite among audiophiles. Its video handling capabilities are commendable, with consistent upscaling quality. While it might be edged out slightly by competitors in some areas, it remains a solid choice for those seeking a reliable, high-performing AV receiver. Read our full Yamaha RX-A6A Aventage review.
Pros
Crisp, dynamic audio with detailed playback.
Robust build promising long-term reliability.
Efficient video upscaling and processing.
Signature Yamaha sound tuning pleases audiophiles.
Comprehensive suite of streaming and connectivity options.
Cons
Interface can be complex for new users.
---
In-Depth Comparison:
Design and Build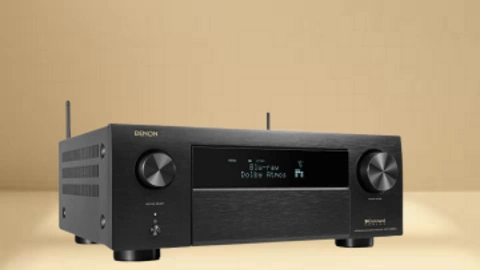 Denon's craftsmanship is on full display with the AVR-X4800H. The unit sports a sleek and streamlined look, with a robust and sturdy design befitting its premium standing. Measuring 17.2 inches in width, 6.6 inches in height, and 16.1 inches in depth, the receiver fits comfortably within standard home theater racks. Its weight, coming in at 29.5 pounds, reinforces its solid build without being overwhelmingly heavy. The design speaks to its origins, boasting the label "Made in Japan," which many audiophiles consider a mark of high-quality craftsmanship.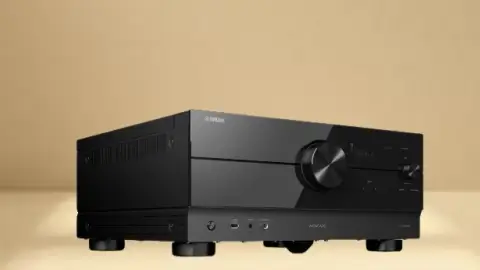 In comparison, the Yamaha RX-A6A has its own unique allure. A standout feature is the "H-shaped" cross frame design which not only adds a touch of visual appeal but also augments the stability of the chassis while diminishing vibrations. This design ingenuity ensures that the unit remains unaffected by external disruptions, providing consistent sound quality. Dimension-wise, the RX-A6A stands slightly taller and deeper than the Denon model, measuring 17.2 inches in width, 7.5 inches in height, and 18.2 inches in depth. Its weight is notably more substantial, tipping the scales at 41.2 pounds, reflecting its robust and durable build.
Connectivity and Setup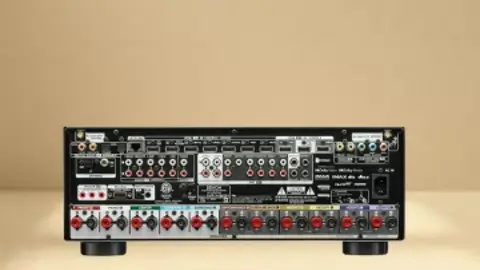 The Denon AVR-X4800H is nothing short of impressive when it comes to connectivity options. The receiver boasts 7 HDMI inputs, with 3 of them supporting the latest HDMI 2.1 standards, ensuring compatibility with 8K sources and devices. Furthermore, it features dual HDMI outputs, making it convenient for users with multiple displays. For analog aficionados, the Denon offers a suite of traditional AV inputs, including dedicated phono input for vinyl playback. On the wireless front, it comes equipped with Wi-Fi, Bluetooth, and even has support for Apple AirPlay 2.
The setup is a seamless experience, thanks to the built-in Audyssey MultEQ XT32 room calibration system. With the provided microphone, the system analyzes the room's acoustics and adjusts the receiver's sound output to optimize audio performance. A user-friendly on-screen guide walks you through the entire setup process, making it accessible even for those new to AV receivers.
Connectivity in the Yamaha RX-A6A Aventage is similarly expansive. It also features 7 HDMI inputs, all compliant with the HDMI 2.1 standard. It ensures future-proof compatibility with emerging tech trends and supports up to 8K resolution. Dual HDMI outputs are present, catering to users with multiple viewing screens. The RX-A6A also shines with its variety of digital and analog audio inputs, as well as a phono input for turntable enthusiasts. Wireless connectivity is robust with integrated Wi-Fi, Bluetooth, and compatibility with Yamaha's proprietary MusicCast system, which allows for multi-room audio streaming.
Setting up the Yamaha RX-A6A is facilitated by its YPAO (Yamaha Parametric Acoustic Optimizer) sound calibration system. With the provided microphone, the YPAO meticulously assesses the room's unique acoustic properties and tweaks the sound settings accordingly. The on-screen display and user interface are intuitive, helping users effortlessly navigate through the setup stages.
Audio Performance and Amplifier Comparison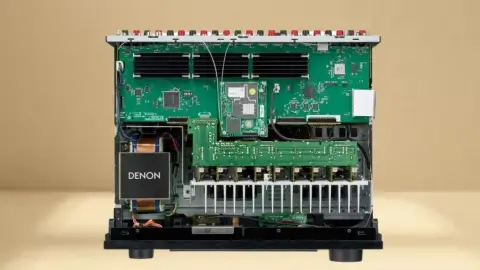 Upon testing the Denon AVR-X4800H, its audio capabilities immediately made an impression. The receiver demonstrated an expansive soundstage that extended well beyond the confines of our listening room. The mids were rich and articulate, especially noticeable in vocal tracks where each nuance was discernible. The highs were crisp without being too sharp, and the bass response was punchy and profound without overwhelming the mix.
Its amplifier, delivering up to 125 watts per channel, is more than capable of powering most home theater and hi-fi speakers, ensuring that the sound remains undistorted even at high volumes. During our testing phase, we coupled the Denon with a variety of speaker sets and found that it consistently maintained a warm and engaging sound signature.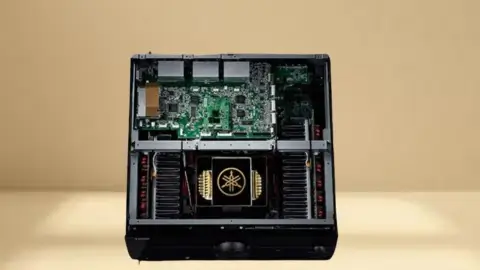 The Yamaha RX-A6A, in its own right, showcased stellar audio performance. It exhibited a slightly brighter sound signature compared to the Denon. The highs were airy and sparkled with clarity, while the mids remained clear and coherent, ensuring dialogue in movies was always front and center. The bass, though robust, was a tad more controlled, making it a favorite among our team for genres like jazz and classical.
Its amplifier packs a punch with 150 watts per channel. This extra power was evident, especially in dynamic movie scenes, where the receiver effortlessly transitioned between quiet dialogue and intense action sequences. In our various setups, the Yamaha showcased its ability to drive speakers with authority and precision, regardless of their size or specifications.
Personal Experience:
In our direct A/B testing between the two receivers, subtle distinctions in audio character became evident. The Denon AVR-X4800H seemed to prioritize a more immersive and warmer listening experience, which would appeal to those seeking a cinematic and enveloping sound. The Yamaha RX-A6A, on the other hand, had a slightly more analytical edge, making it well-suited for audiophiles who appreciate detail and precision.
Video Performance Evaluation
Our initial setup with the Denon AVR-X4800H was straightforward, and we were quickly immersing ourselves in its video prowess. When we connected it to our 8K reference monitor, the pass-through for 4K at 120Hz and 8K at 60Hz was impeccable. The latest gaming consoles in our lab worked harmoniously, showcasing crisp visuals without any noticeable lag or latency.
Furthermore, our movie testing was particularly revealing. Using HDR-encoded content, we could clearly distinguish the receiver's handling of HDR10, Dolby Vision, and Hybrid Log Gamma (HLG). Scenes that were traditionally challenging, like twilight sequences or candle-lit interiors, were rendered with a keen balance of shadow detail and highlight retention.
Setting up the Yamaha RX-A6A in our second test bay, we found its video processing capabilities rivaled its Denon counterpart. The 8K content we played was not just supported but displayed with a finesse that spoke of advanced underlying electronics.
An intriguing feature was Yamaha's suite of video adjustments. Taking advantage of this, our team was able to modify the video output finely. Especially in our projector room, with its controlled lighting, these tweaks made a notable difference in image quality. The receiver's handling of HDR was on par with the Denon, offering vivid colors and a dynamic range that made our chosen movie clips shine.
Verdict: Denon AVR-X4800H vs. Yamaha RX-A6A Aventage
After comprehensive testing and meticulous comparison between the Denon AVR-X4800H and the Yamaha RX-A6A, it's time to draw a conclusion. Both units undoubtedly stand as remarkable feats of engineering, each packing an array of features that cater to audiophiles and cinephiles alike.
However, considering the entirety of our evaluation – from design, connectivity, audio, to video performance – the Denon AVR-X4800H emerges with a slight advantage. (>>> Discover the Best Price on Amazon Today) This isn't to say that the Yamaha RX-A6A isn't a top contender; in fact, it displayed formidable prowess, especially with its customizable video settings. Yet, when assessing the overall package, the balance of features, usability, and performance in the Denon AVR-X4800H gives it the edge in this face-off.
Related Comparisons: