The Pioneer Elite VSX-LX505 certainly lives up to its name. With 9.2 channels and processing for up to 11 speaker channels, it can drive even large and complex home entertainment setups to sound and look their best. You don't need to be an A/V expert to get this impressive quality, either, and its usability and convenience are part of what make it such a great value. No receiver will be the best choice for every home, though. We'll explore the full features in this Pioneer Elite VSX-LX505 review so you can decide if it's a good match for your home (>>> Check current price on Amazon).
Pioneer Elite VSX-LX505 of Specifications:
Pioneer Elite VSX-LX505
Video
8K/60Hz, 4K/120Hz
Amplifier
9.2 channel (120W per channel)
Sound
Up to 11.2, Dolby Atmos Height Virtualization, DTS formats
Wi-Fi
Yes
Bluetooth
Yes
Price

Find on Amazon





B&HPhotoVideo
Sound Quality
With 120 watts per channel, you'll get massive sound out of the Pioneer Elite VSX-LX505, no matter what speakers you hook up to it. This includes compatibility with Sonos speakers, though you will need to buy the Sonos port separately for that.
The Dirac Live Room Correction system of the Pioneer VSX-LX505 automatically calibrates the sound to your space, using either the included mic or your phone. Along with this, it has MCACC Auto Room Tuning with Auto Phase Control Plus, measuring the response of the speakers in real time to ensure the audio is in phase and balanced across the frequency range.
3D Surround Sound
You can get a fully immersive sound experience using the Pioneer VSX-LX505 without installing overhead speakers. It supports Dolby Atmos Height Virtualization upmixing. It also supports several DTS formats, including DTS Neural:X and DTS-HD Master Audio, as well as IMAX Enhanced content. Features like the Dialogue Enhancement ensure you hear every detail as clearly as if you were in a movie theater.
Pros
Powerful sound from any speaker, including Sonos
Automatic Dirac Live Room Calibration
8K resolution with upscaling
Great choice for gaming
Robust wired and wireless connectivity
Compatible with multiple voice control services
Straightforward setup and navigation
Cons
No support for HEOS or Josh.ai
Requires third-party device for voice control
Video and Gaming
Content will look as good as it sounds when you play it through the Pioneer VSX-LX505. All of its HDMI ports supports resolutions up to 8K. It can also upscale 4K content to 8K, or 1080p content to 4K, bringing even more detail to your favorite movies than you'll see on other systems. Support for BT.2020, Dolby Vision, HLG, and HDR10+ ensure the color and contrast are as impressive as the resolution. Check comparison vs. Onkyo TX-RZ50.
A 120Hz refresh rate for 4K (60Hz for 8K) keeps the on-screen movement smooth, and that's good news for both movies and games. It also has Auto Low Latency Mode (ALLM), Quick Frame Transport (QFT), Variable Refresh Rate (VRR), and Quick Media Switching (QMS), all the features gamers look for to ensure a lag-free playing experience.
Control and Connectivity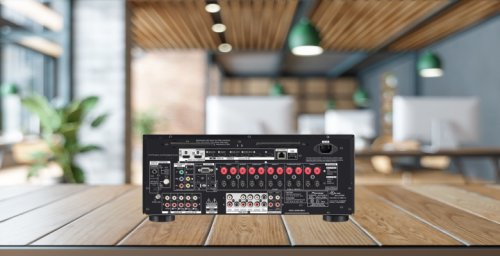 The Pioneer VSX-LX505 has an impressive variety of ways to get content to your entertainment system. All of its HDMI inputs have the same signal support, with eARC on the main output and SACD playback through HDMI. It also includes inputs you may not find on other modern receivers, including multiple RCA options, letting you use older game systems and other legacy equipment without the need for adapters.
The wireless connectivity of the VSX-LX505 is just as robust. Its bi-directional Bluetooth lets it both send and receive audio signals, while its integrated Wi-Fi lets users stream music directly from services like Pandora and Spotify. Along with this, it can mirror content from devices via Chromecast, or play music in mutliple rooms using DTS Play-Fi.
The Pioneer VSX-LX505 has a user-friendly interface with an on-screen setup and information about the audio, video, and network signals. You can navigate using the included remote or through your phone with the Pioneer Remote app.
Smart home owners will also find it easy to integrate the Pioneer VSX-LX505 into their system. It works with Apple, Google, and Alexa voice control, and through these services and its Zone 1/Zone 2 outputs you can control multiple entertainment spaces right through the same receiver. The only thing to keep in mind here is that the set-up microphone won't work for voice control, so you'll need a third-party device to take advantage of this voice control capability.
Pioneer Elite VSX-LX505 Review In Summary
There's a lot to love about the Pioneer VSX-LX505 (>>> Check on Bhphotovideo). This versatile receiver can bring next-level audio and visuals to any entertainment space, or even multiple spaces within your home, while the broad connectivity and multiple control options make it a convenient choice, too. While it lacks some features, notably HEOS multi-room music and Josh.ai, it makes up for these omissions with support for similar services. Overall, we'd say it's one of the best A/V receivers on the current market, and an incredible value at the price. Find our other receiver picks in a similar price range
FAQs
Is the Pioneer Elite VSX-LX505 Roon tested?
Yes, you can use Roon-tested devices confidently with this receiver.
Can you set up two separate home theater spaces with the Pioneer VSX-LX505?
Yes, the Zone 2 output of this receiver supports video as well as audio. The only caveat here is that the Zone 2 output has a maximum resolution of 4K when both zones are in use.