If you've been looking for a powerful, all-in-one, and easy-to-use home entertainment receiver, look no further than the Denon AVR-A1H. In this review, we will break down everything you need to know about the Denon AVR-A1H and discuss its features, performance, and ease of use. Keep reading through our Denon AVR-A1H Review to see if this powerful receiver is the best pick for you.
Denon AVR-A1H Review of Specs:
Denon AVR-A1H
Amplifier:
15.4 channel (150W per channel)
Connectivity (Inputs/Outputs):
7/3 x HDMI, 5 x Analog In, Phono In, 4 x Subwoofer Out, 17 x Speaker Terminals,

Audio Formats:
2.8 MHz DSD, 5.6 MHz DSD, AAC, ALAC, DSD, FLAC, MP3, WAV, WMA

Video Support:
8K Resolution, HDR10, HDR10+, Dolby Vision, HLG
• Network Connectivity
Wi-Fi, Ethernet
Dimensions:
17.1 x 19.4 x 7.7
Weight:
70.5 lbs
Price

Find on Amazon





B&HPhotoVideo
Build and Design
The Denon AVR-A1H is a beast of a receiver weighing in at heavy 70.5 pounds. It features a sleek all-black modern design that will complement any home entertainment console, but given its size and weight, it may be tough to fit into your home entertainment console. The front panel features a minimalistic design, with just a volume knob and channel selection knob alongside an easy-to-read large display. The overall build and design quality of the A1H was impressive to us. and we noted a solid and durable chassis in the AVR-A1H that will be able to withstand years of use. >>> Find it on Amazon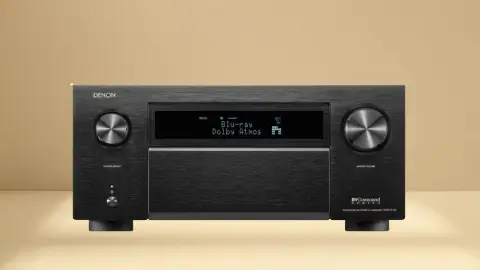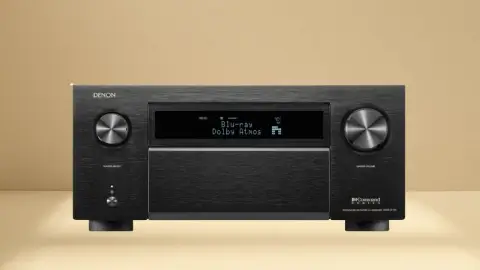 Features
The Denon AVR-A1H is packed with advanced audio and video features, making it one of the more advanced receivers available to consumers on the market today. The AVR-A1H comes with a wide range of the latest audio optimization formats, including Dolby Atmos, DTS:X, and Auro-3D, all working together to provide an immersive and dynamic audio experience. Additionally, the A1H features HEOS integration, allowing us to create a wireless multi-room sound system.
Performance
We found the performance of the Denon AVR-A1H to be exceptional, with a nearly unheard-of 15.4-channel output that drives 150 watts of power per channel. Even the most high-end demanding speakers could be driven with the Denon AVR-A1H thanks to how powerful it is and how many audio channels are supported. The sound quality is excellent, with a detailed, clear, and realistic sound that really gave our home theater cinema quality.
We also found when using the receiver that the Denon A1H handled Blu-Ray Dolby audio extremely well, making for an incredible cinematic experience. When it comes to video support, all of the HDMI ports on this receiver are HDCP 2.3 compatible and feature an 8K resolution. While there's no video upscaling, which would have been nice to see, the A1H was a great addition to our home theater setup, thanks to future-proofed HDMI ports and more than enough ports to plug in multiple devices.
Usability
Denon has made the setup of such a feature-rich receiver straightforward and easy to use. The on-screen setup will walk you through everything you need to know, including which connections to make based on different speaker setups and where to put those speakers for ideal sound quality. We had an easy time navigating the interface, and the remote control that comes with the A1H makes it easy to adjust the settings of the receiver on the fly. Additionally, you can use the A1H without getting up, thanks to integration with Google Assistant, Apple AirPlay 2, and Amazon Alexa.
Connectivity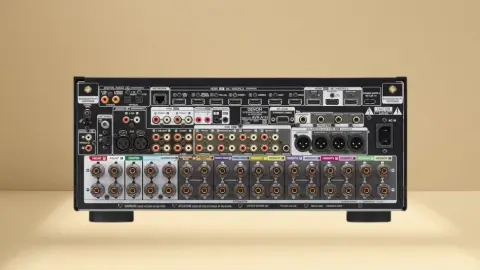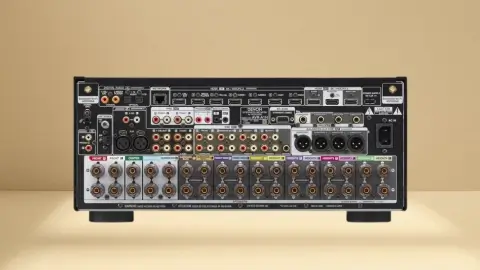 The Denon AVR-A1H provided us with a wide array of connectivity options that we were happy to see. You can connect a total of 17 speakers, and there are 8 HDMI inputs. In addition, there are 3 HDMI outputs, making this receiver ideal for anyone who would want to use multiple displays or projectors with the AVR-A1H. The A1H also has a wide range of analog and digital inputs, including composite, component, and S-Video. Best of all, there's for individual subwoofer outputs, allowing you to create an immersive and bass-heavy audio experience.
Pros
High-quality 15.4-channel audio performance and 8K video performance.
Support for Dolby Atmos, DTS :X, and Audyssy MultEQ Room Correction.
HEOS integration for wireless multi-room sound setups.
Easy to follow and detailed on-screen setup.
Video features include HDR10, HDR10+, HLG, and Dolby Vision.
Cons
Large and heavy, weighing 70 lbs.
What's the Bottom Line?
At first glance, we found the Denon AVR-A1H to be an expensive and heavy receiver. But after trying it out, we think it's one of the best receivers available right now. It's a flagship Denon receiver that is packed with a wealth of great features, including support for Dolby Atmos and DTS:X, HDR10+, HLG, and Dolby Vision. Its 15.4-channel build delivers an incredibly immersive sound experience, and it has plenty of power to drive even the most demanding speakers and features an easy setup. While the price tag is high, it sells less than any combination of components that would produce the same sound quality and carry the same features as the A1H. >>> Check on BhPhotoVideo Overall, this is a great all-in-one package for beginners and advanced AV enthusiasts.