You expect a lot from an AV receiver. It powers your audio and video components, and you don't want to sacrifice sound or image quality. Most newer models come with the latest technology, so you don't have to worry about blurry images or fuzzy audio.
Comparing the Onkyo TX-NR797 vs Denon AVR-X3600H, you notice a few differences. The TX-NR797 produces plenty of power per channel and comes with advanced audio enhancement technology (>>> Find on Amazon). The TX-NR797 also comes with built-in Chromecast. With the X3600H you have more in and outputs, including two subwoofer ports. It's also easier to install.
Want to learn more about these AV receivers? Keep reading to find out more about their specifications.
Onkyo TX-NR797 vs Denon AVR-X3600H Side by Side:
| | Onkyo TX-NR797 | Denon AVR-X3600H |
| --- | --- | --- |
| | | |
| Video | 4K/60Hz | 8K/60Hz or 4K/120Hz |
| Amplifier | 9.2 Channel (220W per channel) | 9.2 Channel (105W per channel) |
| Sound | 5.2.2 Dolby Atmos | 5.1.4 or 7.1.2 Dolby Atmos |
| Wi-Fi | Yes | Yes |
| Bluetooth | Yes | Yes |
| Price | Find on Amazon | Find on Amazon |
Audio Quality
You get a clean, stable sound from both receivers. Dolby Atmos and Dolby Height Virtualization are standard, along with DTS:X and Virtual:X technologies. No matter how your speakers are configured, the audio is crisp without any interference. The receivers give you a 3D audio experience.
The TX-NR797 produces better audio with built-in THX Certified Select technology. It ensures you get theater-quality sound at the volume you expect at the cinema.
Best Audio Quality: Onkyo TX-NR797
Video Quality
With 4K support, Dolby Vision, and IMAX, you get stunning images from either AV receiver. HDR10 and HLG technologies further enhance the video. The colors are crisp and vibrant without any bleeding or fading.
The X3600H is 8K ready and produces brighter images in any lighting. Video calibration features include day and night video modes. You don't have to worry about frames appearing too dark or bright.
Best Image Quality: Denon AVR-X3600H
Ease of Installation
It's not hard installing the receivers, you don't need to call a professional. The inputs and out ports are labeled. You also have enough to connect your external devices. The X3600H has an advantage in its award-winning setup assistant. It makes setup a breeze.
Both models are also a breeze to operate. You get voice-control with the receivers. The Denon model comes with Amazon Alexa and the Onkyo has built-in Google Assistant.
Easiest to Install: Denon AVR-X3600H
Connectivity
The Denon receiver has eight HDMI inputs in the front and three in the back. In comparison, the Onkyo has seven in the front and two in the rear. You can connect two subwoofers with the X3600H. It also comes with Crestron Intelligence. You can easily integrate the receiver into your smart home system.
The TX-N797 boasts built-in Chromecast. You can mirror content from any compatible Apple device. It also works with Mac and Windows operating systems. The ability to mirror content eliminates the need to connect several devices.
Best Connectivity: Onkyo TX-NR797
---
Onkyo TX-NR797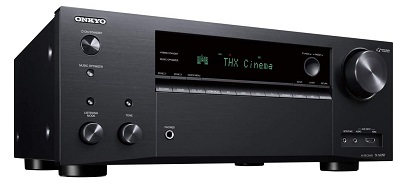 The TX-NR797 allows you to stream content from a variety of sources. Stream music from Spotify, Pandora, Amazon Music, and more. The 9 channel AV receiver also supports a multi-zone setup. It's compatible with Sonos.
Along with inputs for speakers, and one for record players, it comes with a total of nine HDMI ports. Built-in Chromecast allows you to mirror content from compatible devices.
When it comes to audio and image quality, you won't be disappointed. IMAX Enhanced technology produces stunningly lifelike images. Dolby Vision, along with HDR10 and HLG support ensure colors are accurate.
You don't have to worry about selecting sound settings during movies. Dolby Atmos and DTS:X take care of it automatically. Dolby height optimization ensures objects don't block the audio. Everyone in the room enjoys 3D audio.
Pros
4K support
Dolby Atmos sound
Built-in Chromecast
Google Assistant
THX certified select
Cons
The receiver does not recognize all Bluetooth-enabled devices
---
Denon AVR-X3600H
The Denon AVR-X3600H produces 105W of power per channel. The nine-channel receiver produces a powerful sound. You get a 3D audio experience, whether you are listening to music or movie dialogue. Imax Enhanced and Dolby Atmos support give you the impression of 3D audio. Dolby Atmos Height Virtualization ensures you don't need to recalibrate the settings for ceiling-mounted speakers.
You are ready for the next generation of content with the X3600H. Along with 4K compatibility, it's also 8K ready. Eight HDMI inputs and three outputs make it easy to connect your devices, while Amazon Alexa gives you voice-control capabilities. It's also a breeze to set up. The AV receiver comes with Denon's onboard assistant.
You can connect the AV receiver to your Crestron home automation system. It comes with onboard Crestron Intelligence. You can control the receiver from any room in the home.
Pros
8K ready
Powerful sound
Onboard Crestron Intelligence
Easy installation
IMAX Enhanced images
Cons
The receiver is not compatible with all 4K devices or content
---
Conclusion
Comparing the Onkyo TX-NR979 vs the Denon AVR-X3600, audio and video quality are similar. Audio is slightly better with the TX-NR979 (>>> Check on Amazon), but the X3600H produces a sharper image. It also comes with more HDMI ports, but you get Chromecast with the Onkyo receiver.
Each AV receiver has something to offer. It depends on what you want from the audio and video component. Whichever you choose, you won't be disappointed in the component.
REFERENCES AND FURTHER READING: