For most home theater spaces, a 5-speaker surround sound setup is plenty to create an immersive listening experience—and at a much lower price than massive 9 or 11-channel systems. If you're looking for an affordable receiver to control your speakers and display, you'll want to consider the Denon AVR-S540BT vs Yamaha RX-V385 as two of your best options.
If your main concern is sound quality, the Yamaha RX-V385 comes out slightly ahead (>>> Find on Amazon), thanks largely to its discrete amplifiers and room optimization feature. The Denon AVR-S540BT has its strengths too, though, with a fast set-up and more control options. Let's take a closer look at the main differences.
Denon AVR-S540BT vs Yamaha RX-V385 Side by Side:
| | Denon AVR-S540BT | Yamaha RX-V385 |
| --- | --- | --- |
| | | |
| Video | 4K/60Hz | 4K/60Hz |
| Amplifier | 5.2 Channel (140W per channel) | 5.1 Channel (100W per channel) |
| Sound | Dolby Vision | Dolby TrueHD, DTS HD Master Audio |
| Wi-Fi | No | No |
| Bluetooth | Yes | Yes |
| Price | Find on Amazon | Find on Amazon |
Set-up Ease
The Denon AVR-S540BT has a straightforward installation. Its on-screen setup assistant walks users through the process of connecting speakers and adjusting the EQ settings, with Quick Select buttons that let you store 4 different settings to match your main content sources.
While the Denon is good in this regard, the Yamaha is even better. The RX-V385 makes it easy to get the ideal sound for your space. It comes with a microphone that analyzes the acoustics of your space and adjusts the sound accordingly, no need for tedious manual fiddling. It also supports Yamaha's AV Setup app, so you'll get the same guided assistance as with the AVR-S540BT.
Easier set-up: Yamaha RX-V385
Connectivity
For simpler set-ups, the Yamaha RX-V385 has the connectivity you need. Its rear panel includes 5 HDMI inputs, as well as digital and composite inputs, and it also supports wireless streaming from devices through Bluetooth. The Denon AVR-S540BT matches the connectivity of the Yamaha and goes a step further, with HEOS multi-room music support and direct music streaming capability.
Better connectivity: Denon AVR-S540BT
Sound Quality
The 140 watts per channel of the Denon AVR-S540BT give it a powerful output, and the sound is overall well-balanced for both music and home theater applications. Support for DTS HD sound limits interference and loss for surround sound, and it brings the same high sound quality to content that's streamed through Bluetooth as signals that come through the HDMI ports.
Where the Yamaha RX-V385 rises to the top here is its discrete amplifier configuration. Independent amplifiers for the high and low frequencies enhance the clarity and sonic detail, with low-end enhancement for a rich, full bass response.
Better sound quality: Yamaha RX-V385
---
Denon AVR-S540BT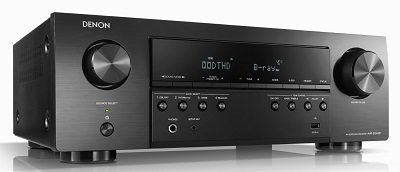 The Denon AVR-S540BT is an ideal receiver for those who want the maximum sound and video quality without a lot of hassle. The on-screen set-up assistant guides you through the process of connecting your screen and speakers, with straightforward instructions to optimize the sound to the content. The four Quick Select buttons each have their own EQ settings, too, so you can easily get the best sound and picture quality from all your content sources.
Each of the 5.2 channels on the AVR-S540BT is driven by 140 watts of power, letting you get the most out of your speakers. Lossless DTS HD surround sound and Dolby TrueHD audio preserve the balance and detail of the sound signal for an immersive listening experience. The AVR-S540BT brings the same high quality to video signals, processing data signals up to 4K resolution with support for HLG, HDR, and 4:4:4 Pure Color sampling.
The AVR-S540BT has Bluetooth connectivity, as well as support for HEOS multi-room music. This lets it stream music directly from select services, including Pandora and Spotify, though it lacks voice control and other smart home features. Its wired inputs are similarly basic. The 5 HDMI inputs will be enough for many home entertainment set-ups, but it lacks specialized inputs like a phono in for turntables, so it may not be the best choice for all listening room setups.
Pros
High sound quality and output
Supports 4K resolutions with HDR and HLG support
Supports wireless streaming and HEOS multi-room music
On-screen assistant for quick, easy setup
Control with included remote or Denon remote app
Detailed display with front-facing USB and headphone ports
Cons
No 3D surround sound option
Limited connectivity
---
Yamaha RX-V385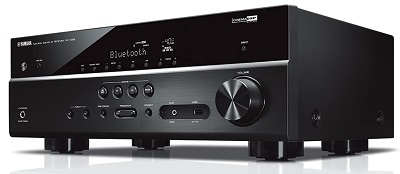 The Yamaha RX-V385 is very advanced for its price point. It comes with Yamaha's Parametric Room Acoustic Optimizer (YPAO), which analyzes the acoustics of your space and adjusts the sound accordingly. For help with the setup, you can download the AV setup app to your tablet or computer and get step-by-step guidance for connecting devices and adjusting the sound settings.
The RX-V385 also has the visual signal support you need in a home theater. It supports 4K resolutions, as well as technology like HLG, HDR10, and Dolby Vision. Along with this, it has multiple surround sound options, including a virtual surround sound using just front-facing speakers. This means you don't need top of the line equipment to get an immersive home theater experience with the RX-V385.
Where the Yamaha RX-V385 really shines is its sound quality. Its Cinema DSP technology provides impressive sound imaging, replicating the acoustic space of concert halls and other venues. Discrete amplifiers on each channel prevents interference and enhances clarity, with bi-amp connectivity for the front speakers. While it can only power one subwoofer, its bass response doesn't suffer, with the Extra Bass low-range enhancement to add even more low-end power.
Pros
Discrete amplifiers for exceptional sound clarity
Rich bass response with Extra Bass
4K signal processing with HDR10, HLG, and Dolby Vision
Automatic sound calibration
Wireless music streaming through Bluetooth
Cons
No smart features or multi-room music
No remote app control option
---
The Verdict: Denon AVR-S540BT vs Yamaha RX-V385
Either the Denon AVR-S540BT or the Yamaha RX-V385 can be an excellent choice for a small to medium home theater space, with the channel and signal support you need in a modern entertainment system. Choosing between them comes down to what you need from your receiver. The AVR-S540BT takes a slight edge when it comes to connectivity, while the Yamaha RX-V385 will be the better option for buyers most concerned with sound quality (>>> Check on Bhphotovideo). Whichever one you buy, you'll get a convenient way to control all your home theater devices.