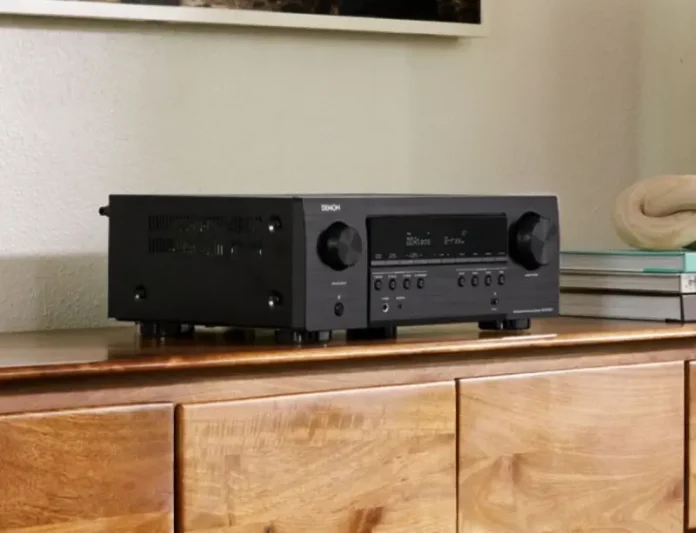 Denon enhances its S-Series lineup with the introduction of two attractively priced AV receivers – the 7.2-channel AVR-S770H and the 5.2-channel AVR-S670H. These models are designed to cater to enthusiasts of gaming, music, and film, delivering an authentic home cinema ambiance.
The AVR-S770H, available at $649, equips users with Dolby Atmos and DTS:X, coupled with the respective upmixing tech, paving the way for an enthralling 5.1.2 soundscape. Boasting an amp output of 75 watts per channel, this receiver is well-suited for energizing efficient speaker systems within small to moderately-sized spaces. On the other hand, the AVR-S670H, priced at $549, focuses on a 5.1 speaker setup, mirroring the amp capabilities of the S770H.
To ensure seamless room integration and peak performance, both receivers come with Audyssey's MultEQ room correction and an intuitive setup guide. They seamlessly integrate with HEOS Built-in for compatibility with other HEOS-compatible devices, and the HEOS stream app brings users closer to popular platforms like Spotify, Pandora, and TIDAL. Their connectivity suite is expansive, encompassing Wi-Fi, Bluetooth, and Apple AirPlay.
From a visual perspective, these AVRs support 8K/60 and 4K/120 pass-through. They're also in sync with leading-edge High Dynamic Range versions such as HDR10+ and Dolby Vision, thus presenting viewers with some of the most captivating video standards in the industry.
Stay tuned for our in-depth review and side-by-side comparison of these new Denon S-Series AV receivers. We'll be putting them through their paces, analyzing their performance, and providing insights to help you make an informed decision. Don't miss our hands-on impressions and expert evaluations coming soon!