Dynaudio is one of the world leaders in producing high-quality Hi-Fi speakers and equipment. The Evoke 10 is one of the newer products and is intended to provide some of the high-end features of their other lines in a more affordable package. The company's goal with these bookshelf speakers is to develop the classic Dynaudio sound and showcase some of the best technologies for your home theater system.
This Dynaudio Evoke 10 review will look at the features of these speakers and let you know what the facts are about them (>>> Find on Amazon). This will help you to understand if these are a good choice for your music listening style.
Dynaudio Evoke 10 Review of Specification:
| | Dynaudio Evoke 10 |
| --- | --- |
| | |
| Power (Watts) | 160W |
| Frequency range | 47Hz – 23kHz |
| Sensitivity | 84dB |
| Weight | 35.7 pounds |
| Dimensions (inches) | 10.5 x 7.1 x 12.4 inches |
| Price | Find on Amazon |
These are considered bookshelf speakers and as such, they measure a total of 10"x7"x12". That means they are neither huge nor diminutive and will actually work quite well on a bookshelf. We think they sound best on a speaker stand that allows the speaker to operate in space mch better.
Each speaker box is a two-way setup with rear porting. On the bottom, you'll find a midrange driver that handles the lower end frequencies. A specially-designed tweeter occupies the top and provides smooth vocals and high frequencies without distortion.
Each cabinet is made of pressed wood and features an elegant and understated blonde wood finish. Speaker terminals are located on the back and the pair of speakers also includes a black grill cover if that is the design you are looking for.
Woofer Specs
The woofer is a long-throw design that uses Dynaudio's classic Magnesium Silicate Polymer that gives the cone an ideal balance between light weight and rigidity. The center dust cap incorporates into the woofer, while an advanced surround keeps the woofer flexible without allowing for distortion. Balance ribs and a specially-designed glass fiber voice coil in the woofer construction allow for this precisely tuned speaker to function as one unit rather than a collection of parts.
Pros
Excellent sounding bookshelf speakers
Wonderful hi-fi sound that gets better the longer you listen to the speakers
Cons
Won't provide the bass that larger speakers can
Light wood finish demands an upscale environment
Tweeter Specs
The tweeter used in the Evoke 10 series is a brand new design that offers an excellent combination of smooth high frequencies and depth to the sound stage. This means that you'll hear instrumentals in a clear and natural way without the harshness that tends to happen when a tweeter is underperforming for the application.
Overall Sound Experience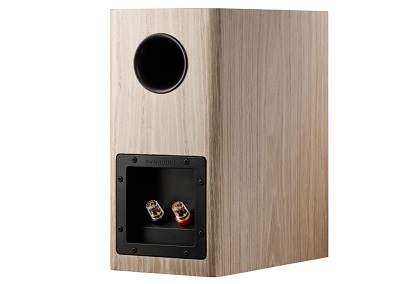 Of course, the most important thing about speakers is the way they sound. We found these to have a very natural sound that was more deep and realistic than some of the other, higher-end speakers from Dynaudio. In fact, these make for an excellent building block to begin creating an epic home theater system and are great for use as gaming speakers where you have lots of dynamic sounds interacting at once.
These speakers sound best when they are somewhat lower than most speaker positionings. At or above ear level, they tend to sound a little under-detailed, however with proper positioning, they sound awesome.
Conclusion
The Dynaudio Evoke 10 speakers are an excellent way to get high fidelity audio from a compact speaker system (>>> Check the current price on Amazon). The advanced technologies are borrowed from the company's higher end products, so you'll get the smooth and detailed sound you expect. In fact, we found that the sound from the Evoke speakers was more natural than we anticipated and were pleasantly surprised by the overall sound stage creation that makes these speakers a great choice.
We tried them out in some challenging environments, including while driving bass-heavy music, complex audio with numerous aspect features, and highly detailed instrumental music that often shows the short-comings of lesser speakers. The Evoke 10 provides enough bass response to prevent dull sound, but they aren't going to rattle the windows either. We were particularly impressed with them as gaming speakers where you have combinations of music, audio, and sound effects all at once.
REFERENCES AND FURTHER READING: