If you love to watch movies, game or stream music and podcasts, then a high-quality AV receiver is going to bring it all together. These receivers are your entertainment hub, taking the signal and data from all of your devices and giving you ultimate control over the output.
When it comes to high-quality AV receivers, Marantz is up there with the best of them, and while these two receivers will give you value for money, which one comes out on top? When it comes down to the Marantz SR5015 versus the SR5014, there is not much between them.
The SR5014 is slightly cheaper and will give you a little more connectivity, but video capability and features are where it is at for the SR5015 (>>> Find on Amazon). Other than that, both offer great amplification, superb audio, fantastic control, and multi-room capabilities.
Let's look at what separates them before we get into the individual reviews.
Marantz SR5015 vs 5014 side by side:
Connectivity
For any AV receiver to shine, you need good connectivity, and both Marantz models have that. Just looking at the back (and front) of each unit is enough to make your head spin. There are in-puts and outputs there for almost any device that you can imagine. The Marantz SR5014 and SR 5015 both have an impressive array of HDMI, wired, composite, coaxial, and other common and uncommon connections.
Where they differ slightly is in the number of HDMI inputs. The SR5014 has 8 HDMI inputs, includ-ing one on the face, while the SR5015 has 6 HDMI inputs, with one 8K input. On the front, the SR5014 has an HDMI and USB input, while the SR5015 only has aUSB input.
Better connection options: Marantz SR5014
Video Features
An AV receiver is only as good as the video, and while both offer exceptional video features, there is a clear winner. Both have high-quality video processing for 4K with 4:4:4 color resolution and HDR, but the Marantz SR5015 goes above and beyond.
The Marantz SR5015 can adapt to 8K, dynamic HDR, and HDR 10+. If you want the best video possible, the SR5015 is the way to go, and you have a host of extra video features that will give you the best viewing experience. The Hybrid PLL Clock Jitter Reducer ensures that you have flawless streaming, and that integrates with the low-latency mode passthrough, video signal passthrough, and superior video signal upscaling to give better video than the SR5014 can offer. Don't get us wrong, the SR5014 gives high-quality output, but it just can't compete with the SR5015.
More Video Features: Marantz SR5015
---
Marantz SR5015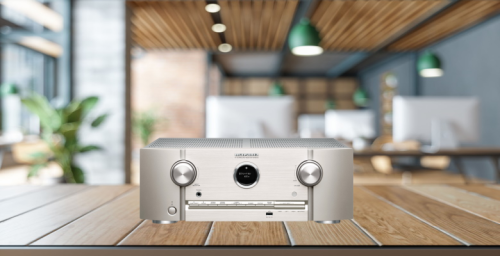 The Marantz SR5015 comes with 7.2 channels for full home theater connectivity, bringing 100W per channel for a robust and rich surround sound experience when you are watching movies or gaming, and has the latest tech to ensure lag-free video games and hybrid jitter-reducer for flaw-less audio streams.
The receiver supports almost all surround sound formats, from Dolby to DTS, and gives a multi-dimensional sound when you have all of your speakers attached, letting you immerse yourself in one room while still offering multi-room audio capabilities.
4K and 8K are supported, and the upscaling is better than the SR5014 (along with being better than other similar-priced receivers on the market). You can also take advantage of the latest HDMI technologies, such as Dynamic HDR and QMS. The video features of this device translate well into gaming, and this is an AV receiver that is widely used by gamers. The 4K/120Hz passthrough, Quick Frame Transport, Auto Low-Latency Mode, and jitter reduction means that you can stream the most intense first-person shooters without any annoying lag or glitches.
When you live with other people, multi-room functionality is a bonus. With the SR5015, you can personalize your playback preferences to play the same music in all rooms, only some rooms, or play different music in different rooms. You can control all of this with the on-screen menu or use a voice assistant to easily control the volume, track switching, and playback.
For professional users, you will enjoy the custom installation and external control. If you want a little more influence over the device, you can easily use third-party installations, and there is a web user interface that is granted through the startup menu, as long as you are on the same network. Click here for a more detailed Marantz SR5015 review.
Pros
Processes video signals up to 8K resolution with HDR 10+ support
Exceptional sound quality for both music and movies
Superior lag-free gaming
Compatible with modern surround sound technology
Dolby and DTS compatible
Built-in HEOS
Multi-room audio
Full voice control support for Alexa, Siri, and Google Assistant
Cons
Slightly higher price
No Toroidal Transformer
---
Marantz SR5014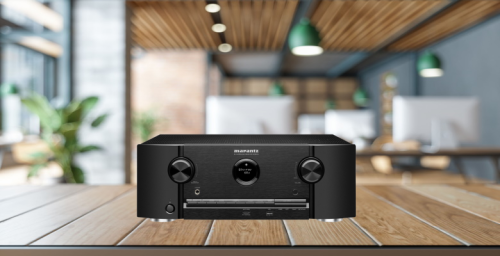 The Marantz SR5014 is an impressive AV receiver that has an attractive price point and part of an ever-expanding Marantz line. With years of experience in the home theater market, Marantz knows how to get the most out of their units, and this one offers fantastic surround sound, video processing, and control while still coming in at under a thousand dollars.
The 7.2 channel receiver is compatible with the latest audio formats, including Dolby Atmos, Height Visualization, DTS:X, and DTS Virtual:X. The extra versatility allows you to simulate sur-round and overhead sound effects without the need for tall speakers. The 100W per audio chan-nel is enough for most people and gives precisely what you would expect from a mid-range mod-el.
The connectivity of the device is spectacular without throwing anything unexpected at you. You have HDMI along with composite and component video outputs. There are options for a number of speakers to be hooked up, and the latest HDCP means that you can support 4K 60Hz video and SD and HD upscaling.
The setup is simple, with step-by-step instructions on the display once you connect your TV, and if you follow the guide, you can have your home theater set up in 15 minutes or less; just be sure that you are paired to your wifi. When you are online, you will be able to watch all of your favorite movies and TV shows, along with getting in some high-end video game time. Click here for our more in-depth Marantz SR5014 Review
Pros
Lots of connection options
Supports video resolutions up to 4K
Supports the latest audio formats
Multi-room audio technology
Full voice control with Alexa, Siri, Josh.ai, or Google Assistant
On-screen setup assistant for 15-minute installation
Mid-range at a mid-range price
Cons
Fewer video features than the SR5015
Stereo imaging lacking
---
What's the Verdict?
Ultimately, for the casual user, both of these pieces of equipment will give you almost the same functionality. There is not much difference between the Marantz SR5015 and SR5014, and the earlier model does have some benefits. There is slightly more connectivity, and you can save yourself a few dollars. However, when looking at the pure features of both devices, the SR5015 is worth the extra money (>>> Check current price on Bhphotovideo).
The extra video attributes do set the SR5015 apart, and if you are going to spend the money on one of these receivers, we recommend spending a little more for a lot more functionality. Both are outstanding devices, but you will appreciate the little extras that the newer device brings you.
When it comes down to it, the SR5015 is a clear champion.