AV receivers are important components in your entertainment system. When you connect your various devices to one, you expect high-quality audio and video. Two AV receivers that might grab your attention are the Onkyo TX-NR696 and the Denon AVR-X2600H.
There are similarities between the two models. Both have 7 channels and support both Dolby Atmos and DTS:X. When it comes to power the TX-NR696 from Onkyo beats the Denon model. It's also a breeze to use and operate. However, the Denon AVR-X2600H has more in and outputs. When it comes to power, ease of use, and included features, the Onkyo TX-NR696 is the winner (>>> Check current price on Amazon).
Before you decide that power or ease of use is the most important aspect, it's a good idea to take a closer look at each of the two receivers.
Onkyo TX-NR696 vs Denon AVR-X2600H Side by Side:
Onkyo TX-NR696
Denon AVR-X2600H
Video
4K/60p
4K/60p
Amplifier
7.2 Channel (100W per channel)
7.2 Channel (95W per channel)
Sound
5.2.2 Dolby Atmos
5.2.2 Dolby Atmos
Wi-Fi
Yes
Yes
Bluetooth
Yes
Yes
Dimensions (LxWxH)
17.13 x 14.94 x 6.83 inches
12.95 x 17.08 x 6.57 inches
Price

Find on Amazon





B&HPhotoVideo

Find on Amazon
Even though these audio/video receivers are similar, some differences will determine which one works best in your setup.
Power
You'll find the power rating measured in watts. Power doesn't only apply to volume, but also sound quality. The higher the watts, the better the sound at all volume levels. The TX-NR696 does have more power.
With the AVR-X2600H you get 95 watts of power. You'll enjoy crisp audio with movies and music. The TX-NR696 produces 100W for a clearer sound at high and low volume levels. The 5-watt difference may not seem like much until you're listening to your favorite tunes.
Inputs and Outputs
One of the main reasons for adding an AV receiver is to simplify your setup. You can contain all your cords in one place. You also don't need to disconnect one device from your TV to plug in another one. It's easier to enjoy your devices with an AVR component.
With the receiver from Onkyo, you have 7 HDMI ports, along with inputs for phono and USB devices. With the Denon AV receiver, you get an extra HDMI port. Not everyone has 8 devices to connect, but it's nice to have one when you add another device.
Ease of Use
You don't want any entertainment devices that are difficult to use, especially the receiver. All of your audio and video components are connected to the receiver. You want to easily control them, without getting up.
While the AVR-X2600H comes with Alexa and convenient remote control, the TX-NR696 is easier to use. You can connect both models to your smart home system, but you also get Google Chromecast and Assist with the Onkyo model. As an added advantage, it is also compatible with SONOS. You can start a new system with the receiver or connect it to your existing SONOS ecosystem.
---
Onkyo TX-NR696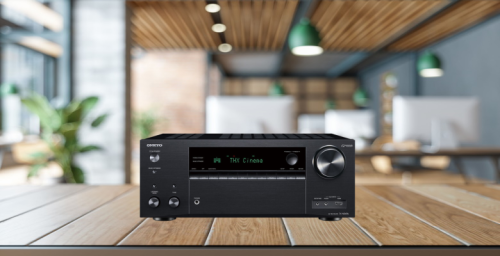 The TX-NR696 is a hefty 26lb receiver with 7 channels at 175 watts each. You get plenty of power at any volume level for a crisp, clear sound. In and outports aren't an issue. There are seven, with a USB and phono input. Vinyl lovers will appreciate being able to connect their record players to the entertainment system.
Along with video and audio ports, the receiver comes with plenty of features. It's THX-certified, so you'll hear movies as they were meant to be played. It supports both Bluetooth and Airplay, along with DTS-Play-FI and Spotify Connect. The receiver is compatible with Sonos and comes with Google Chromecast.
Google Assist ensures that if you lose the remote you can still operate the receiver. The touch-screen interface has source buttons, making it even easier to use. Click here for our more in-depth Onkyo TX-NR696 review.
Pros
7 100-watt channels
Multi-zone support
SONOS compatible
Dolby Atmos support
Multiple ports
Cons
Higher-volumes can cause audio distortion
---
Denon AVR-X2600H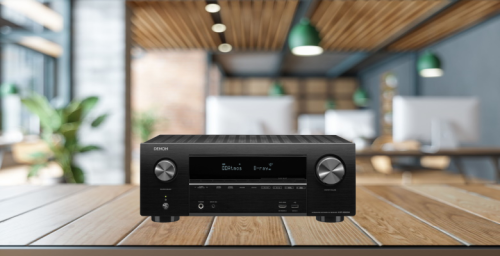 With 95-watts for each of the seven channels, the AVR-X2600H delivers high-quality audio. It's great for watching movies and listening to music. There's a dedicated phono port so you can listen to your vinyl in surround sound. The receiver also lets you stream your favorite music via Bluetooth, Airplay, and Wi-Fi.
Thanks to HEOS technology, accessing music streaming services is a breeze. The HEOS app also lets you play the same or different audio in another room. You can use the app to playback tunes, pick the rooms you want to stream music to, and scroll through your library.
While HEOS makes it easy to find and play your favorite music, Alexa and Google Assistant ensure that you don't have a problem operating the AV receiver. The receiver also comes with a remote and an easy-to-read LED display.
Pros
Multi-room capability
7 95-watt channels
Easy to setup
Multiple ports
Cons
The receiver doesn't support SONOS or DSD streaming
Audio can sound muted at low or high volumes
---
Conclusion
Comparing the Onkyo TX-NR696 vs Denon AVR-X2600H, you'll notice several similarities. There are also differences. If you need plenty of ports and aren't worried about a slight loss in power, the Denon AVR X2500H has enough HDMI inputs for your AV devices.
When it comes to power, ease of use, and included features, the Onkyo TX-NR696 is the winner (>>> Check on Bhphotovideo). You get amazing sound across multiple zones. Google Assist and Alexa ensure you don't have a problem controlling the receiver.