Marantz's line of A/V receivers is a popular option with consumers looking to boost audio and simplify their entertainment setup. Comparing the Marantz AV7706 vs the AV8805, you'll immediately notice a few differences starting with the number of channels and price. The AV8805 is priced higher but comes with more channels (>>> Check on Amazon). When it comes to onboard features, the Marantz AV7706 matches the AV8805. The components also boast the same connectivity.
Still, confused over which model to choose? It helps to take a closer look at what each component has to offer.
Marantz AV7706 vs AV8805 Side by Side:
When it comes to audio and video quality, you won't be disappointed with either model, but one may be a better option over the other.
Audio Quality
You get impressive audio with either component. Both come with Dolby Atmos and DTS:X technology. Audio is optimized so music and dialogue are crisp and clear. Auro-3D is standard on both receivers. You get the illusion of 3D sound.
Dolby Atmos Height Virtualization technology ensures audio reaches every corner of the room. You get surround sound without having to purchase upwards firing speakers.
Better Audio Quality: Marantz AV7706 & Marantz AV8805
Video Quality
The AV8805 comes with the latest video technology, and the same applies to the AV7706. IMAX Enhanced support optimizes images for crisp details and brilliant colors. To ensure color accuracy, the components come with HDR10 and HLG support, along with 4:4:4 Pure Color technology. You see colors the way they are meant to be viewed.
A 120Hz refresh rate for 4K content ensures smooth frame-by-frame play on movies and live sports. You don't have to worry about the frame freezing in the middle of the action. The refresh rate drops to a slow 60Hz with the 8K passthrough.
Better Video Quality: Marantz AV7706 & Marantz AV8805
Connectivity
When it comes to connectivity, neither receiver is lacking inputs. You get 8 HDMI inputs, along with 3 going out. You also have ports for your USB devices, along with video and audio pass-through. You won't have a problem finding a port for all of your external devices.
Where the AV8805 comes out ahead is with HEOS support. You can also download the HEOS app with the AV7706, but you will need compatible external components. The AV8805 also supports Wi-Fi, Bluetooth, and Airplay. It's a little easier to stream your favorite music channels with the AV8805.
Better Connectivity: Marantz AV8805
Ease of Installation
You get 13.2 channels with the AV8805, compared to 11.2 on the AV7706. Installation and configuration are more flexible when it comes to the AV8805. When it comes to setting the receivers up, both are almost ready to go out of the box. You won't have any problems connecting external devices, including 4K TVs. The ports are clearly labeled, and you can use Amazon Alexa for easy voice control with the AV8805.
Easier Installation: Marantz AV8805
---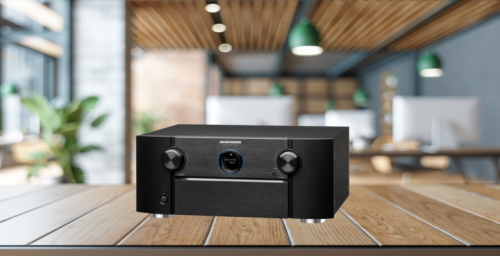 The AV7706 is an 11.2 channel A/V receiver and preamp that comes with all of the technology you expect from Marantz. With RCA-pre-outs and the manufacturer's proprietary HDAM technology, your favorite streaming stations are crisp and clear without interference. Dolby Atmos Sound and Height Virtualization give you a surround sound experience whether you are watching movies or listening to tunes.
Images are just as impressive as the audio thanks to Dolby Vision. 4:4:4 color sampling technology optimizes video for crystal clear images. HDR10 and HGL support ensure colors are vivid and accurate.
The AV7706 is ready for the future with an 8K/60Hz pass-through. You won't need to upgrade your receiver. It also supports all 3D formats, including Blue-ray.
Pros
Dolby Atmos/Vision
HDR10 support
8K passthrough
3D support
11.2 channels
Cons
The receiver is not compatible with all music and gaming streaming apps
---
Marantz AV8805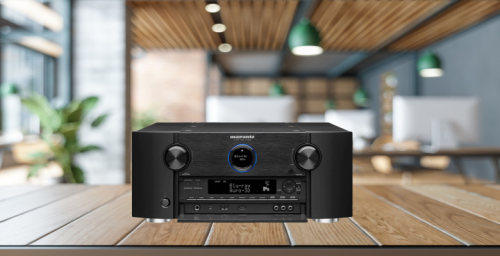 You get a flexible installation with the 13.2 channel A/V receiver and preamp. The AV8805 also comes with all of the technology you expect from Marantz. Dolby Atmos, Auro-3D, and DTS:X technology ensure immersive sound at almost any volume level. Music and dialogue  crisp and clear.
The ISF-certified HDMI technology ensures video quality matches sound. You won't lose image clarity. The HDMI ports are compatible with all devices, including 4K disc players, gaming consoles, and set-on-top boxes. With 8 ports, you won't have a problem connecting your devices. With IMAX technology, combined with HLG and HDR10 support, every image is optimized for color and clarity.
Setting the AV8805 up is a breeze. It's also easy to switch between components with Amazon Alexa voice control. HEOS ensures you can download your favorite apps, and even control speakers in another zone.
Pros
Multiple ports
13.2 channels
IMAX Enhance technology
Dolby Atmos
3D support
Cons
The receiver may not be compatible with all amplifier brands
---
Conclusion
You won't go wrong with the Marantz AV7706 or the AV8805. Both are A/V receivers and preamps capable of producing amazing audio and video. The AV8805 does come with more channels, and a few extra features when it comes to connectivity (>>> Find on Amazon). It also comes with a higher price tag than the AV7706.
When you're deciding between the two components, take a minute to think about how you want to configure the speakers and how much streaming connectivity is necessary.
REFERENCES AND FURTHER READING: