Choosing an AV receiver isn't as simple as picking the first model you see. The component is responsible for powering your audio and video equipment. You don't want audio or video quality to degrade, and the receiver needs to be compatible with your current setup.
At first glance, AV receivers can appear similar. The Denon AVR-X8500H vs Marantz AV8805 is an example. Both are 13.2 channel AV receivers with powerful sound, impressive image quality, and are easy to set up but there are differences. The X8500H from Denon comes at a lower price (>>> Find on Amazon), but the AV8805 allows for a 15.2 channel configuration and consumes less power for overall savings.
Here's a closer look at both AV receivers, so you can see which one is the best option.
Denon AVR-X8500H vs Marantz AV8805 Side by Side:
Denon AVR-X8500H
Marantz AV8805
Video
4K/120Hz
8K/60Hz or 4K/120Hz
Amplifier
13.2 Channel (150W per channel)
13.2 Channel (150W per channel)
Sound
7.1.6 or 9.1.4 Dolby Atmos
7.1.6 or 9.1.4 Dolby Atmos
Wi-Fi
Yes
Yes
Bluetooth
Yes
Yes
Price

Find on Amazon





B&HPhotoVideo

Find on Amazon





B&HPhotoVideo
You won't go wrong with either component, but one may be a better fit over the other.
Video Quality
When people think of A/V receiver pre-amps, audio quality is usually the first aspect to check. Video quality is just as important. You will be connecting your 4K TV, projector, and other video devices to the receiver. You don't want image quality downgraded when you're watching your favorite show or movie.
The receivers are almost evenly matched in video quality. The 4K HDMI ports ensure you don't lose any resolution. HDR and HGL support produce colors that are accurate and bright, while details are crisp and clear. The receivers also come with IMAX Enhanced technology.
Better Video Quality: Denon AVR-X8500H & Marantz AV8805
Audio Quality
Dolby Atmos, Auro-3D, and DTS:X support produce clear audio whether you are listening to bass or treble notes. The audio formats also ensure dialogue and sound effects are immersive. It will feel like you are in the middle of the on-screen action. The receivers support the same audio formats, but the AV8805 from Marantz produces a bolder, brighter sound thanks to its built-in technology.
Better Audio Quality: Marantz AV8805
Installation
You won't have a problem installing either receiver, after getting past their hefty weights. The AV8805 is around 20 pounds lighter than the X8500H at 50lbs, but you don't want to move them around very often. The Marantz receiver is also a little smaller giving you more flexibility where you put the component.
The Denon receiver is the winner when it comes to setup. It comes with their award-winning onscreen setup assistant. Within minutes, every device is connected and you're ready to start watching movies and listening to impressive audio.
Easier Installation: Marantz AV8805
Connectivity
You get HEOS, Alexa voice control, Wi-Fi, Bluetooth, and access to most of the popular music streaming apps with both receivers. There also isn't a shortage of 4K HDMI inputs for your external devices.
The AV8805 also comes with RCA and XLR outputs. It allows you to connect additional speakers giving the receiver two extra channels.
Better Connectivity: Marantz AV8805
---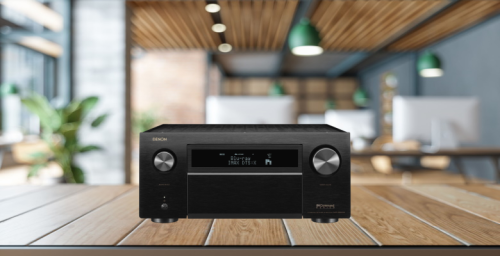 The X8500H is the latest flagship A/V receiver from Denon, and it does not disappoint when it comes to audio and video quality. It supports Dolby Atmos, DTS:X, and Auro-3D for immersive sound across the room. You hear audio the way it was intended, without distortion or other types of interference. With 13.2 channels and 150W of power, music and dialogue is crystal clear.
Video quality also is lacking. 8 4K inputs and 3 going out ensure you don't lose resolution between the source and the receiver. HDR10 and HLG support, along with Pure Color technology, produces crisp, clear video with bright accurate colors.
Stream all of your favorite music channels with Wi-Fi, Bluetooth, or Airplay. Alexa voice control makes the receiver a breeze to control, along with the intuitive remote. HEOS support allows you to enjoy multi-room streaming, so you can listen to the same or different audio wherever HEOS speakers are set up.
Pros
Power sound
Crisp dialogue
13.2 channels
HEOS support
4K inputs
Cons
The receiver's weight and bulky size limit where it can be installed
---
Marantz AV8805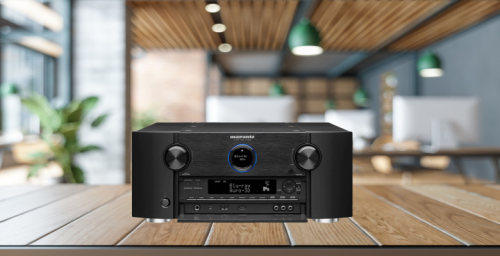 The AV8805 is designed to give you the ultimate cinematic experience. It does this both with audio and video. You get support for Auro-3D, along with DTS:X and DTS virtual. Sound fills the room making you feel like you are in the action. Dolby Atmos support ensures your music is as clear as the sound effects in the videos.
Be prepared for about 30lbs of weight when you take the receiver out of the box. It's a heavy component but compact. It fits on most entertainment shelves without adjusting the setup. The connection panel comes with 8 HDMI inputs and 3 outports. With 4K support, along with IMAX Image Enhance, HDR10, and HLG you get the same immersive images you see at the theater. Colors are vivid with sharp details, even with darker scenes.
The AV8805 also comes with XRL and RCA outputs. You get two extra channels when you connect the HEOS compatible speakers. With a 15.2 channel setup, you can enjoy the illusion of surround sound or increase the number of connected zones. With Google Assist and Alexa, it's easy to control the system no matter how many channels you are using.
Pros
Immersive images
Crisp audio
HEOS support
Voice control
15.2 channels
Cons
The refresh rate and latency speed are too slow for gaming
---
Conclusion
Comparing the Denon AVR-X8500H vs Marantz AV8805 comes down to what you want and need in an A/V receiver pre-amp. You get immersive video and audio with both receivers, but the sound is better with Marantz technology. However, the Denon receiver is at a lower price and easier to set up (>>> Check on Bhphotovideo).
You do get the option of turning the 8805 into a 15.2 channel receiver, and this works great if the extra speakers are needed. If not, you may be okay with the slightly less pricey X8500H.
REFERENCES: