A power amp lets you get the most out of your AV receiver by providing power to speakers and consistent frequencies. Many power amps are useful for fine-tuning your music to benefit your surround sound system without overtaxing the AVR. A power amp will also let you get bigger volume from your AVR without inducing distortion.
Steps on How to Connect Power Amp to AV Receiver
Before beginning the process of hooking up your power amplifier, you'll want to ensure that you have all of the needed components. You'll need RCA cables for each channel that you are running to the amplifier and a speaker cable to each of the speakers being powered on the amp.
You'll need to know where your AVR and power amp are going to be located and how to hook them up properly without popping breakers or losing power. You might want to have the appropriate manual for your AVR and power amp on hand when you start hooking it up so that you know the specifics of your particular device.
Step One: Collect the Necessary Cables and Parts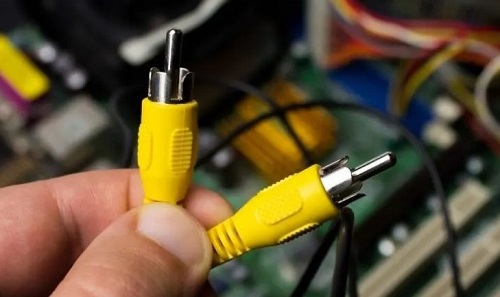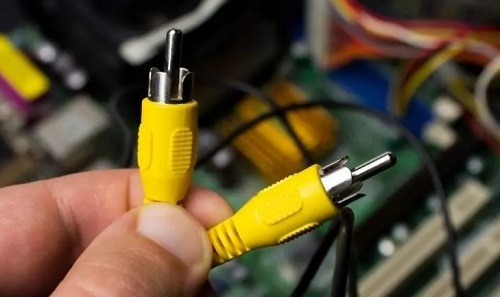 You will need cables to connect the amp to the AVR, the speaker outputs on the AVR to the power amp, and cables to connect the power amp to the speakers. You'll need the correct number of cables for the number of speakers you are connecting in your system.
It is always a good idea to spend a little more on high-quality cables. While it may be tempting to buy the cheapest thing you can find, you'll often find that buying better quality cables won't cost that much more, but can significantly improve the performance and stability of your system.
You'll want to make sure you know how and where you want to run your cables and find a management system you like. Some people like to run speakers behind baseboards or under carpets using flat cables, while others like to run cables in conduit or into crawl spaces or attics. Learn how to connect a microphone to AV receiver
Step Two: Running a Power/ Trigger Wire
The next thing you'll want to do is to run a trigger wire from the AV receiver to the power amp. This will allow you to turn on the amp and AVR at the same time. This makes it much more simple to use your system and prevents some problems that might come up when you forget to turn on the amp.
The AV receiver will have an output that will be labeled as a trigger wire or a port for a power amp. Simply connect the appropriate cable to both devices. It is important to ensure that when you run the wire, you make sure that it isn't kinked or trapped behind shelves, brackets, or other things that can cause damage to the insulation and lead to problems or even fires.
Step Three: Connecting the Speakers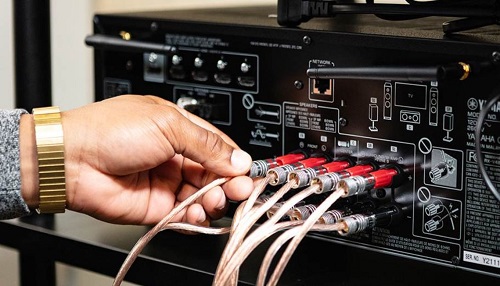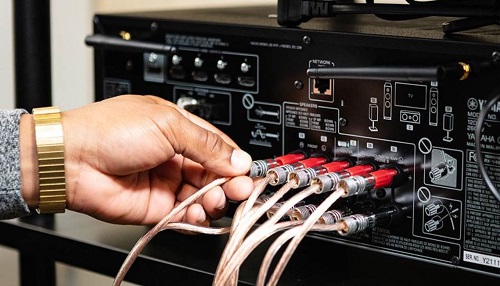 Using RCA cables, you'll route the connection from each speaker on the AVR to the power amp. The RCA cables enable the frequency sent by the AVR to signal to the power amp. The power amp will then connect to the speaker itself to provide amplified power.
For each RCA connection you make, you'll also need to make a connection to the speaker from the same place. If your speakers aren't firing in the correct location, you should check to make sure that you don't accidentally have one crossed at the power amp.
Using the most secure style of speaker connections, like banana clips, will ensure that you get good sound quality. One of the key things you'll need to do at this point is make sure that you are connecting to an unbalanced port. RCA cables are unbalanced and you'll need to make the same connection on the power amp. Some will have dedicated ports, while others have a switch you'll flop to turn on or off.
Step Four: Troubleshooting and Checking
Use your AVR to fade and balance check each speaker that is connected to the power amp to make sure the connections are complete and stable. This step will prevent odd, off-frequency sounds that you don't want.
If a speaker isn't making any sound, start by verifying that it is connected to the amp and the RCA cable is connected to the AVR. Then, check to ensure the cable isn't damaged. If you still are getting no sound, try to connect a different speaker. This will indicate whether there is an amp or AVR problem or if the problem is with the speaker itself.
Conclusion
Hooking up a power amp is an easy way to add extra bass and a better overall sound stage to your home theater system. It lets you get the most out of your speakers without having to drive them hard.
REFERENCES: