Marantz has been one of the best audio brands producing high-quality, reliable, and stylish A/V receivers for decades. Two of their most popular offers for those searching for a new home receiver are the Marantz Cinema 40 and the Marantz Cinema 50. If you want to learn more about these two great receivers and see what sets them apart, continue reading our Marantz Cinema 40 vs 50 comparison to find out more! Find it on Amazon.
Marantz Cinema 40 vs 50 Side-by-Side:
Marantz Cinema 40
Marantz Cinema 50
Amplifier:
9.2 channel (125W per channel)
9.4 channel (110W per channel)
Connectivity (Inputs/Outputs):
3/0 x Composite, 7/3 x HDMI, 5 x Analog In, Phono In, 2 x Optical, 2 x Coaxial, 4 x Subwoofer Out, 11 x Speaker Terminals, 1 x USB Type-A
No Composite, , 6/3 x HDMI, 6 x Analog In, Phono In, 2 x Optical, 2 x Coaxial, Subwoofer Out, 11 x Speaker Terminals, 1 x USB Type-A

Audio Formats:
MP3, WMA, AAC. FLAC HD 192/24, WAV 192/24, ALAC 192/24. 2.8 MHz & 5.6 MHz DSD Audio
2.8 MHz DSD, 5.6 MHz DSD, AAC, ALAC, DSD, FLAC, MP3, WAV, WMA

Video Support:
HDR, HDR10+, Dolby Vision, Dynamic HDR
HDR10, HDR10+, Dolby Vision, Hybrid Log Gamma
Upscaling
1080p to 8K UHD

1080p to 8K UHD
Dimensions:
17.3W x 16.2D x 7.3"H
17.4 x 15.4 x 6.5
Weight:
33.3 lbs.
29.8 lbs
Price

Find on Amazon





B&HPhotoVideo

Find on Amazon





B&HPhotoVideo
Installation Ease
Both of these receivers offer a guided setup. The only difference in setting up the Marantz Cinema 40 over the 50 is that the 40 contains one additional HDMI input that isn't available on the 50. After you turn on your receiver, a guided on-screen setup will take you through the rest of the installation process. The setup shows you to connect your speakers and other devices properly, and after finishing the on-screen steps, you will be all set to go.
Easier Installation: Marantz Cinema 40
Sound Quality
Each channel of the Marantz Cinema '40s 9.2 channels is powered by 125 watts of power. And the sound output you'll receive from the CINEMA 40 is strong overall. Optimization and setup are straightforward thanks to Marantz pre-testing and optimizing their receivers during manufacturing. On the other hand, the CINEMA 50 features 9.4 channels, but they are powered only by 110 watts of power.
Both receivers feature Dolby Atmos support and DTS:X processing to create an immersive home theater sound. There's little practical difference between the sound quality in the CINEMA 50 and CINEMA 40. Still, in testing environments, the CINEMA 40 does come out on top thanks to its 125 watts of power driving each channel.
Better Sound Quality: Marantz Cinema 40
Voice and App Control
The CINEMA 40 and CINEMA 50 can be controlled using voice commands or smartphone apps. There is built-in Bluetooth for wireless streaming and support with voice assistants such as Alexa and Google Assistant. There's also support for Apple AirPlay 2, allowing you to stream content directly from an iPhone or iPad. Lastly, both the CINEMA 40 and CINEMA 50 come with HEOS technology built-in, allowing you to use the HEOS app to control a multi-room speaker setup with either receiver.
Better Voice and App Control: Tie
Full Product Details
Marantz Cinema 40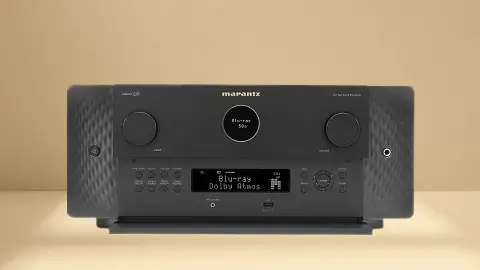 The Marantz Cinema 40 is a powerful and versatile receiver that can control your entire home's entertainment setup. With 9.2 channels and support for three-room and an All-Zone Stereo mode, you can create an immersive surround sound soundstage throughout your house.
The speaker channels can also create an immersive 3D sound field highly optimized for your room's acoustics, thanks to the Marantz CINEMA 40 supporting Dolby Atmos and DTS:X surround sound. There's also Dolby Atmos Height virtualization, which allowed us to create a three-dimensional sound that was shaped to our room's acoustics perfectly. Marantz has provided us with the CINEMA 40, one of our favorite receiver experiences, with a natural, warm sound and great optimization features.
Looking at the video side of the equation, we found equally robust features. All HDMI inputs support video signals all the way up to a resolution of 8K, and there is support for HDR10+ Dolby Vision, Hybrid Log Gamma, and Dynamic HDR. If you're a gamer, the Marantz CINEMA 40 is an excellent receiver, offering you Variable Refresh Rate (VRR) to keep your framerates steady and Auto Low Latency Mode (ALLM) to reduce input lag.
Pros
Powerful and natural sound with optimization features for your space.
Supports 8K video resolutions at 60 Hz.
Easy setup with guided on-screen directions.
Multi-room HEOS compatibility.
Compatible with major voice assistants.
Cons
No 3D signal pass-through support.
Marantz Cinema 50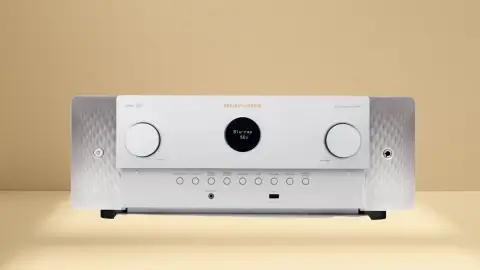 The Marantz Cinema 50 is a powerful and compact receiver with a classic Marantz style that will complement your media station. Just like the Cinema 40, the 50 offers a wide range of wired and wireless input options, but it is missing one of the HDMI inputs that the CINEMA 40 offers. There's also HEOS support for wireless speakers and built-in Bluetooth and Wi-Fi for connecting wireless devices.
The CINEMA 50 is a great receiver for anyone looking for a capable Marantz receiver that doesn't break the bank and has great offerings regarding easy connectivity and wireless features. There's HEOS incorporation for any wireless speakers you may own, and creating a multi-room speaker setup is simple and easy. We found the sound quality to provide an incredible listening experience, with a detailed and bright sound.
Much like the CINEMA 40, video performance is great on the Marantz CINEMA 50. The HDMI inputs on the Marantz CINEMA 50 support up to an 8K resolution at 60 Hz alongside HDR10+ support, Dolby Vision, and HLG. The CINEMA 50 is also fantastic for gaming, thanks to the inclusion of VRR and ALLM. Check our more in-depth review of the Marantz Cinema 50.
Pros
Affordable price point
Dolby Atmos, DTS, and DTS:X support
8K Resolution and 4K/8K Video Upscaling
120 Hz refresh rate via HDMI
HEOS Integrated Technology
Cons
The Verdict: Marantz Cinema 40 vs 50
The Marantz Cinema 40 and CINEMA 50 are impressive receivers from a trusted brand, and either can function wonderfully as the center of your home entertainment system. With the CINEMA 40, you will get additional inputs that are lacking from the 50, and an overall more powerful receiver. The CINEMA 50 comes in if you are looking for a less expensive way to experience the optimized sound that Marantz provides in their CINEMA series receivers. Both receivers are great picks, but if you want the highest possible sound and video quality, we think the Marantz Cinema 40 is the better buy. Find on BHPhotoVideo.